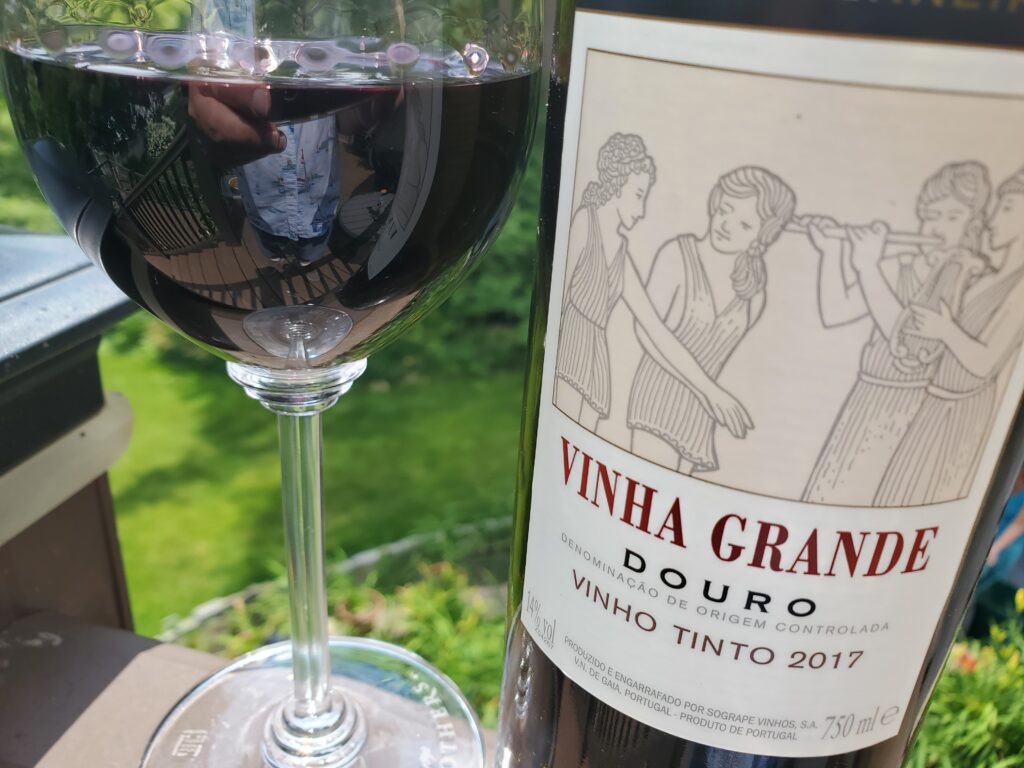 For centuries, the fortunes of Portugal's remarkable Douro Valley rested with making ageworthy, fortified port wines that were shipped all over the globe.
And while porto still reigns in the world's oldest demarcated wine district, the Douro's still wines – red and white – no longer sit idly by in the shadow of greatness.
In fact, today's Portuguese wines represent some of the best values in the world based on quality, taste and price.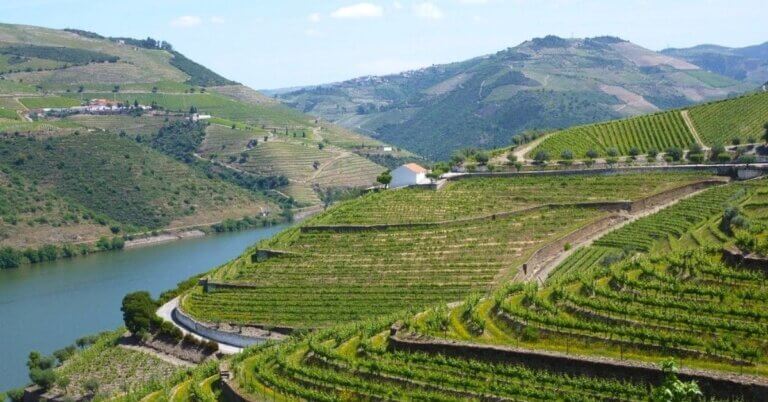 Casa Ferreirinha (pronounced "Ka-sa Fe-hey-ree-n-yah"), an iconic winery dating back to the 18th century, is one of the pioneering Douro Valley port houses that has led the transformation.
In the early 1950s, Ferreirinha sought to create a red wine from native grapes that would be equal to its famous vintage port. Under the auspices of technical director Ferdinando Nicolau de Almeida, the red blend Barca-Velha was released in 1952 to sensational reviews and quickly became the country's most pre-eminent and expensive wine (Today, it sells for upwards of $650 a bottle).
Barca-Velha proved that Portugal could produce wines of great stature, similar to France's Burgundy and Bordeaux regions.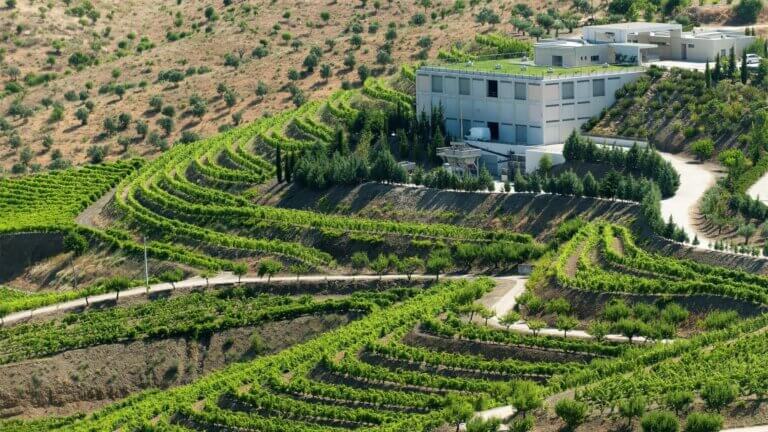 Ferreirinha has gone on to broaden its portfolio with eight other wines made from native varietals, including Touriga Nacional, Touriga Franca, Tinta Roriz, Tinta Barroca, and Viosinho. Since 1989, Luis Sottomayerhas has served as winemaker.
The easy-drinking and premium wines offer intriguing aromas and flavors to go along with consistent balance.
"It is not the names of the grapes themselves that is worth remembering," says Anita Musi, a fine wine specialist at global importer EVATON USA, "but it is the expression of the wine that is memorable."
Musi recently moderated a virtual tasting webinar for food and wine writers featuring three Ferreirinha wines: Planalto, a white; and two reds, Papa Figos and Vinha Grande.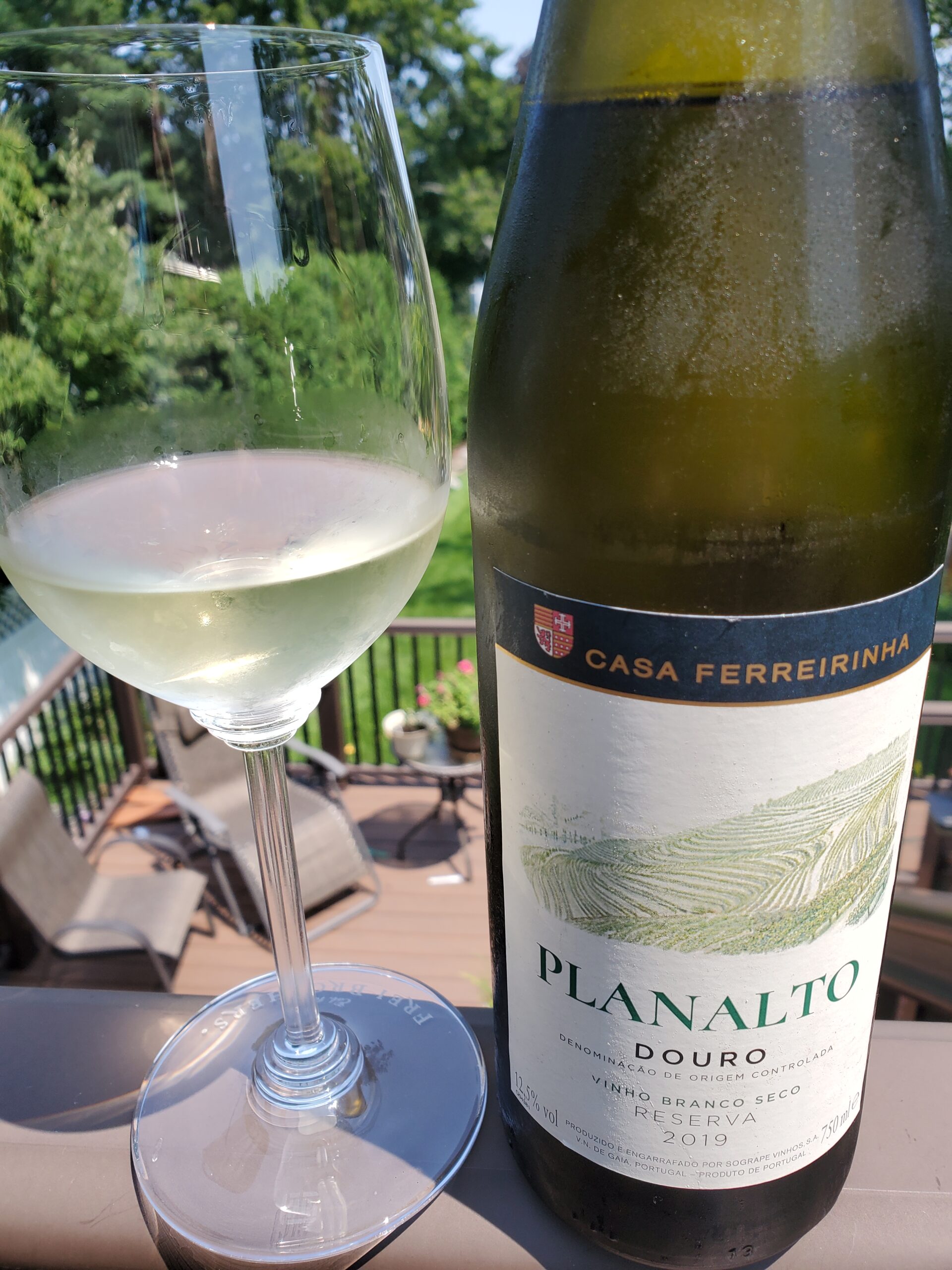 What follows are Musi's comments and my observations.
Planalto Reserva Douro DOC 2019, SRP $13, abv. 12.5% – Despite a very wet spring and some torrential area flooding, Musi said summer turned typically hot and dry and grapes ripened steadily and fully. This "super fresh" white blend of seven varietals – each fermented singly in stainless steel tanks – is a classic result. Musi pointed out Planalto's expressive floral aromas, tropical fruit notes, stone fruit minerality, and balanced acidity. The finish is appreciably dry and long.
Musi suggested several food pairings for this versatile white: grilled and broiled fish, seared scallops, shrimp cocktail and seafood dishes, green salads topped with strawberry and feta cheese, grilled chicken topped with spicy peppers, and even chicken marsala.
My Take: Planalto is an exceptional white for year round drinking, and particularly for wine lovers suffering from Chardonnay and Sauvignon Blanc overload. Aged in 100 percent stainless steel vats, the citrus-inspired wine is clean, vibrant, persistent and stimulating. Add Planalto to your summer party stable and be prepared to answer one question from satisfied guests: "Where can I get this?"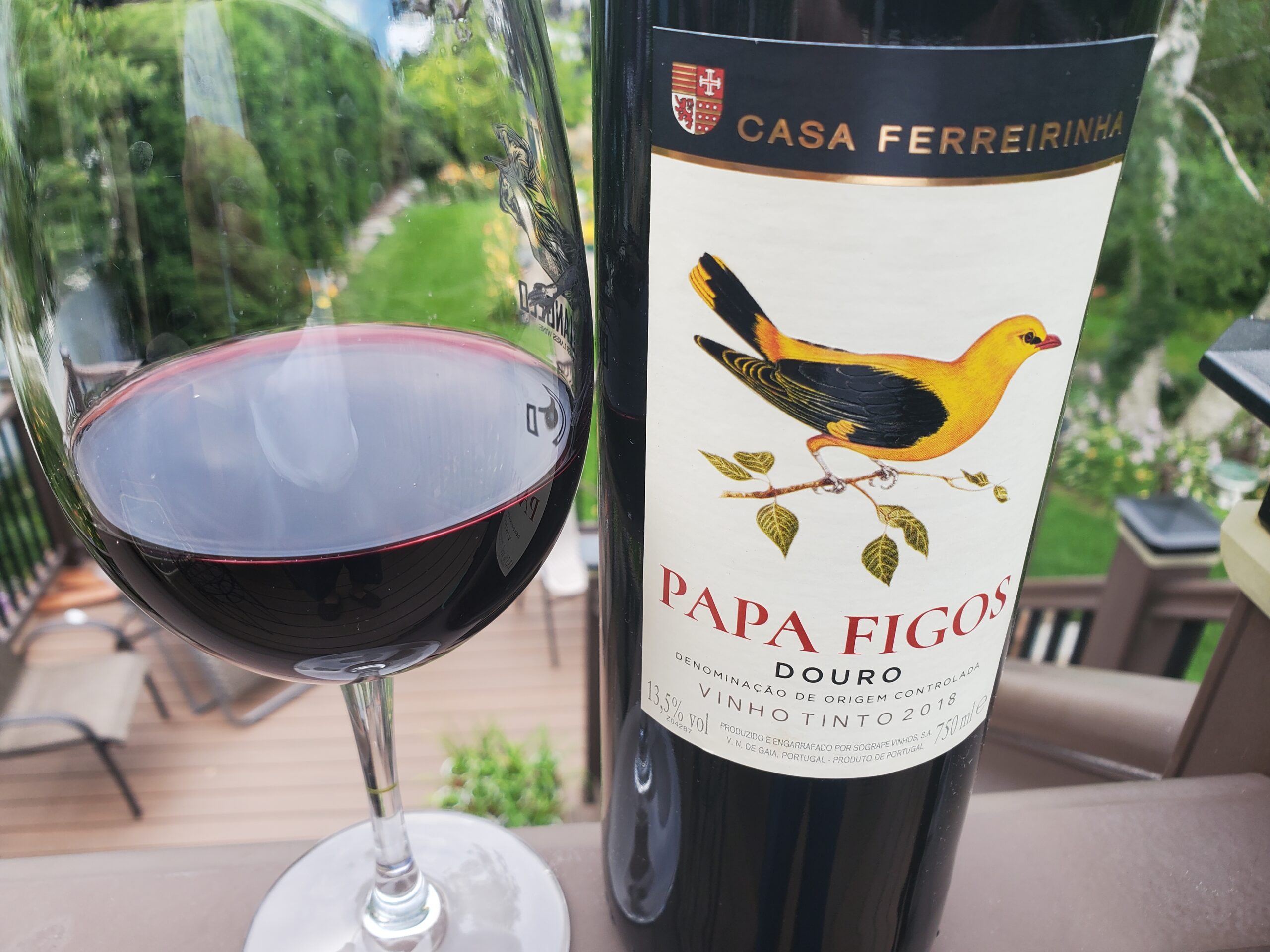 Papa Figos Tinto Douro DOC 2018, SRP $16.99, abv. 13.5% – The vintage turned out to be "fantastic" in a "very challenging" year, said Anita Musi. A cold, dry winter gave way to a rainy spring that raised vineyard fears of disease and fungus. But a hot, dry, sunny summer brought the fruit to full maturity yielding intense characteristics.
Four grapes make up the Papa Figos blend: Tinta Roriz, Tinta Barroca, Touriga Franca, and Touriga Nacional. Each is fermented separately, first in stainless steel vats for six months and then in concrete legares for six more.
Musi called Papa Figos a "Netflix wine."
Think of sitting down with chips and salsa, a glass of wine, and watching a good movie, she explained.
"(Papa Figos) is food friendly, easy drinking, rich in black and red fruit flavors, and won't break the bank," Musi added.
Suggested food pairings included pasta with meatballs, macaroni and cheese with bacon, chicken piccata, grilled burgers, chicken and steak tips, and oven roasted fish and pork chops.
My Take: A sip of Papa Figos snaps the taste buds to attention: dark berry fruit and spicy flavors on a smooth frame. A blend of this quality structure (soft tannins, keen balance) demands a precise formula. Kudos to Ferrierinha winemakers for showing trust in the grapes and production restraint. Papa Figos is a fun wine and we lustily consumed it with  cheesburgers topped with grilled mushrooms and green peppers.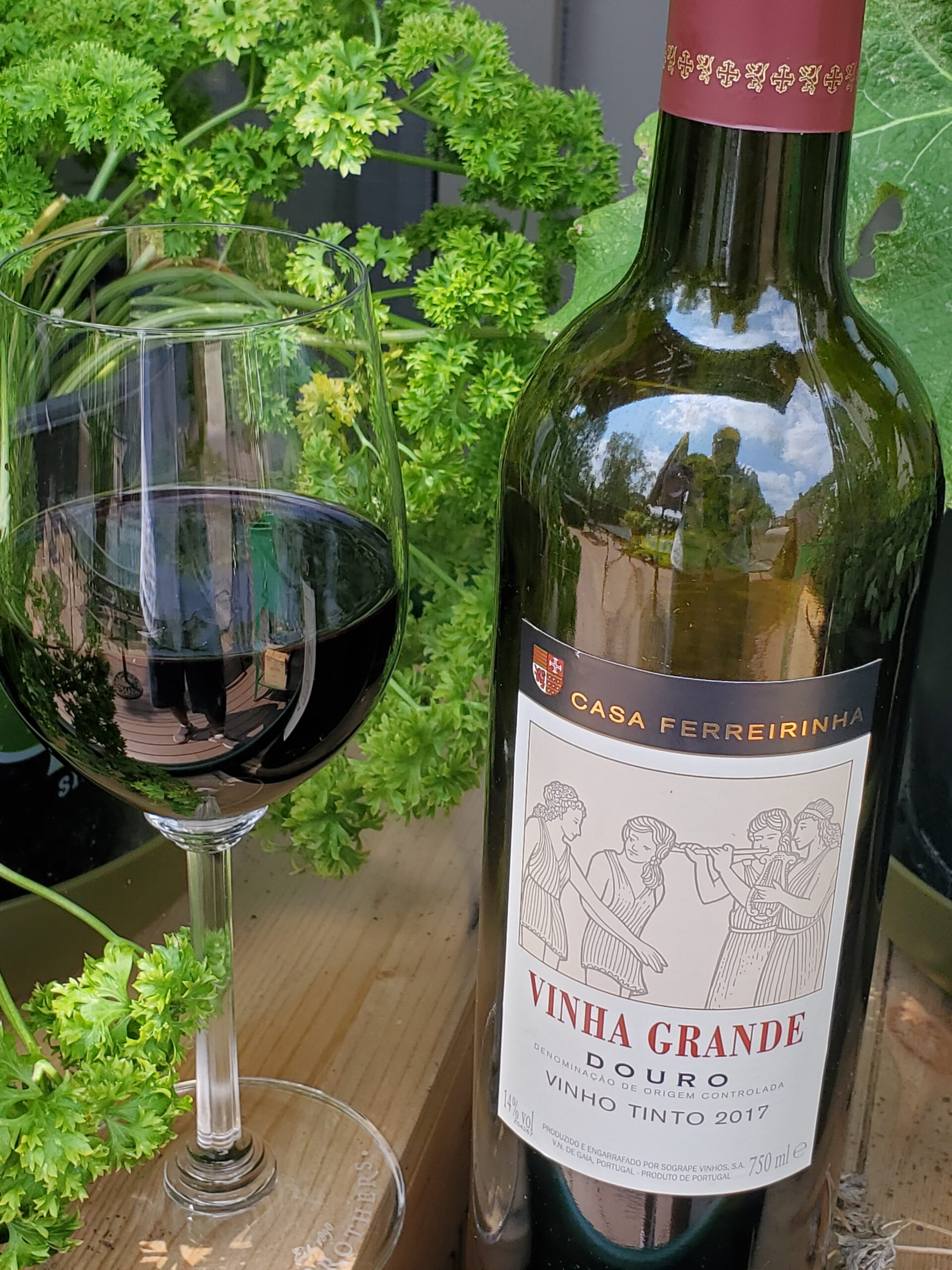 Vinha Grande Douro DOC 2017, SRP $20, abv. 14% – Vinha Grande's first vintage was in 1960, making it one of Ferreirinha's first wines produced following the launch of Barca-Velha. The bottle label pays homage to an ancient wine-making Roman settlement in the Douro.
Anita Musi said Vinha Grande (Big Vineyard) is the "first step" on Ferreirinha's high-end wine staircase.
The vintage growing season was really warm which accelerated fruit development, Musi said. An early harvest took place in August. Three grapes – Touriga Franca, Touriga Nacional, Tinta Roriz – make up the blend. Grape clusters were gently crushed, de-stemmed and macerated in stainless steel tanks to extract color, aroma and flavor. Later, the wine matured 12 months in used French oak barrels before the blend's final assembly.
Musi noted the intensity of the wine, from its deep ruby color to its lush mouthfeel and powerful dark fruit notes – the latter layered with savory spices. Vinha Grande's well-integrated tannins and acidity make it a wonderful accompaniment to spicy barbecue and grilled meats, especially thick filets served with mushroom risotto.
"It's very hard to find a California wine at this price point with this quality," gushed Musi.
My Take: Vinha Grande has all the elegance and substance of a top-tier red wine minus the hefty price tag. That is my biggest takeaway from this most impressive $20 wine. The oak aging is refined, adding subtle spice background notes to the sweet, lyrical fruit expressions  that penetrate the palate. The taste endures long after each swallow. Highly recommended.
To learn more about Casa Ferreirinha and its wines, go to: Evaton » Brands » Casa Ferreirinha