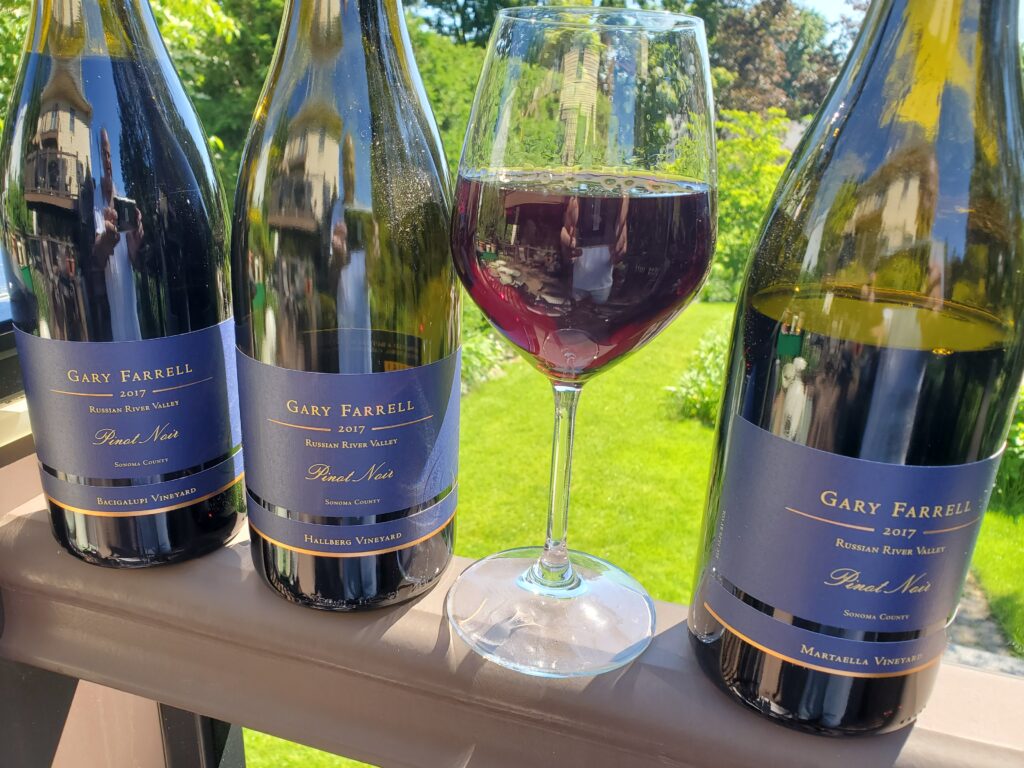 (The second of two parts on Gary Farrell Winery's "cru" wines focuses on Russian River Valley Pinot Noir.)
When it comes to crafting wines for Gary Farrell Winery, Theresa Heredia has a simple philosophy:
Let the vineyard and fruit do the talking.
Heredia, Gary Farrell's winemaker since 2012, knows Sonoma County as if she sprung from the earth herself.
She's a California native who was a PhD. candidate in chemistry and enology at UCAL-Davis before deciding she wanted to make wine for a living. Heredia did a stint in France but her key experience came in 2002 when she joined the Freestone Project with winemaker Craig Williams at Napa Valley's Joseph Phelps Vineyards. Five years later, Heredia helped open the Freestone Winery.
Crafting "cru" Pinot Noir from unique single-vineyard blocks at select cool-climate RRV sites is one of her  specialties.
During a June webinar with wine and food writers, Heredia offered insights on how Pinot Noir responds to the unique terroir in RRV's six wine-growing "neighborhoods" (see map above).  They are: Middle Reach, Green Valley, Sebastopol Hills, Santa Rosa Plains, Laguna Ridge and Eastern Hills.
Different soil types, elevations and mesoclimates affected by the Russian River and Pacific Ocean are key influences on the fruit and wines produced.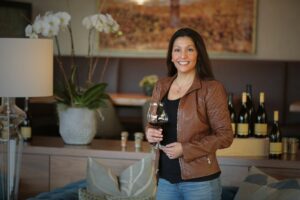 What follows are Heredia's comments and my tasting impressions:
Bacigalupi Vineyard Pinot Noir 2017, SRP $65, abv. 14.1% (489 cases made): In 1956, Charles and Hellen Bacigalupi purchased 121 acres of land just south of Healdsburg in what is known as the Middle Reach neighborhood.
Over the years, they began planting Pinot Noir and Chardonnay. (Bacigalupi grapes were used to make the 1973 Chateau Montelena Chardonnay that earned the top prize in the 1976 "Judgement of Paris" that put Napa Valley on the global wine map.)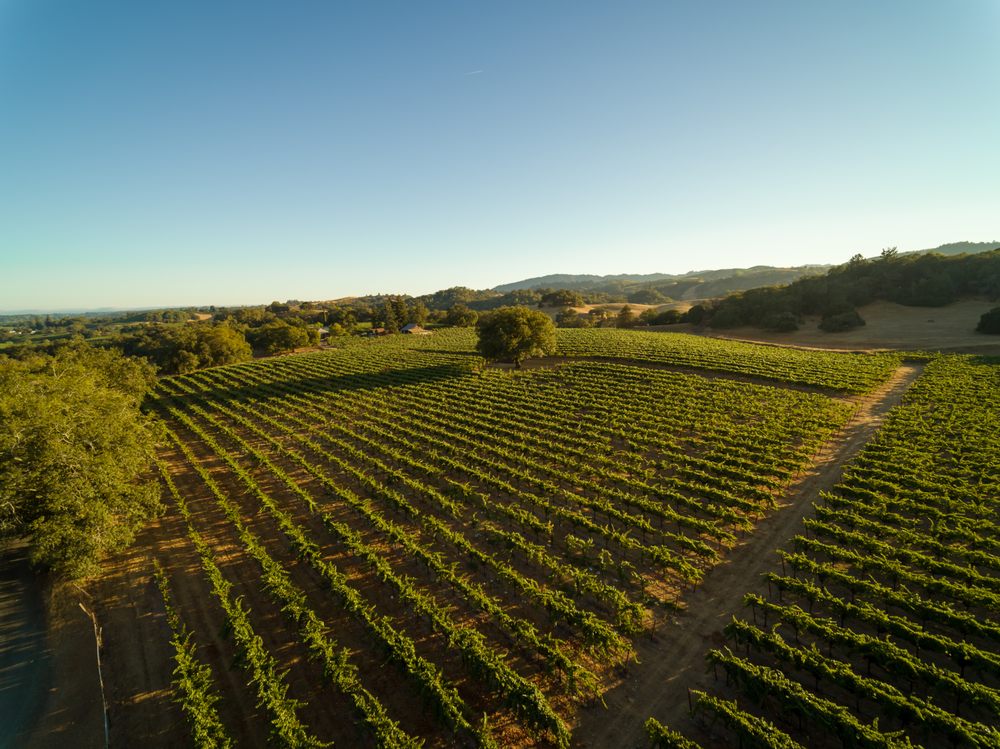 The 2017 release uses Wente grapes from one of the newer vineyards, Frost Ranch, located across a road from the original Pinot Noir plantings.
Heredia said Bacigalupi pinot grapes deliver "cherry, rose petal and raspberry" notes and the wines reflect a "quintessential earthiness."
The winery's tasting notes added: "The purity of fruit is balanced with layers of fresh mushrooms, rose petals, violets and black tea. The palate is soft and inviting, presenting effortless finesse that is typical of Pinot Noir from this special vineyard site."
The winemaking process for GF crus follows a similar process.
Fruit is hand-sorted with 85 percent de-stemmed and is held in small, open-top tanks. The remaining 15% of whole clusters is added later. The juice is chilled to 45 degrees and cold-soaked for 4-7 days before fermentation is started.  After fermentation, the cap is punched down 2-3 times per day and the new wine and its solids sit in tank for nearly two weeks of extra maceration. The wine is then gently pressed off the skins and seeds and malolactic fermentation is launched. It is racked into 40 percent new French oak barrels (light and medium toasted) for 15 months of aging on primary lees.
MY TAKE: Bacigalupi Vineyard Pinot Noir offers juicy fresh fruit and spicy secondary flavors on a velvety smooth frame. It was a bit less acidic than the other crus tasted, and that's not a knock on this truly refreshing and harmonious wine. A pretty crimson color stands out in the glass.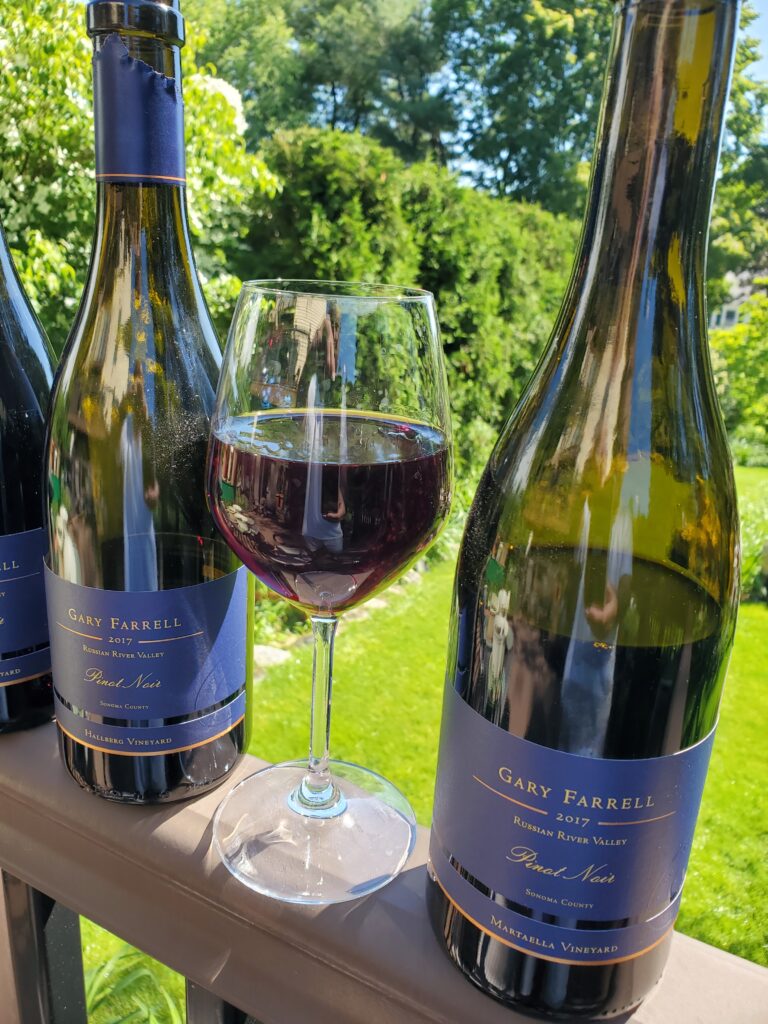 Hallberg Vineyard Pinot Noir 2017, SRP $55, abv. 13.8% (1,451 cases made) – The 100-acre vineyard is located in the Green Valley sub-appellation. It is strongly influenced by its proximity to the  Pacific coast.  Thick fog lingers over the vineyards, sometimes into the afternoons, before it is pushed out by cooling, ocean winds. Temperatures are more stable here, said Heredia, and grapes mature steadily during warm summer months.
Hallberg Pinot Noir is noted for silky tannins, darker fruit flavors (black cherry, black raspberry), and earthy traits like mushrooms, dried tobacco and black olives, said Heredia. The mouthfeel is "luxurious."
MY TAKE: "Hail to Hallberg!" Good balance and structure bring out the best in this slightly jammy Hallberg Vineyard Pinot Noir. The fresh fruit produces an addictive, savory taste that starts mid-palate and extends to a long, graceful finish. A delightful wine that was even better the second day.
Martaella Vineyard Pinot Noir 2017, SRP $65, abv. 13.2% (686 cases made) – Marine breezes can cause diurnal temperature swings of 40 degrees in the Santa Rosa Plains, where the 58-acre Martaela Vineyard is situated. The vineyard was planted with a very high vine density – similar to in Burgundy, France – on soils of shale, sandstone and clay. The result yields smaller-sized grape clusters and berries of higher concentration.
Heredia said Martaella wines are distinguished by "great concentration levels, deep color, beautiful acidity" and are "dense" and "complex".
The winery's tasting notes are a mouthful and most inviting: "Tart, zesty, complex flavors of freshly baked wildberry tarts, Satsuma (Japanese tangerine), rose water and sandalwood unfold on the palate, building up to a full, silky, mouth-coating texture that lingers with tangy acidity, exotic spices and firm tannins."
My Take: This was the most vibrant of Gary Farrell's pinot crus and it made by mouth water. The citrus tanginess adds lift to big red and black fruit flavors that swirl on the palate. A lot is going on here and all of it is good. Very satisfying, delicious, and enduring.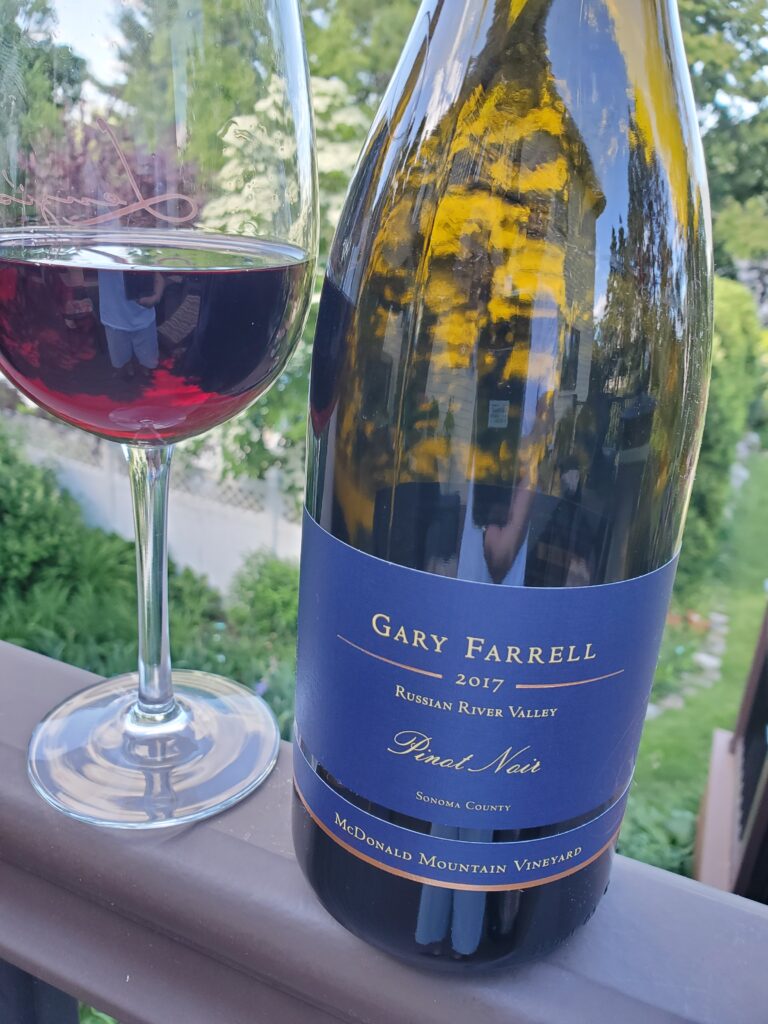 McDonald Mountain Vineyard Pinot Noir 2017, SRP $70, abv. 13.3% (667 cases made) – The vineyard, just 13 years old, has a soil composition similar to Hallberg. It is located in the cooler Sebastopol Hills neighborhood that routinely gets a blast of high winds from the Petaluma Gap. Heredia said the winds cause natural dessication of the grapes leading to the lowest yields of all Gary Farrell's cru vineyards.
What is produced at this foggy, colder and elevated site, however,  is well worth the patient picking.
Grapes attain a lot of acidity, said Heredia, and the fruit picks up exotic spice and earthy elements to go along with lush cherry, cranberry and raspberry notes.
"There's a purity and expression of place" accentuated by this cooler site," she added.
The winery's tasting notes read like a kitchen spice cabinet: "There are elements of licorice, cloves, tobacco leaf in the background that add an element of intrigue and depth. Exceptionally clean and focused, the flavors meld together in a precise, focused package that delivers a lasting impression upon the senses."
MY TAKE: McDonald Vineyard Pinot Noir was my favorite; it possessed deeper traits on most fronts with intense dark cherry, raspberry and even plum flavors. There was a mysterious element to it. Call it exotic, intriguing or whatever, but this pinot hit the glands right where it screams "glamorous." The acidic energy was keener yet didn't impinge on the ballet-like balance that is at its core. A cru worth gushing about: big, refined, and with a  presence all its own.
To purchase these wines, go to www.garyfarrellwinery.com.
The Russian River Valley's Six Wine-Growing "Neighborhoods"