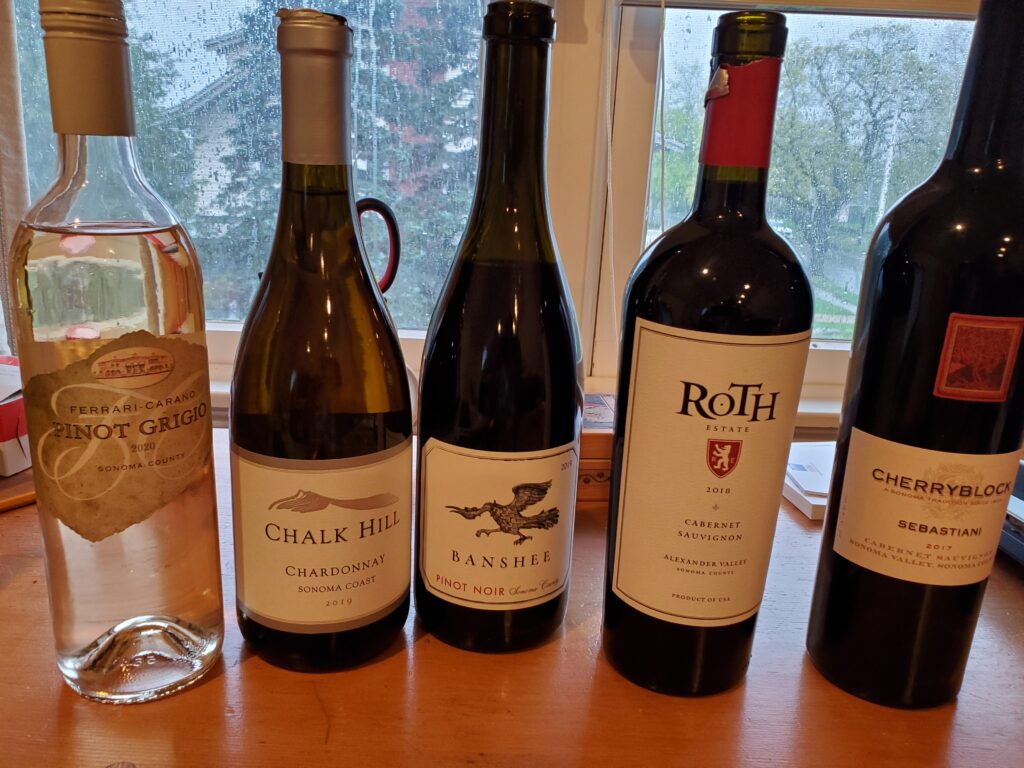 With California suffering through its fourth driest year on record, grape growers and wine producers are doubling down on becoming more efficient and preserving natural resources.
In early August, the situation intensified when the state ordered 1,500 ranchers and farmers to stop taking water from the Russian River, one of Sonoma County's major water sources. The emergency order includes the towns of Cloverdale and Healdsburg, the latter considered to be the heart of the region's wine country.
While sustainable farming practices have been adopted at a majority of wine houses, there is more urgency now to save water, preserve land and natural habitats, and reduce carbon emissions. Investments in modern equipment, underground irrigation systems, solar panels, dry farming techniques and other initiatives are having a positive effect.
Foley Family Wines, which owns 24 wine properties worldwide including 13 in California (seven in Sonoma County), has taken a key role in implementing sustainability efforts.
In April, Sarah Quider, Vice President of Winemaking for Foley Family Wines, moderated a virtual event in which head winemakers from Roth Estate, Chalk Hill Estate, Sebastiani Vineyards & Winery, Banshee Wines and Ferrari-Carano Winery discussed sustainable farming strategies while also showcasing individual wines from each property.
"Water conservation and environmental stewardship are very important," said Rebecca Deike, winemaker at Ferrari-Carrano.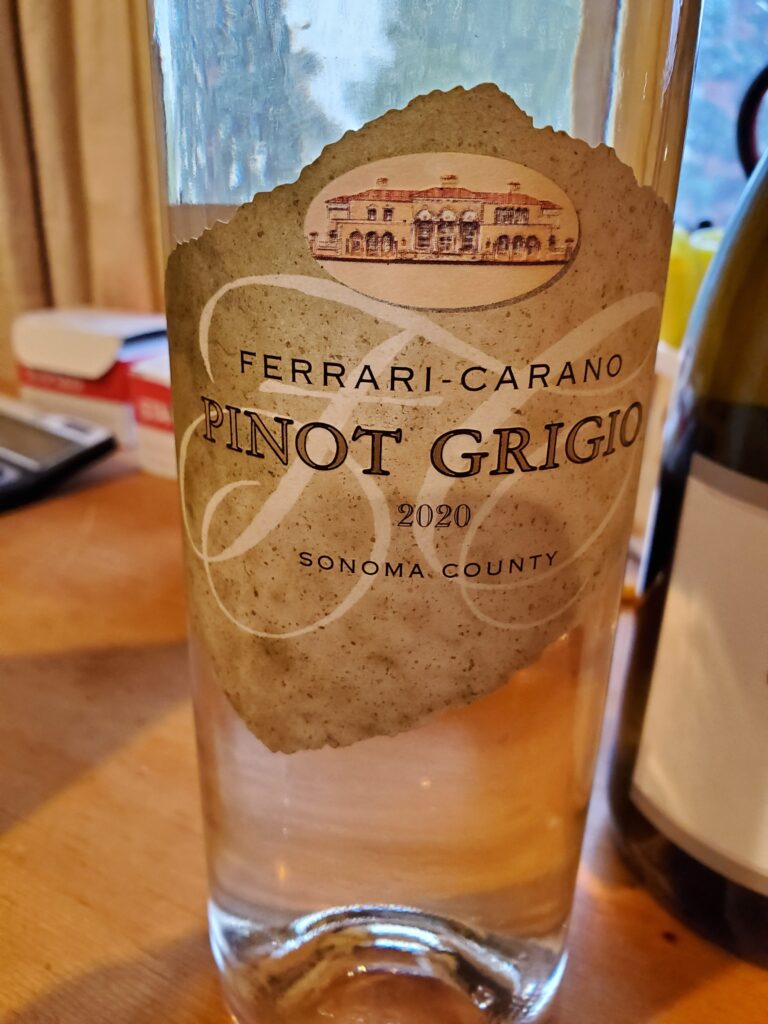 She said dry farming techniques are employed on all hillside and mountain range vineyards to conserve water. Elsewhere, night-time irrigation and sub-surface irrigation cut down on waste. Also, cover crops are grown in between rows of vines to combat soil erosion while solar panels in workhouses produce renewable energy.
According to Roth Estate (and Chalk Hill) senior winemaker Mike Beaulac, the winery launched one of Sonoma County's largest solar panel projects two years ago. He said the results have been enormous: the elimination of 635,694 pounds of carbon dioxide emissions annually or the equivalent of taking off the road 42 vehicles and a combined 19 million driveable miles.
For more information on sustainability efforts, go to www.foleyfamilywines.com.
The wines tasted are as follows: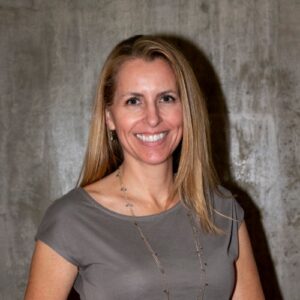 Ferrari-Carano Pinot Grigio 2019, Russian River Valley, SRP $17.99, abv. 13.7% – Associate Winemaker Rebecca Dieke said Pinot Grigio grapes grow in cool-climate vineyards near river banks where they pick up minerality. Whole grape clusters are gently pressed leaving a clear, less tannic juice to ferment and age on its lees in stainless steel tanks. Stirring of the lees is done weekly.
Key flavor(s): Peach, lemon.
Suggested food pairings: Dieke suggests oysters on the half shell, seafood salad, pan-seared scallops and spicy Asian cuisine.
My Take: Ferrari-Carano's Pinot Grigio captures the spirit of Italy with a truly California touch: bright, fresh flavors from sunny fruit. It's easy drinking, enjoyable, and the taste never fades on the palate. Act now and buy this  crisp white for $13.99 in New Hampshire Wine & Liquor Outlets.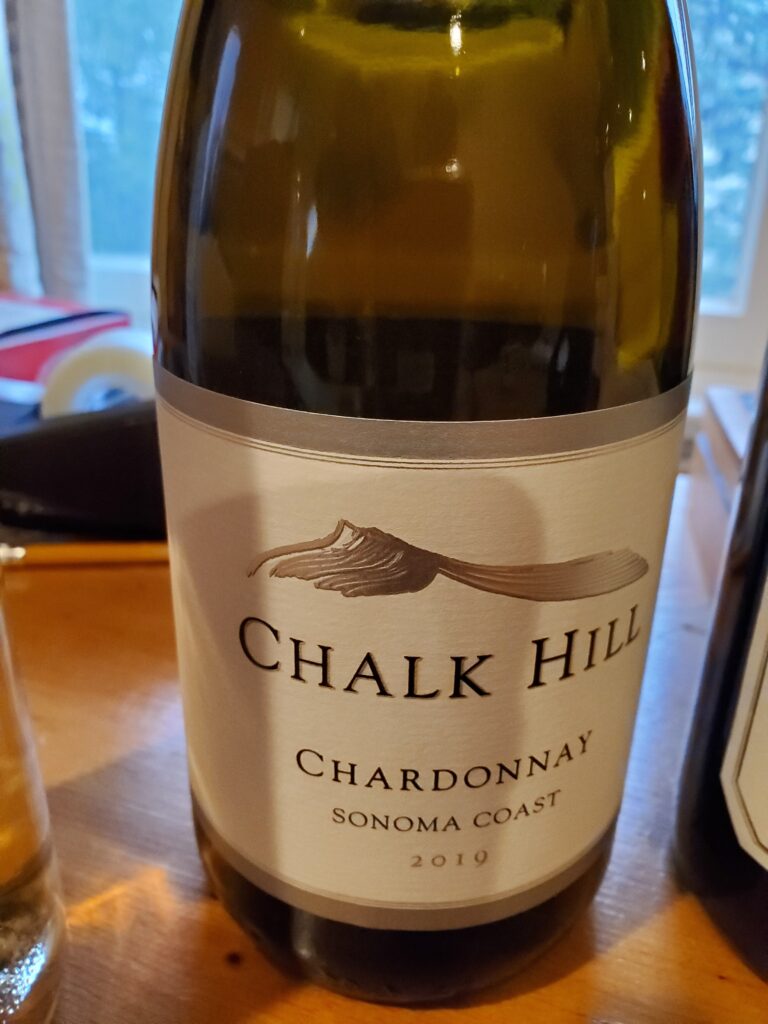 Chalk Hill Chardonnay 2018, Sonoma Coast, SRP $22.99, abv. 14% – Prime fruit from Foley Family estate vineyards in the Russian River Valley, Carneros and Chalk Hill go into this pale yellow, creamy and lemony Chardonnay. Considering that Chalk Hill produces several single-vineyard premium Chardonnays ranging in price from $45 to $75, this cuvee  is quite impressive for the price.
"This wine is key for us," said Michael Beaulac, a Vermont native who joined the Foley team in 2021 as senior winemaker. "It's a top seller. It's rich, round, not overpowering and not sweet."
The wine undergoes 100 percent malolactic fermentation in a combination of French American and Hungarian oak (25% new) and ages sur lie (on dead yeast cells) for 10 months. The process increases aromas, flavors and complexity.
Key flavor(s): Lemon meringue, vanilla.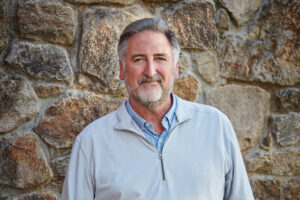 Suggested food pairings: Grilled halibut or any white ocean fish, goat cheese appetizer, grilled chicken.
My Take: Every once in a while I like to drink a toasty vanilla Chardonnay, one that doesn't abandon the fruit's true expressions with exploding oakiness. Chalk Hill does just that: It's balanced, lemony alive, creamy, and spiced up with soft, nutty notes that kick in mid-palate.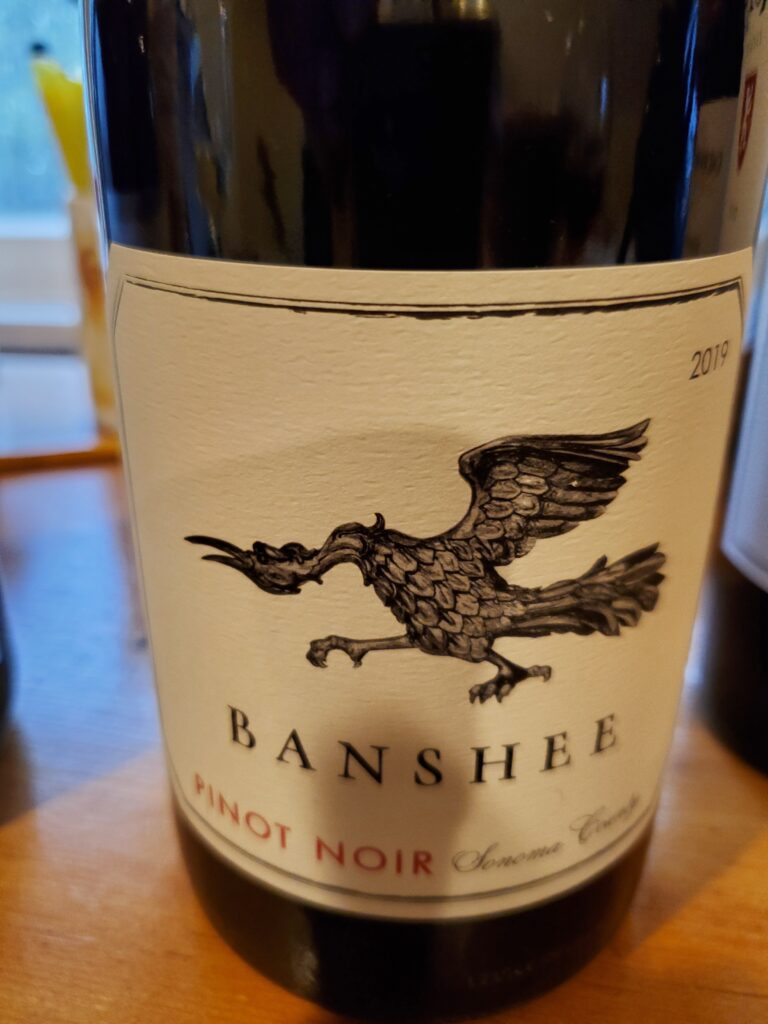 Banshee Pinot Noir 2018, Sonoma County, SRP $21.99 abv. 13.9% – Eighteen vineyards, including several in Foley's single-vineyard program, supply grapes for this pinot noir. Winemaker Alicia Sylvester says Banshee's Sonoma County cuvee is the "most important wine" in the winery's lineup.
The fruit is destemmed, pressed and fermented in small, stainless steel vessels at cool temperatures for an average of 21 days. It is aged in 35 percent new French oak for 16 months. "(The taste) of subtle oak on expressive fruit is our goal. It invites you to take another sip," said Sylvester.
Banshee's ruby color gleams in the glass. A whiff yields tart cherry, plum and black pepper notes that carry over to the palate. The texture is smooth and medium-bodied.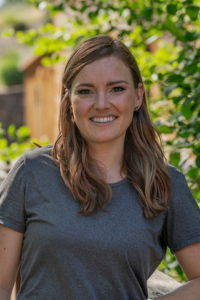 Key flavor(s): Dried pomegranate.
Suggested food pairings: Glazed ham, roasted turkey and/or lamb, salads with grilled meat toppings, pizza and meat tacos.
My Take: Banshee Pinot Noir is a fresh, medium-bodied, savory beverage that comes at a very desirable price point. It delivers   quality across the board. This wine is now on sale in N.H. outlets for $18.99, a true summer deal.
Sebastiani Cherryblock Cabernet Sauvignon 2017, Sonoma, SRP $179, abv. 15.2% – Several months ago Sebastiani Vineyards & Winery sold its entire business to Foley Family Wines, ending more than 100 years of the family-owned enterprise started by Italian immigrant Samuele Sebastiani in 1904.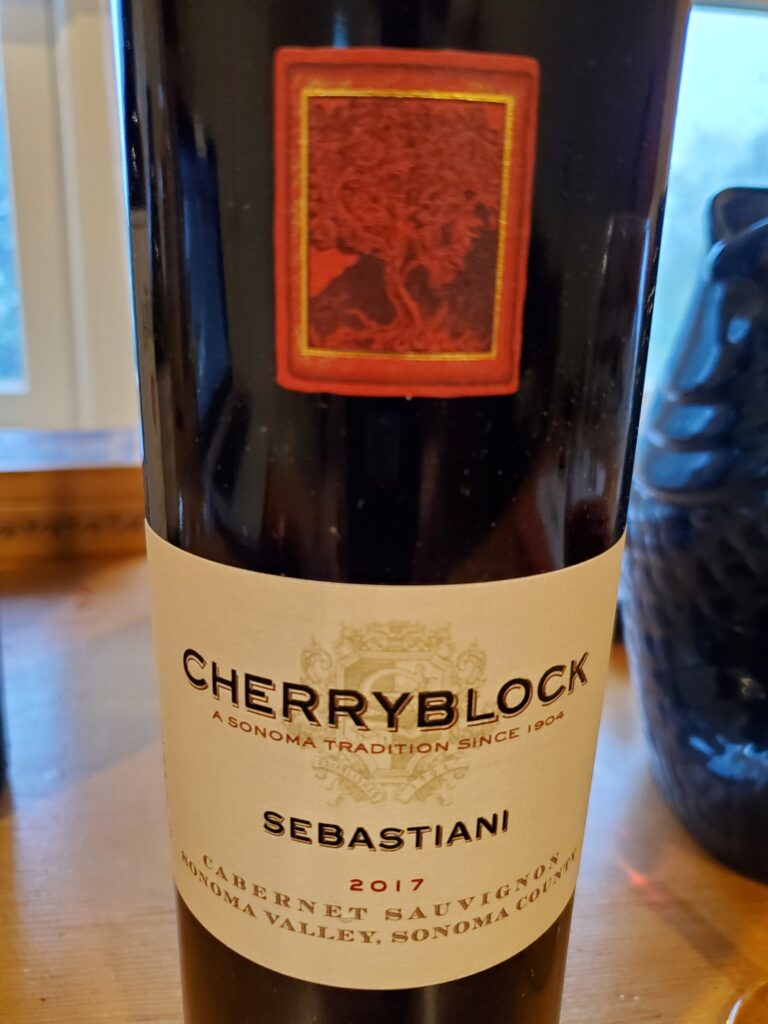 Cherryblock is Sebastiani's flagship 100 percent Cabernet Sauvignon. More than 90 percent of its grapes are sourced from the winery's old vine "eagle" block planted in 1961.
For years, Cherryblock has been rated one of the world's top Cabernets for its classic style, lush taste, and overall elegance.
Winemaker Mark Beaman says the older, low-yielding vines inject great intensity into the fruit, producing strong aromatics and robust flavors. Blackberry, raspberry, and dark cherry combine with coffee and vanilla to create a rich, elegant wine, he said.
"Micro-crush" equipment is used to remove all impurities – stem pieces, botrysized berries – prior to pressing. Beaman said saignee is used to bleed juice for enhanced color and extract. After fermentation, the wine is aged for 18 months in 67 percent new French oak barrels.
Key flavor(s): Sweet chocolate cherry and spicy blackberry.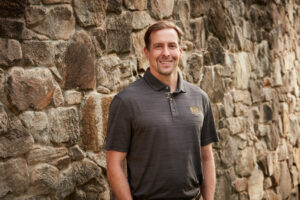 Suggested food pairings:  Thick, juicy steaks and portabello mushrooms, venison, lamb.
My Take: Sebastiani's Cherryblock is an outstanding wine. It's precisely crafted and made to age gracefully for a decade or more. While the suggested retail price is steep, I've seen several online outlets selling the 2017 vintage for $114 a bottle, nearly a 33% discount over the winery's original price. Snap up a bottle now and save it for a special event or dinner.
Roth Cabernet Sauvignon 2018, Alexander Valley, SRP $29.99, abv. 14.8% – The winery has a solid reputation crafting Bordeaux-style Cabs and this expressive red is no exception.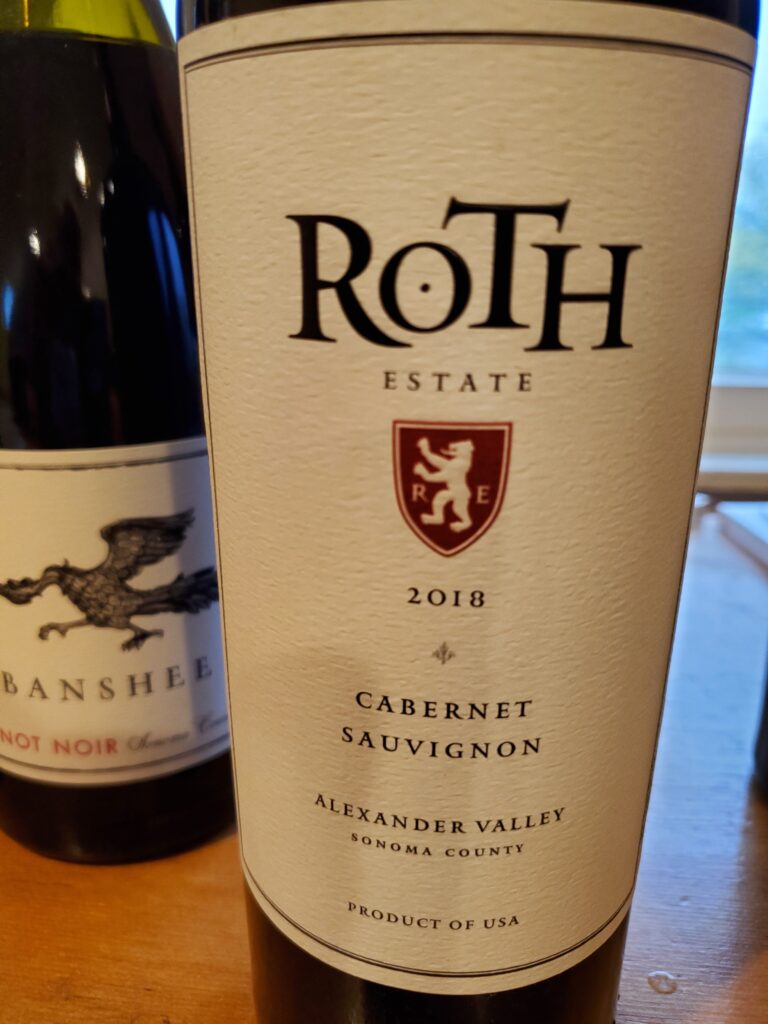 Winemaker Mike Beaulac says fruit is sourced from select hillside vineyards in Alexander Valley, where grapes ripen fully in cool climate conditions. The wine is 95% Cabernet Sauvignon with 5% Malbec, Syrah and Petit Verdot filling out the blend. The mix produces a deep purple-colored wine with good structure and depth of flavors.
The region's volcanic soils lend a subtle flinty minerality that prevails upon the long, dry finish.
Beaulac says fermentation takes place in temperature-controlled stainless steel tanks with the juice pumped over once a day for several days. Malolactic fermentation is completed in wood, and the wine ages in French, American and Hungarian oak (30% new) for 18 months.
Roth Cabernet Sauvignon is plush on the tongue and big on flavor –  dark cherry, blackberry and plum layered with backing spices and mocha.
Key flavor(s): Coffee and chocolate cherry.
Suggested food pairings: Grilled meats and steaks.
My Take:  Give this wine 15 to 20 minutes to breathe and then it's lights out. Cabernet Sauvignon drinkers get all the opulent feel and taste from this $30 overachiever that is often found in more expensive Bordeaux-style wines. It's an honest, quality product. At present, it's selling for $20 on totalwine.com and $26.99 in N.H wine outlets.