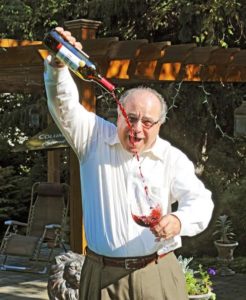 Jim Campanini's curiosity about wine began as a child in the family's basement celler when his grandfather showed him how he could open a corked bottle of homemade Chianti with nothing more than a shoe. He placed the bottle inside the shoe, against the heel, and gently began tapping the heel against the cement wall. Slowly, the cork began sliding out, before it could easily be pulled out. Then my grandfather, Onorato Fuscellaro, poured each of us a sip. "I don't like it, Papa," I said. "Someday, you will," he replied. He was right.
My passion for wine grew intense in the early 1990s, when my wife Mary Lee, then a TWA flight attendant, took me on my first of several trips to Italy. I drank the local whites and reds in unlabeled bottles in Rome, Florence, Verona, Venice, San Gimignano, Assisi, Positano, Capri, Puglia and, of course, Molise where my grandfather was born. I was fascinated by its presence at Italian meals and the communal joy it brought to the family table.
I then began my personal observations, tasting experiences, and travels. I have studied at the Wine Scholar Guild in Boston since 2014, learning about French and Italian wines. I earned my Italian Wine Scholar certification in 2018. But my love of wine extends to all varieties and places. I've traveled to Bordeaux to look on in amazement and cradle in my own hands the pebbly soils at Chateau Margaux and several other Left Bank estates; and walked among the Right Bank vines of St. Emilion, where chalky, limestone surfaces and delivers distinctive minerality to the wines.
Still, I can't say enough about American wines. Yes, I love California Chardonnay and Cabernet Sauvignon and so many others, but there's nothing like the pioneering old West feel of Washington State and Oregon. Entrpreneurial winemakers are elevating the quality of Pinot Noir, Merlot, Cabernet Sauvignon and Bordeaux-style blends. And many of these wines represent great values at price points favorable to a working family's budget.
Twice since 2014 I've visited Woodinville, outside of Seattle, and then driven 4 1/2 hours to Walla Walla on the opposite side of the Cascade Mountains. Two small, outstanding wineries have tasting rooms in Woodinville - William Church and DeLille Cellars. But Walla Walla is where the real wine action exists. It's one of the best wine destinations in America featuring a clean, hospitable downtown hub of activity for food, wine-tasting rooms, shopping, and year-round festivals. On the outskirts of town are dozens of wineries and more tasting rooms. Some of my favorites are Long Shadows, L'Ecole No. 41, Waterbrook, Gramercy, and Charles Smith. The contrast between blue skies, brown mountain landscapes, golden wheat fields, and green vineyards is amazing. It gets hot during the summer; I survived five days of 100-degree temperatures touring vineyards and playing golf in 2015.
When I left Walla Walla, I drove the length of the Columbia River Gorge, and through small Oregon towns to the Willamette Valley. I visited several small "farms" where Pinot Noir vines flourish and tasted the wonders of this beautiful grape. The Pinot Gris was also amazing. Then it was on to the Oregon coast, and two days of rest and relaxation on the white sands of Cannon Beach, before heading back to Seattle for the flight home.
In 2016, the Wine Goddess (my wife Mary Lee) and I went to Nova Scotia and Prince Edward Island to visit good friends and taste the local grape with oysters and mussels and other great seafood dishes. We had a blast. We also found time for an autumn trip to New York State's Finger Lakes region, where Riesling, Cabernet Franc, Merlot and wonderful red blends - aided by climate change and longer growing seasons - are making their marks on U.S. vitaculture. Bordeaux came and went in 2017 and then it was north to Alaska in 2018 for ice wine and, yes, martinis. So far in 2019, I've extended my research to tasting wines in Pennsylvannia, Virginia and North Carolina - the latter being an especially fertile area for new wine discoveries. The year is still young so who knows where else I'll land in this wine adventure.
As I continue my quest, I hope you will come along. Follow my writings on my website, www.grapefullyyours.live, and read my weekly column in the Boston Herald each Wednesday and The Lowell Sun each Thursday. I am also available to present private home and corporate wine tastings and education. Drop me a line at jcampanini@comcast.net or through this site at jim@grapefullyyours.live. May the wine be with you!