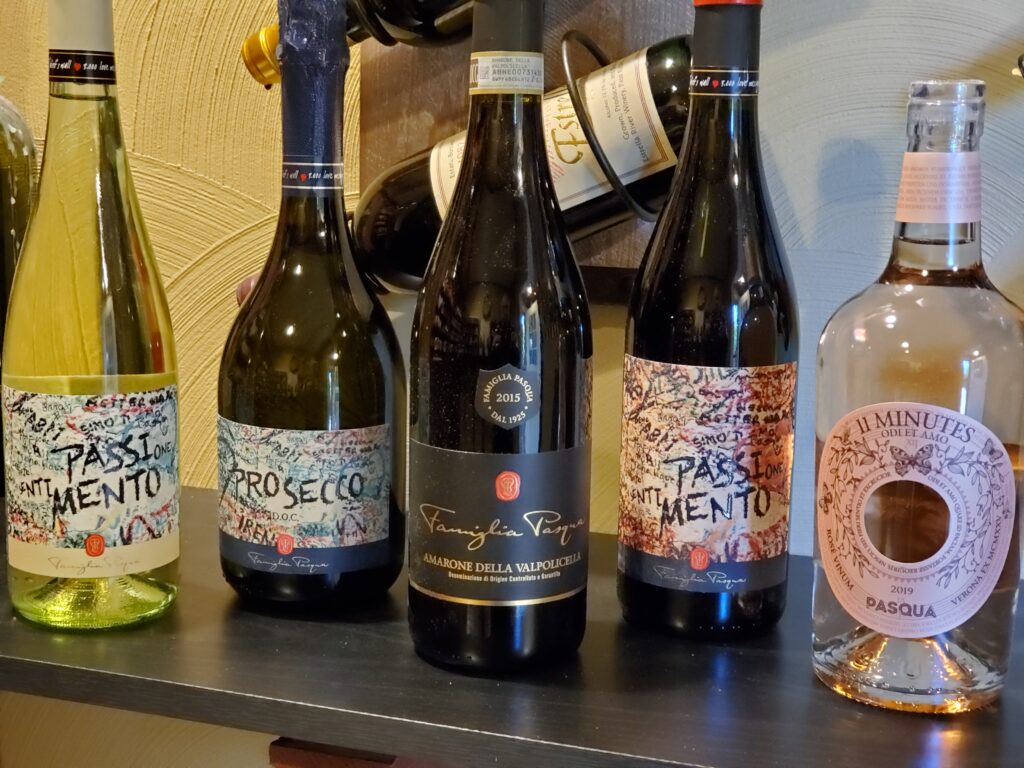 The Pasqua Family of Verona has a simple philosophy when it comes to winemaking: Put passion and quality into every bottle produced.
It also helps that Pasqua's portfolio of seven wines highlights native grapes – Garganega, Trebbiano di Laguna, Corvina, etc. – and unique terroirs that bring special distinction to the Veneto region.
The Pasquas – father Umberto and sons Alessandro and Riccardo – live, work and breathe the region's art, culture and history through their wines. It's why every Pasqua wine has an interesting – and mostly romantic – story behind it.
"You can learn about our little corner of the world sipping our wines," said Alessandro Pasqua when I first met him two years ago at a tasting seminar at La Campania restaurant in Waltham.
There's the Romeo and Juliet line of Prosecco, rosso and bianco wines that revives the story of the star-crossed lovers from Verona. And what of "11 Minutes Rose` that pays homage to the ancient Roman poet Catallus and his love for his mistress, Lesbia?
Whether myth or legend, the stories are captivating and yet they wouldn't be so good if it weren't for the wines. That's what really holds one's attention.
If you want to become both a great dinner host and raconteur, try out these Pasqua wines and have some fun.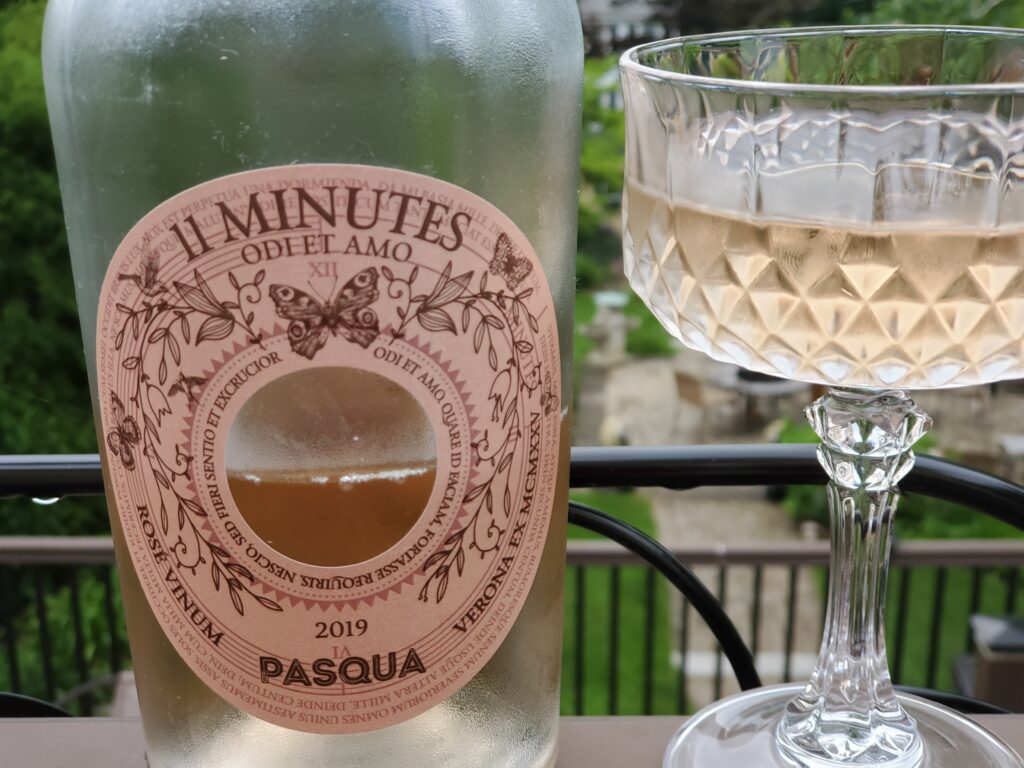 "11 Minutes" Rose` 2019, Tre Venezie, $20 – Trebbiano di Laguna (also known as Turbiana) is an ancient Italian white grape that grows in the hillside vineyards and banks surrounding Lake Garda, located on the Veneto's western border with Lombardia. The grape does especially well here. It picks up minerality in the soils left behind centuries ago by retreating glaciers that formed Italy's largest lake.
High in acidity, Trebbiano di Laguna adds weight, structure and aromas to "11 Minutes" Rose`, which includes three red grapes in the blend – the native Corvina and Syrah and Carmenere.
This is a lovely, elegant rose` that would be the envy of French winemakers. Why? The combination of grapes – two Italian and two French – make for a delightful match.
In my view, "11 Minutes Rose` "is a chilled Italian fruit cup of pure citrus and red berry flavors that stimulates the senses. A racy acidic core gives it a nice lift and makes the rose` a good pairing with light appetizers. The dry finish comes with a bitter almond note.
Now the story behind the wine: According to the ancient Roman poet Catallus, whose family lived near Lake Garda, 11 minutes is the optimal time for physical contact between lovers. Pasqua's winemaker also believes 11 minutes is the exact amount of time needed for the pressed juice to remain in contact with the grape skins in order to create the wine's to perfect  rosette-colored hue and complexity.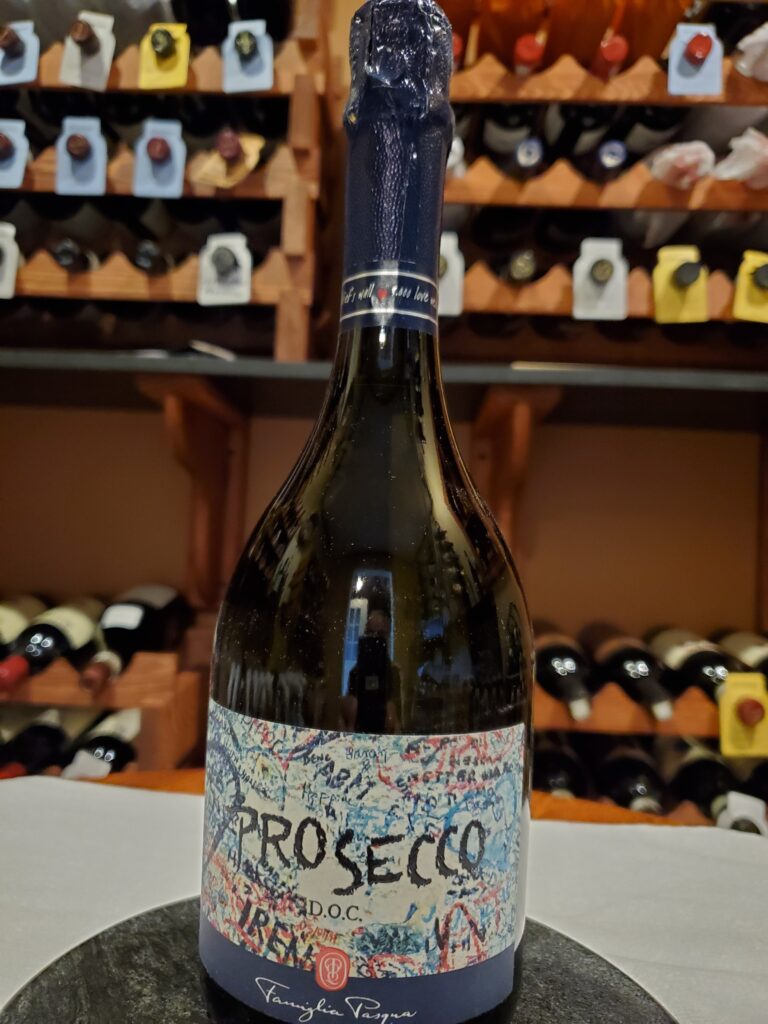 Need more? The label on the oval-shaped bottle has an image of Lesbia, Catallus's mistress, whom he honored with his most famous poem, Odi et Amo (I Hate and I Love).
If you are not a storyteller, don't worry. "11 Minutes Rose`" is so good it can speak for itself. Just pour it in a glass and wait for the response.
PassioneSentimento Prosecco Brut Spumante NV, $16; PassioneSentimento Rosso 2017, $16; PassioneSentimento Bianco 2018, $16 – The big three of Pasqua's Romeo and Juliet line of wines represent wonderful examples of the Veneto's historic wine-growing districts and their unique grapes.
Let's begin with the Prosecco. Pasqua uses 100 percent Glera grapes to craft this dry, refreshing sparkling wine that is very satisfying for all occasions. Glera is exclusive to the Prosecco region located just north of Verona, giving this a unique Italian edge. Pasqua's fruit comes from Conegliano, a premium district for both DOC- and DOCG-classified wines.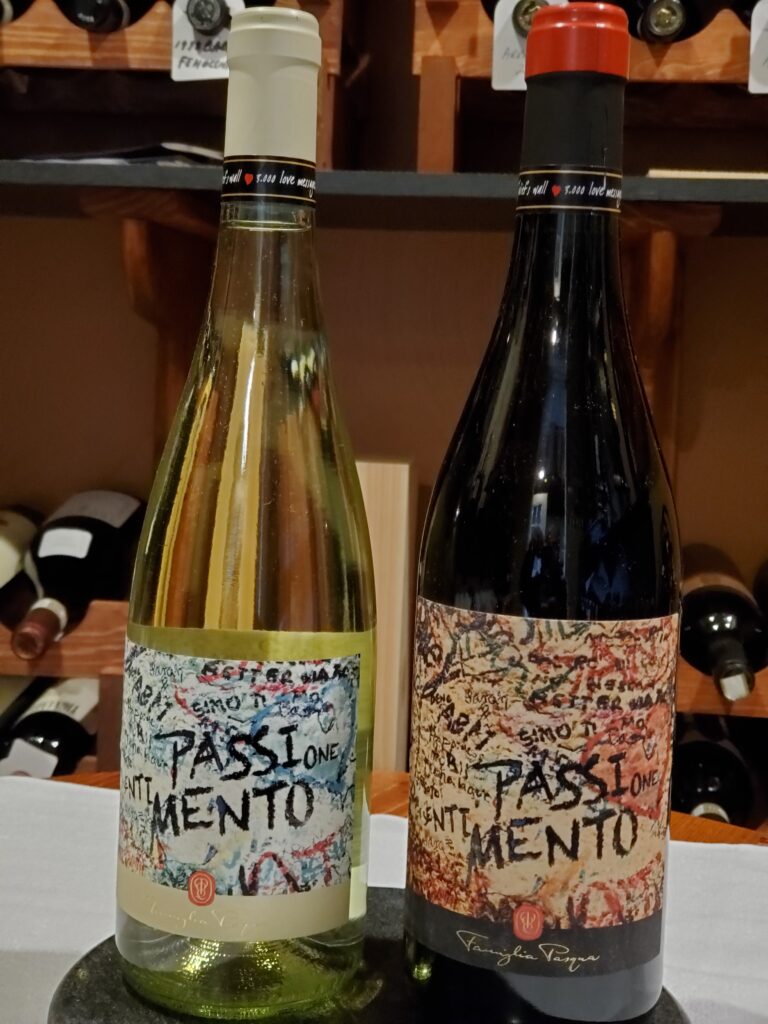 PassioneSentimento (Passion-Feeling) Prosecco is made spumante style using pressurized steel tanks that trap carbon dioxide to create the bubbles. The single fermentation process is called the Martinotti method (unlike Champagne which undergoes two fermentations, one in tanks and then in bottle).
Pasqua's version really glistens in a flute glass where it transmits a golden straw color and a steady stream of bubbles. The taste is fresh and fruity throughout and ends on a dry, mineral note. The texture is light and lively on the palate.
The story behind the label: PassioneSentimento (PS) wines pay tribute to Romeo and Juliet whose romantic and tragic love story put Verona on the map and continues to lure thousands of tourists to Juliet's famous courtyard balcony. The label is an actual photograph of the messages of love left by tourists on the 20-foot-high courtyard walls.
PS Bianco is 100 percent Garganega, a white varietal that is used in making Veneto's historic Soave Classico wine.
PS Rosso is a blend of three red grapes – Corvina (30%), Croatina (30%) and Merlot (40%). The grapes come from the central part of the Veneto, in the Valpolicella wine-growing district.
What gives both these wines special character is the way they are made. The Pasqua family utilizes a partial appassimento technique to enhance color, aromas and flavors. The technique, famously used in crafting the prestigious Amarone Delle Valpolicella red wine, also supplies a velvety texture to the bianco and rosso wines.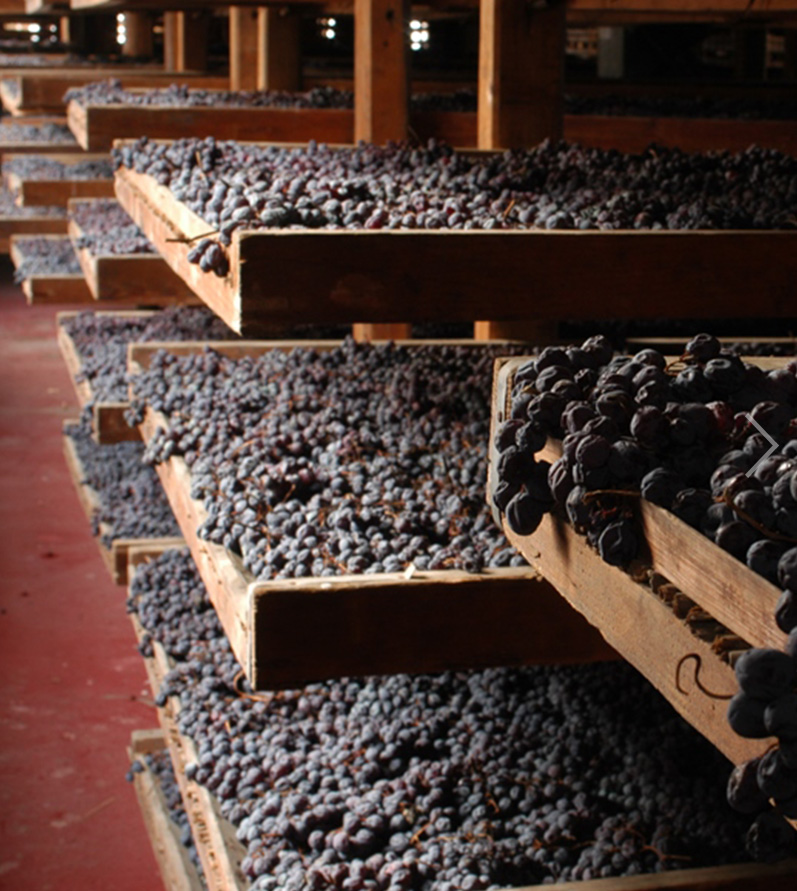 In the appassimento process, grapes are hand-harvested and placed on wooden racks (graticci) that are left to air-dry in open lofts for three months prior to vinification. Grapes "raisinate" and lose most of their liquid pulp while gaining in sugar content. When the  shriveled grapes are finally pressed, they produce juice high in concentrated extract.
Amarone grapes lose about 60% of their weight in appassimento; Pasqua's bianco and rosso wine grapes lose up to 30 percent of their liquid pulp.
PassioneSentimento Bianco is transformed into a richer, weightier garganega wine with plenty of stone-fruit flavor – peach and nectarine – on a mellow acidic frame. Overall, it's an appealing, versatile wine that grows on the palate and can be served as an aperitif or with many meals, including seafood, chicken and pasta dishes.
PassioneSentimento Rosso benefits by picking up more intense color (crimson), aromatics and red berry and plum flavors. The mouthfeel is lush and silky with a bittersweet herbal finish, helped along by aging the wine for three months in large oak barrels. If you're looking for a good pizza companion, here's the wine. It also pairs well with pasta and meatballs, sweet Italian sausage, and a plate of veal, peppers and onions.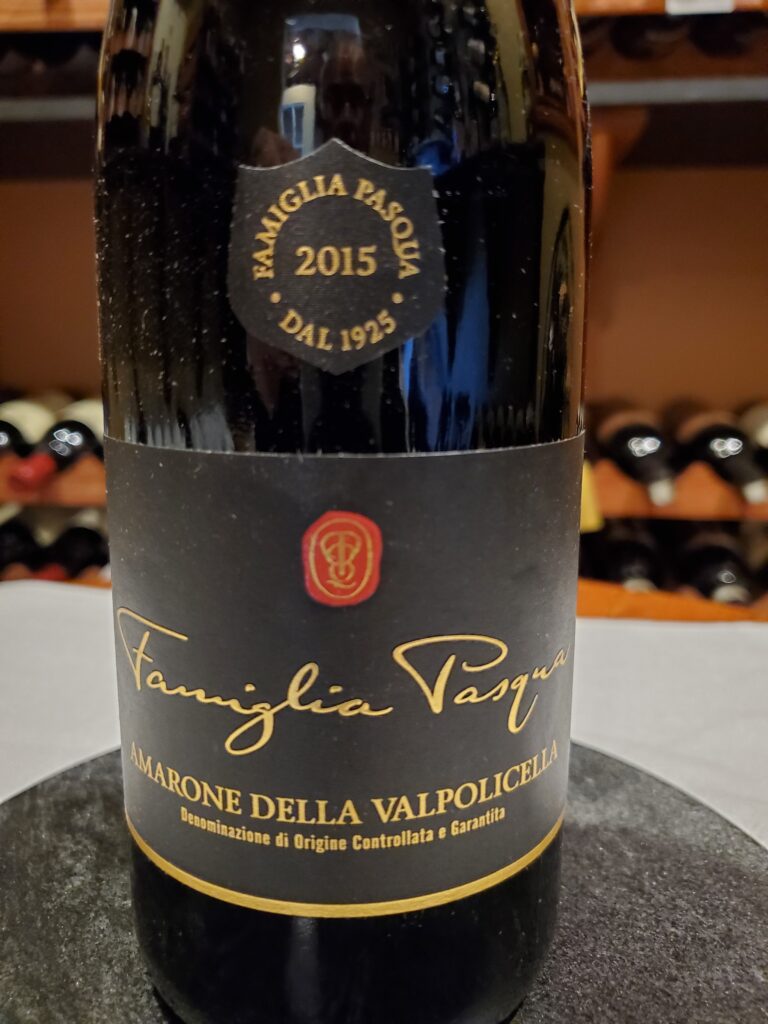 Famiglia Pasqua Amarone Delle Valpolicella DOCG, $50 – This is Pasqua's big boy, a modern creation that permits bold, age-worthy Amarone to be both food friendly and approachable. I love this version. It's got warmth –  a classic meditation wine for sitting by the fire – and yet it's built for power to accompany an osso buco, venison or steak dinner.
Amarone wines are more expensive to make because of the appassimento process which reduces the grape's liquid content and, therefore, increases the amount of grapes needed to , produce the juice. Amarone is also required by law to age at least two years before release.
The grapes used to make Pasqua's Amarone originate from five hillside vineyards in Valpantena – one of three growing zones in the historic Valpolicella district located north of Verona. They are Corvina, Corvinone, Rondinella and Negrara – all native grapes. Each is fermented separately in stainless steel tanks. When the final blend is assembled, the wine is transferred to oak barriques where it ages for 24 months before bottling.
Pasqua's Amarone is less dense than traditional, highly tannic versions that must sit in wine cellars for several years before they can be satisfactorily consumed. The purple-colored wine also has a lower alcohol content (15% versus 16.5%).
The beauty of Amarone, however, is its penetrating and complex layers of dried fruit flavors and spices. There's sweet maraschino cherry, red berries, chocolate, coffee, and vanilla intermingling on a velvety, smooth frame. The sweetness exists on a deep acidic core that contains little, if any residual sugar. The finish turns somewhat bitter and dry, adding to Amarone's mesmerizing effect.
Famiglia Pasqua Amarone hits all the high marks for a top quality wine in this most prestigious Italian category. Act quickly and you can get it on sale in New Hampshire Liquor & Wine outlets for $43.99 a bottle.