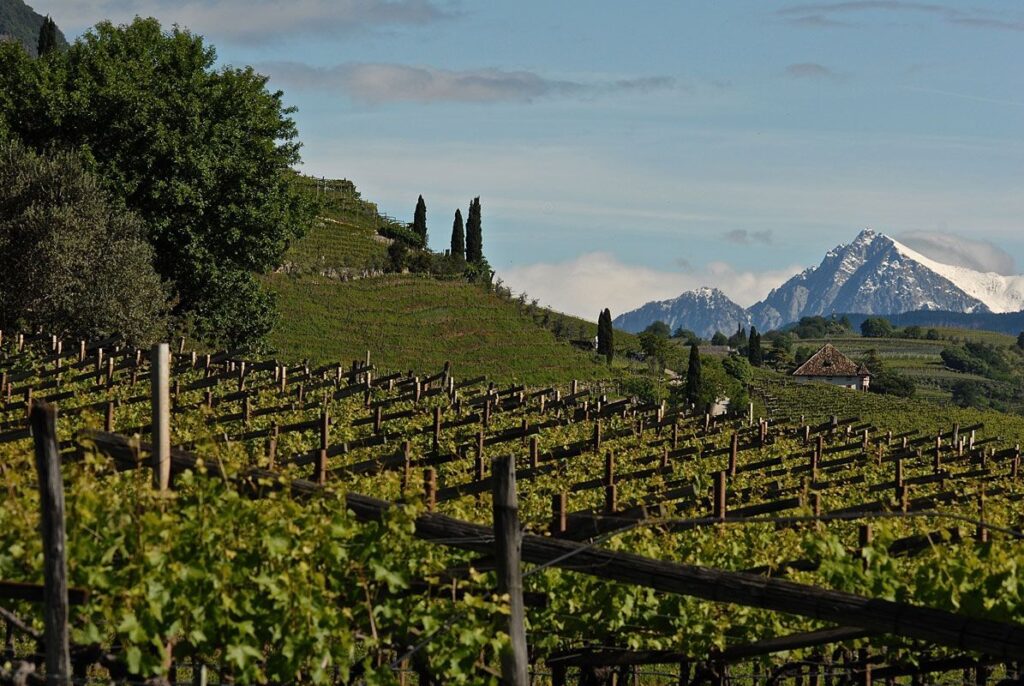 Besides tasting very good, Italian wines usually have an interesting tell to story. One can learn a lot about Italy's culture, history and traditions  just by reading the bottle label and then following up with an Internet search on the winemaker, the winery, and the region.  Often overlooked are wines from Italy's northernmost wine-growing regions in the Trentino-Alto Adige where the Swiss Alps and Dolomite mountains converge along with Austrian, German, Swiss and Italian influences.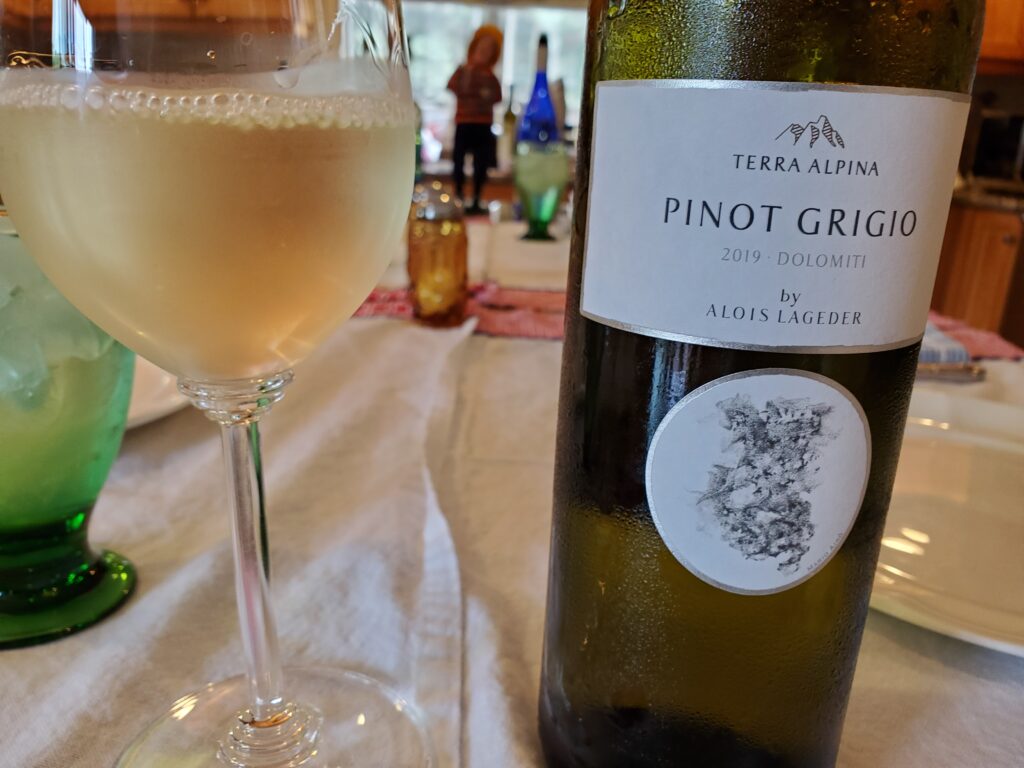 Some of Italy's best wines come from these majestic vineyards planted in the sunny foothills and steeply terraced slopes of the Dolomiti. Prior to the 1960s, this region was dominated by red wines based on native grapes like Lagrein and Schiava and the traditional Pinot Nero (Pinot Noir). But the remarkable advance of white grapes – and the demand for lively, refreshing wines – have generated a production renaissance for Pinot Bianco, Pinot Grigio, Sylvaner, Riesling, Muller Thurgau. Whites now make up 60 percent of the annual production volume.
There's really no mystery to how good these wines are from the Alto Adige (Ah-dee-jay).
Winemakers have cultivated grapes here for centuries and perfected – or at least tried to – the great natural resources provided by Mother Nature. Alto Adige is so mountainous only 15 percent of the land here can be cultivated. Vineyards are planted in the three glacial valleys carved out by the Swiss Alps to the north and the Dolomites that form a barrier to the east. These natural protectors keep the vineyards safe from harsh winter storms and also provide a circulation of cool air to moderate the warm, summer heat.
Here are four impressive wines – three whites, one red – that give viticultural credence to this special region.
Terra Alpina Pinot Bianco Vigneti Delle Dolomiti 2019, $15 – The sixth generation of the Alois Lageder family has been running a winery in Alto Adige since 1823 – a testament to its viticultural endurance and innovation in Italy's most northernmost wine-growing region. The family owns 160 acres of vineyards that are all biodynamically farmed. With global demand increasing for Dolomite-area wines, Lageder has collaborated with producer Terra Alpina to work with area growers to expand production. Lageder oversees the project and is encouraging more farmers to adopt biodynamic principles for all grape growing.
The Pinot Bianco appears simple enough from a glance at its unadorned green-hued bottle, but to know this wine is to love it. It's an easy quaffing white, made for those who want to relax with a chilled wine after a day of skiing or hiking in the Alps. Yet Pinot Bianco (12.5% alcohol) has a surprisingly good feel about it, starting with a medium-bodied, creamier texture than I had expected.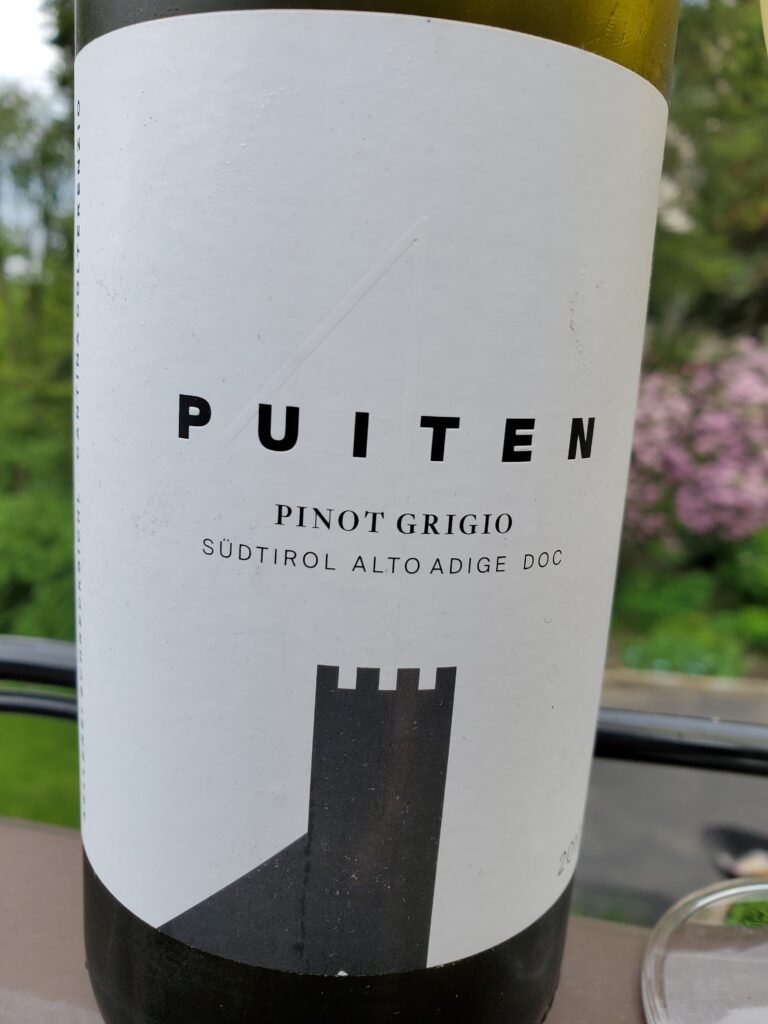 According to the winemaker's tasting notes, the wine matures on the lees for three months following fermentation in stainless steel vats, picking up a bit more substance and flavors, especially apple and peach. It's worthy of note that Alto Adige grows 10 percent of Europe's total apple crop. Apple orchards are sited on the region's valley floor while grape vineyards are planted on the elevated hillsides. It's a perfect terroir for engagement between the fruits.
This white wine is quite versatile with or without food, but is best when paired with a Caprese salad, seafood, and chicken dishes.
Terra Alpina Pinot Grigio 2019 Vigneti Delle Dolomiti, $16 – Grapes are sourced from organic vineyards in northern Trentino and combined with Lageder's estate fruit. It's a pure, fresh wine  and classified as "vegan". In addition to its crisp, clean fruit tastes, this Pinot Grigio (12.5% alcohol) has a nice mineral quality to it. Most likely, it's a transfer of the limestone and volcanic soils that dominate the Dolomite-area vineyards. I really liked Terra Alpina's version of this workhorse grape. It's got a precision to it that elevates Pinot Grigio to the top tier of its varietal class.
Puiten Pinot Grigio 2017 Sudtirol/Alto Adige, $22 – The Alto Adige/Sudtirol is dominated by cooperatives that produce 80 percent of the region's wines. Cantina Colterenzio was founded in 1960  as a breakaway winery from the status quo. The first winemakers to join were considered "rebels" because they sought to experiment with different varietals and to improve the quality of wines through modern farming techniques. Today, Appiano-based cooperative has more than 300 members who grow grapes in small, family-run operations. The wines produced are known for their consistency and complexity. Puiten Pinot Grigio is a prime example. You pick up a honeyed fragrance the moment the cork is popped and the straw colored wines is poured into the glass. It's got a rich, mouthfilling taste that is quite expressive in melon and pear flavors. The 2017 vintage is high in alcohol (14%) yet well balanced on a smooth, acidic frame. A wine of this refined result takes time to achieve. Fermentation takes place in both stainless steel and oak barrels. Later, the wine sits on the lees for 10 months where it undergoes regular stirring to enhance the soft texture. The cost for a bottle seems high for every-day drinkers but Puiten Pinot Grigio sets a standard of excellence that is well worth the money.
Barthenau Vigna S. Urbano Pinot Nero, South Tyrol, $70 – The Josef Hofstatter Wine Estate is more than 100 years old, consists of five farmsteads stretching across the Adige Valley, and is into its fourth generation of family management. Their 125 total vineyard acres are situated on both banks of the Adige River, and provide a diversity of terroir that no other winery can claim. The Barthenau farmstead, located in Mazon, is one of Italy's most renowned for producing high quality Pinot Noir.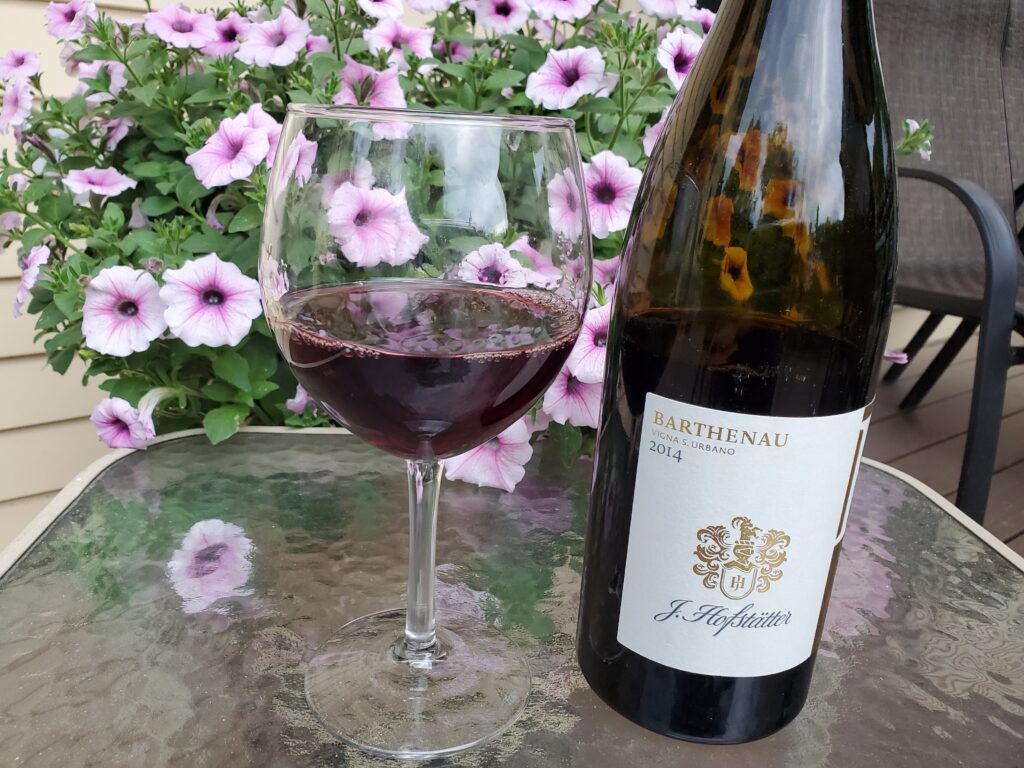 Ludwig Barth von Barthenau, a chemistry professor from the University of Vienna, was the first to plant Pinot Nero in Mazon in the early 19th century. His passion and pioneering efforts created a noble reputation for the varietal that continues to this day. The Foradori family bought the estate in 1957 and later, through marriage, merged with the Hofstatter wine family to make premium wines.
Barthenau Vigna S. Urban Pinot Noir is a single-vineyard wine, designated by the word "Vigna" on the label. The S. Urbano site is planted to small, low-yielding parcels of older vines that grow in fine gravel, lime and clay soils on steep sloping hillsides. Most of the vineyard labor here is done by hand.
The wine is fermented and aged for 28 months before release. In the first phase, the young wine stays in small oak casks for one year. In phase two it is transferred to large oak casks for eight more months. Finally, the wine is bottled and aged for eight months in the cellars of the Barthenau manor house.  
When tasting this ruby-colored wine, one fills with excitement over the gradual release of its components on the palate. The tart cherry and raspberry flavors are soft, elegant and enduring. The dry finish brings an order of baking spices, especially vanilla. Everything meshes well, with bright acidity delivering a mouth-watering experience.
Barthenau Vigna S. Urban is a distinctive Pinot Nero, crafted with precision to capture the very essence of the place where it orginates. Overall, it defines what the best of Italian Pinot Nero is from a top tier wine house.
J. Hofstatter also crafts a Dolomiti Pinot Grigio ($19) that earned 90 points from Wine Spectator in its August edition.