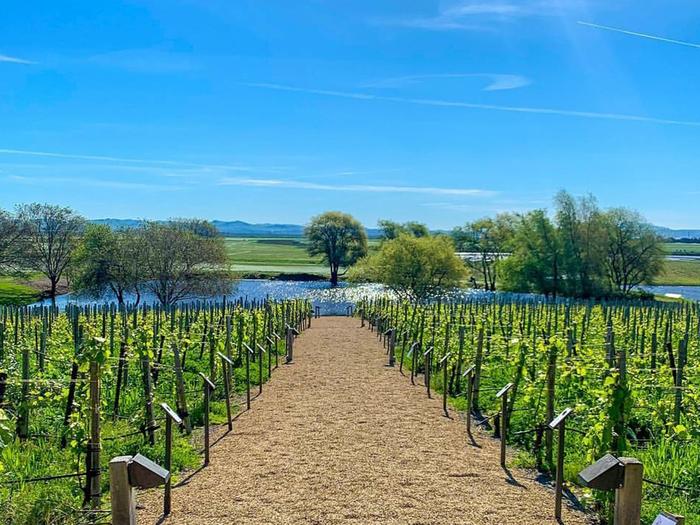 If you are unfamiliar with Ram's Gate Winery, a small-lot, premium wine producer located north of San Francisco in Sonoma's Carneros appellation, don't be alarmed. I was too until several weeks ago. That's when I sampled bottles of their introductory Chardonnay and Pinot Noir.
My first reaction was to repeat the refrain from Neil Diamond's song "Sweet Caroline" – "So good, so good, so good!
In fact, the creamy, lemony Ram's Gate Chardonnay ($46) moved me to cap the bottle after drinking half a glass so that I could taste it properly with the most exquisite of pairings – a fresh lobster roll! More on that story later. The Pinot Noir ($48) also grabbed my palate's attention for its balance and smoothness – which appears to be the foundation of Joe Nielsen's winemaking manifesto.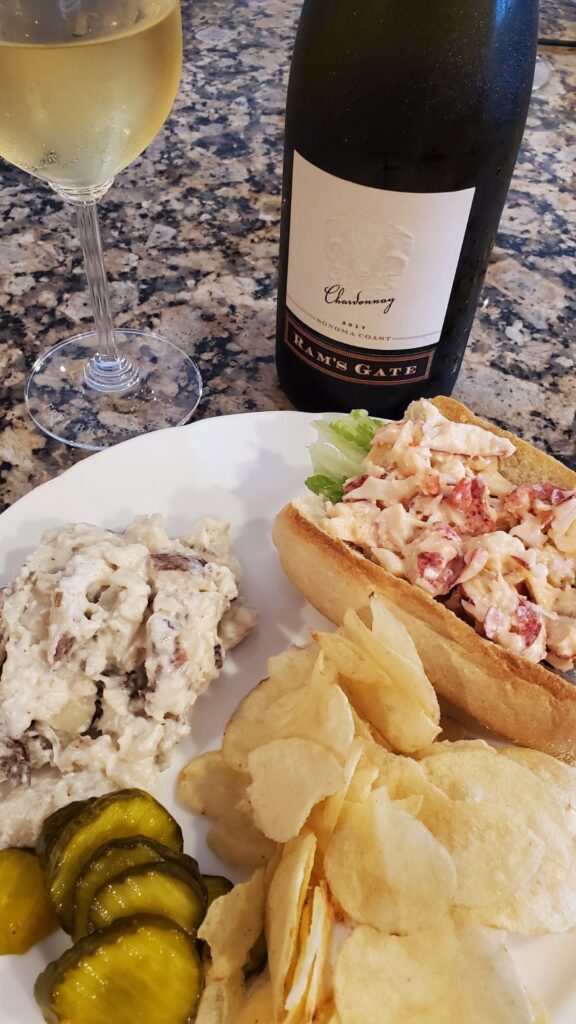 In my view, Ram's Gate is a winery on an upward trajectory. Founded in 2011 by four longtime wine entrepreneurs, it's been  devoted to crafting its own estate wines as well as  single-vineyard selections from top sites in Sonoma. Since Nielsen came on board in 2018 as Director of Winemaking, the focus on terroir-driven wines has intensified along with organic and sustainable farming methods.
A new Ram's Gate logo, rebranding campaign, and portfolio expansion from 21 to 25 wines have added to the positive momentum heading into 2021.
For travelers to California Wine Country, Ram's Gate is easy to find. Heading north from San Francisco on Highway 121, it's the first winery you'll run into on the way to Sonoma.
The Ram's Gate estate sits on 28 vineyard acres of rolling hillsides. Located smack in the middle is a modern winery with spacious and attractive indoor and outdoor tasting rooms that offer spectacular views of the gorgeous landscape.
The winery specializes in producing three, or "series", of Chardonnay (six selections) and Pinot Noir (five selections) –  Sonoma County, Estate, and Single Vineyard. Ram's Gate also crafts small lots of estate-grown Pinot Blanc, Sauvignon Blanc, Syrah and Cabernet Sauvignon, along with a Grenache-based rose`.
In the near future, Nielsen will debut a fourth series called  "Cellar Note" to highlight four individual wines – Chardonnay, Pinot Noir, Cabernet Sauvignon and a Rhone-style red. According to a winery press release, "Nielsen intends for these wines to offer a lens into the cellar while allowing him to experiment with new techniques and vineyard sources."
Ram's Gate Chardonnay 2017, Sonoma Coast, $46 (14.2% abv.) – I crave a full-bodied, slightly creamy, and expressive Chardonnay with a classic lobster roll sandwich, and this pairing was one of the highlights of my summer. Some may prefer a buttery, overpowering Chardonnay with lobster, but I want a true wine that intermingles and enhances the fresh, succulent tangy meat. So, when I first Ram's Gate in the glass, I knew I had the makings for a delicious match. The wine's texture was velvety and weighty. But what really brought out the wow factor was the Chardonnay's citrus – and lemony – vibrancy. The flavors weren't masked by an overdose of oak or the taste of vanilla.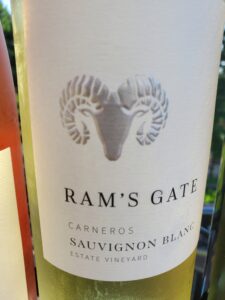 I squeeze fresh lemon juice into my lobster salad, which also includes a touch of dill, diced  celery, and just enough light mayonnaise to hold everything together. The French baguette bun is lightly buttered before being toasted on a grill . By now, your mouth is probably watering for a bite of my sandwich and a taste of Ram's Gate's elegant Chardonnay. Believe me, the combo was superb.
I learned that Nielsen creates the slightly creamy texture through partial malolactic fermentation. The process retains the wine's crisp freshness, he says.
Remember, this is Ram's Gate's "introductory" Chardonnay, so I can just imagine how good the single-vineyard and estate versions are.
Ram's Gate Pinot Noir 2017, Sonoma Coast, $48 (14.4% abv.) – Grapes used in RG's 'Sonoma Coast' wines are a mix of estate fruit and that of top coastal vineyard sites in Sonoma (Gap's Crown) and the Russian River Valley (Bush Crisp, El Diablo). Vineyards benefit from morning fog, afternoon sunshine, and ocean breezes that allow Pinot Noir to mature steadily and fully. This wine appeals for its mild aromatics, fresh raspberry and cranberry flavors, and bright acidic core. The flow is harmonious and smooth on the palate, leading to a mostly dry, mineral finish. While the wine might not be layered in complexity, there's a pleasant, earthy feel about it that inspires curiosity. Certainly, it's a good start on exploring Ram's Gate's single-vineyard Pinot Noirs.
At present, Ram's Gate wines can be purchased direct from the winery (www.ramsgatewinery). They are also available in some Connecticut wine outlets.