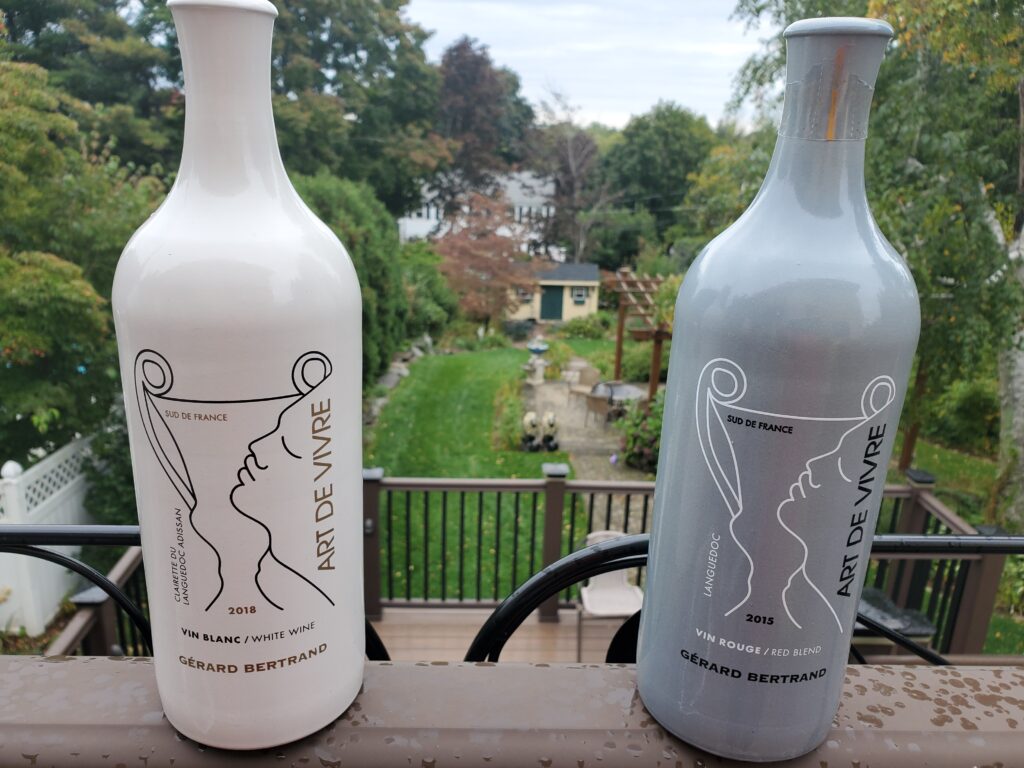 Gerard Bertrand wines from the Languedoc and Roussillon regions in southern France are always interesting, well crafted and satisfying. They are also unpretentious. What I mean is that you don't have to know France's complex and convoluted wine classification system to enjoy Bertrand's easy-drinking reds and whites.
Two of my GB favorites fall under the "Art De Vivre" label – Vin Blanc and Vin Rouge.
The wines regularly sell for $19.99 a bottle, but are currently on sale in New Hampshire Wine & Liquor outlets for $12.99. That's a 64% discount. Costco also carried the brand at a discounted price.
Bertrand's popular Cotes des Roses' Sauvignon Blanc, Chardonnay and Rose`, which come in  long-necked, glass-capped bottles, are also available for $16 and less.
Art De Vivre (translation "art of living") wines come in eye-catching, pottery-style clay bottles – gray-colored for vin rouge, white for the vin blanc. Bertrand's design pays homage to ancient winemakers who made wines in large, clay amphorae pots that served to preserve the fruit's natural traits. The method is still practiced today in Portugal, Spain and Croatia. (Note: My wife not only loved the wines, but turned the bottles into decorative flower vases and conversation pieces.)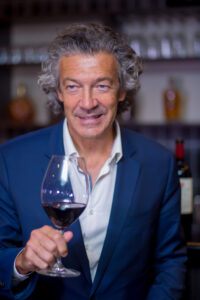 The beauty of these wines derives from their sense of place in the Languedoc. Here the soils are a mixture of ancient volcanic and limestone debris along with younger gravel, shale, sand and rocks.
Another common feature around vineyards is the "garrigue" scrubland of wild herbs and plants that only grow in the poor limestone soils. Garrigue delivers a characteristic lavender scent to the field and the wines. Other notable markers are thyme and rosemary.
Of course, the native grape varieties are plentiful and, in many cases, unique to southern France. Whites like Bourboulenc, Clairette, Piquepoul Blanc, Rolle, Marsanne and Muscat a` Petits Grains Blanc make a name for themselves here. As to the reds, Carignan, Cinsault, Grenache Noir, Mourvedre and Syrah form the backbone of most blends.
The wide palette of grapes and France's less-restrictive Vin de Pays/IGP regulations allow a bit more flexibility to experiment for winemakers. And that suits Bertrand's innovative nature just fine, especially in a region where wine-making dates back 2,000 years.
Bertrand, 55, is a former professional rugby player and coach. The accidental death of his father in the early-1980s prompted him to change direction and go into winemaking. He took over the family's estate in 1987 and has built a world-famous reputation for introducing new methods to French viticulture. He now owns or manages 12 wine estates and in 2012 was named International Winemaker of the Year.
So let's get to the wines.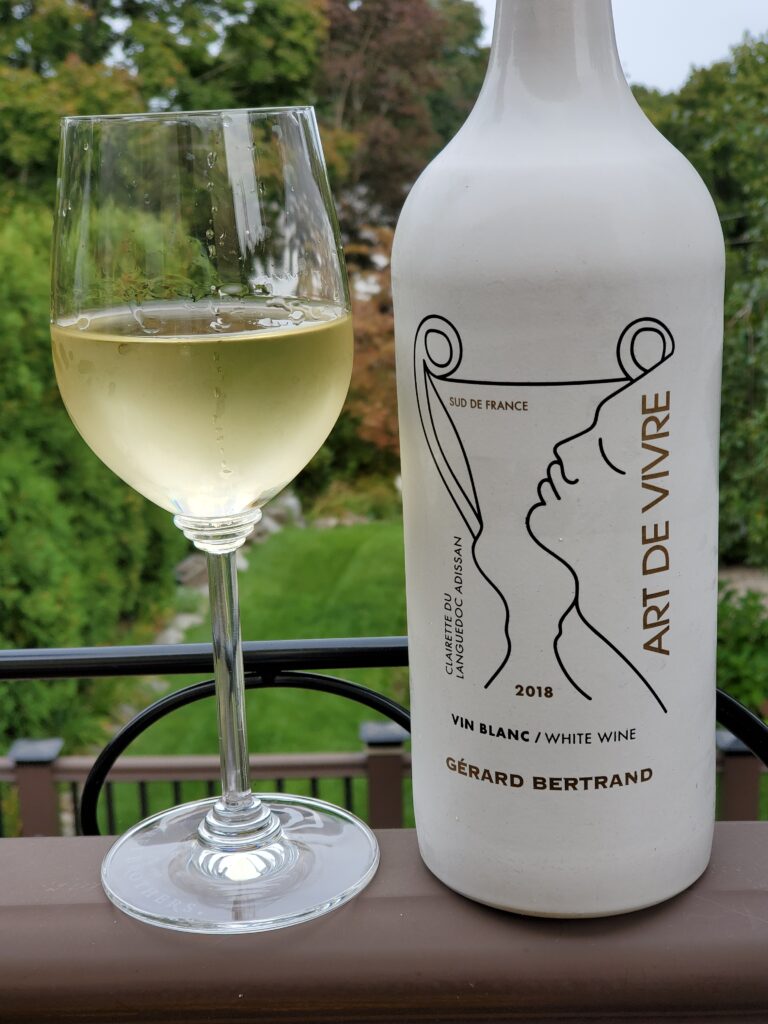 Art De Vivre Vin Blanc (Clairette Du Languedoc Addissan) 2018, abv. 13% – Clairette is an enchanting white grape that's exclusive to warm Mediterranean climates. It's one of two grapes in the Languedoc that has its own appellation devoted solely to white wine production (the othe ris Picpoul de Pinet).
Although Clairette is known to be a high alcohol, low-acid grape, Bertrand's 100 percent Vin Blanc is fresh, smooth and harmonious on the palate. The color is pale straw and the texture medium-bodied. There's a splendid array of apricot, peach and apple flavors that lead to a mild and dry finish. A slight note of anise is detectible.
The taste of Clairette is a welcome change to other summer varietals, particularly Chardonnay and Pinot Grigio. The pottery bottle also seems to keep the wine cooler outside the fridge.  In my view, however, Bertrand's Art De Vivre Vin Blanc is a good pairing all year round for chicken, fish, and white pasta dishes.
Art De Vivre Vin Rouge 2015, abv. 14.5% – The tri-blend of Grenache, Syrah and Mourvedre captures the essence of the Languedoc for its bright red fruit and expressive flavors. Plum, raspberry, black cherry and wild herbs and spices merge brilliantly on an elegant frame. The tannins are soft.
Once again, everything is in balance even with the high alcohol content. Bertrand has crafted a gem that can accompany grilled and roasted meats as well as hearty stews and pasta dishes.
For under $20 a bottle, Art De Vivre Vin Rouge represents an exceptional value for such a top quality wine. Wine Spectator awarded the 2015 vintage 90 points and placed it No. 78 on its Top 100 List of Best Buys for 2019.