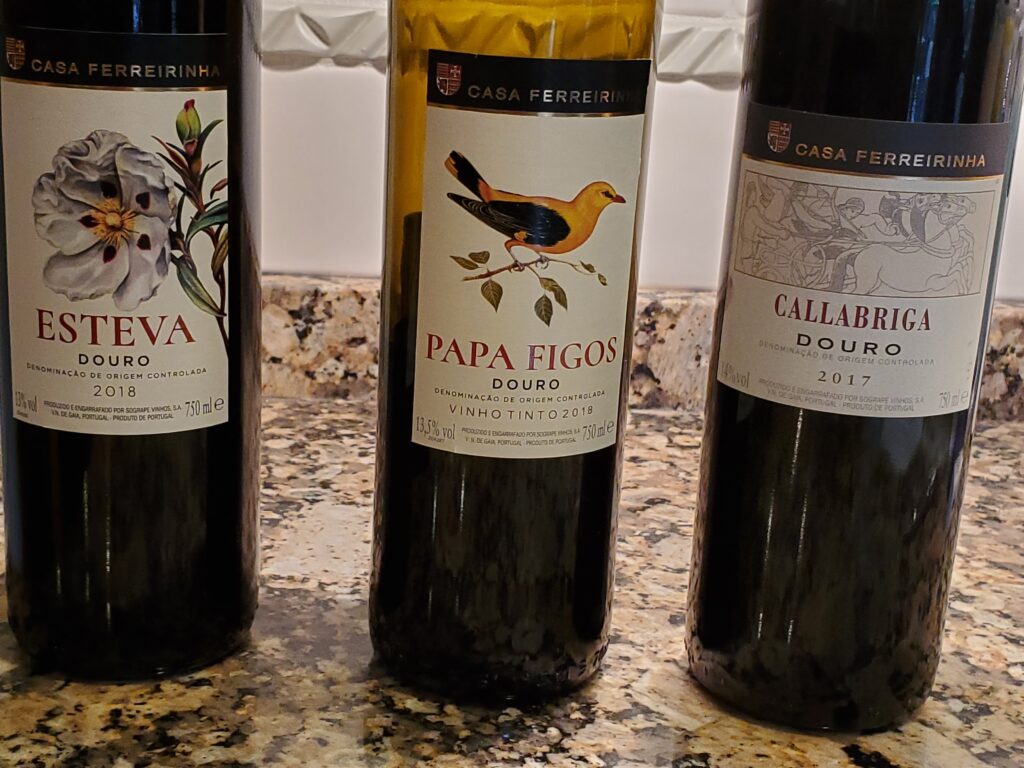 Casa Ferreirinha, founded in 1851, has a long and accomplished wine-making history in Portugal's Douro region. It was the first family-owned company and the first to be headed by a woman – Dona` Antonia Adelaide Ferreira. Called "Ferreirinha" by the locals (translation "the little Ferreira lady"), Dona` Antonia expanded the winery's estates, added to its terraced vineyards, and created  jobs for the area's farming families. In essence, she set the foundation for a glorious legacy that lives to this day.
While the Douro region is famous for producing fortified Port wines, Casa Ferreirinha set out on a different path in the 1950s to make top quality dry reds.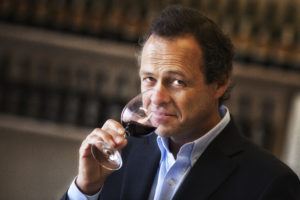 Under winemaker Fernando Nicolau Almedia, the prestigious Barca Velha red was created in 1952. It's become one of the world's most sought-after wines and is only produced in the very best vintage seasons. (Note: The 2008 Barca Velha earned a perfect 100-point rating from Wine Enthusiast magazine and is the most recent release.)
Casa Ferreirinha's success, however, is not limited to Barca Velha. In fact, the iconic wine has served as an exacting standard for producing other quality wines at Casa Ferreirinhna.
In late August, I participated in a virtual wine seminar hosted by wine Somm Column writer  Anita Musi of Evaton, which is the U.S. distribution arm of Sogrape Vinhos that owns Casa Ferreirinha and other Portuguese wine brands. We tasted three CF red wines – Esteva, Papa Figos, and Callabriga.
You can watch the video at: https://www.facebook.com/JimCampanini1/videos/2664430417218189
According to Cork & Knife communications manager Alyssa Taylor Duddy, these Douro wines can be found at select locations in Massachusetts (Portugalia Marketplace in Fall River, Table & Vine in West Springfield, and Whole Foods in Cambridge); Rhode Island (Bottles Fine Wine in Providence, Nikki's Liquors in Providence, and Knights Liquors in Johnston and Cumberland), and New Hampshire State Wine & Liquor Outlets.
__________________________________________________________________________________________________Esteva Red 2018; 13% abv.; $12.99.
Grapes: 35% Tinta Roriz, 30% Tinta Barroca, 20% Touriga Franca, 15% Touriga Nacional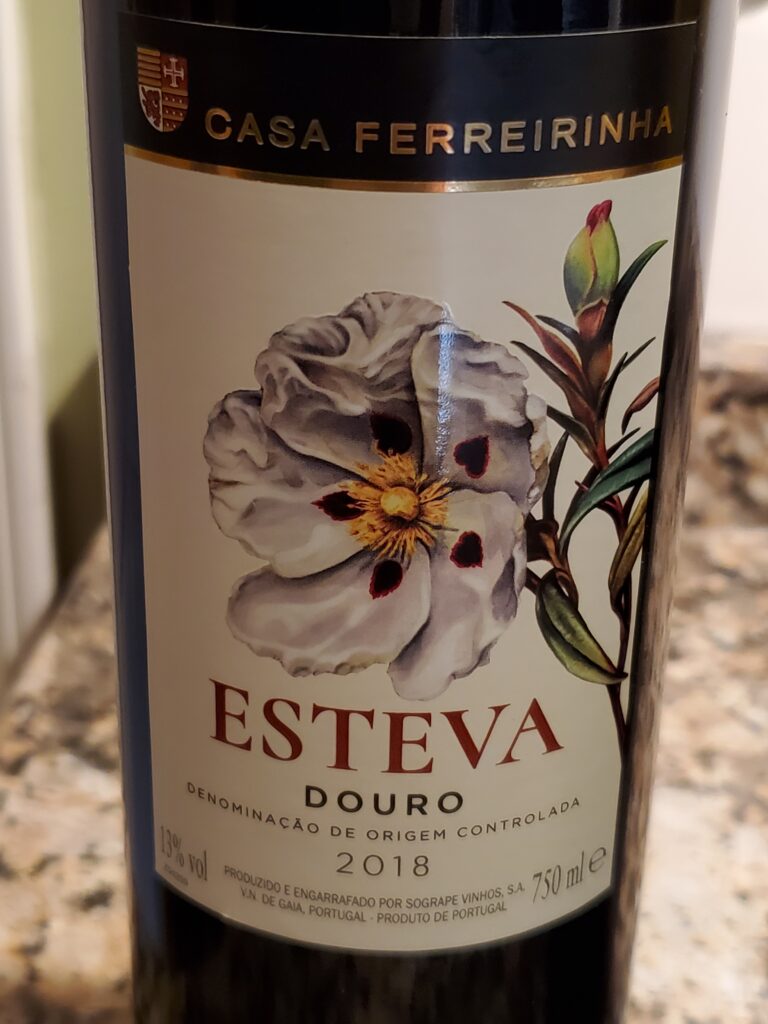 Winemaker Luis Sottomayer, who oversees all CF wines, aims for a "young", easy drinking, fruit-forward red in Esteva. The bright, crimson-colored wine offers a pleasant red-berry scent and takes its name from a rare, fragrant western Mediterranean flower that is seen on the label. Esteva's four native grapes are sourced high-altitude, estate vineyard sites and are vinified separately in stainless steel tanks prior to final assembly.
In my view, Esteva is a bargain at $12.99 a bottle. I was impressed by its freshness, soft tannins and satisfying strawberry and cherry flavors. The wine was served slightly chilled at Musi's suggestion – Portugal's summer heat often reaches 100 degrees – and it added to Esteva's versatile appeal as either a patio sipper or with food – appetizers, pizza, pasta, and grilled burgers. Musi said the light-bodied wine is often consumed with Portuguese fish dinners.
Overall, Esteva is a fun red for short money.
____________________________________________________________________________________________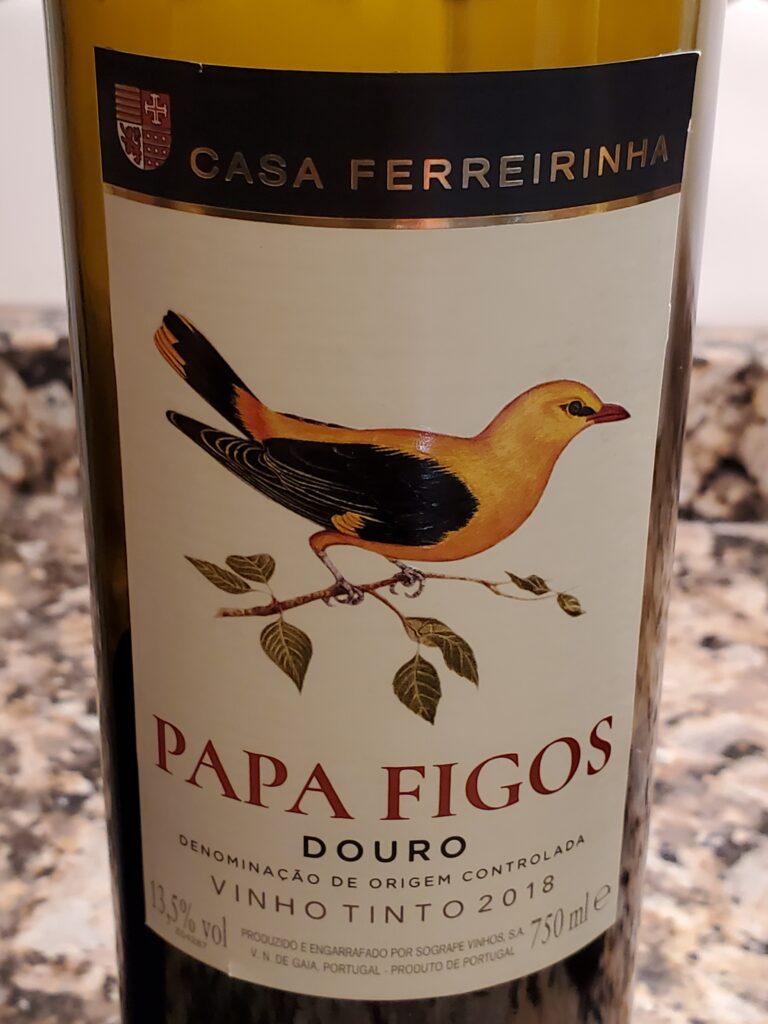 Papa Figos Red 2018; 13.5% abv.; $16.99
Grapes: 35% Tinta Roriz, 30% Tinta Barroca, 20% Touriga Franca, 15% Touriga Nacional
Musi calls Papa Figos the "older brother of Esteva" and for good reason: Both wines use the same grapes and blending percentages. The major difference, however, is that Papa Figos' grapes are sourced from the Douro Superior sub-region of Quinta da Leda, known for its higher quality reds. After fermentation, the wine ages in stainless steel tanks and cement vats where it is strictly monitored for balance. Light filtration takes place prior to bottling.
I would agree that Papa Figos – named for one of the rarest birds in the Douro – represents a step up on intensity and structure. Black and red fruit flavors are more pronounced and get a splendid lift from secondary chocolate and cocoa notes. There's a weightier feel on the palate. It's smooth and balanced throughout and the finish is dry and long.
While Papa Figos can be consumed now, the winemaker says it will hit its peak over the next 4-6 years. A brief decanting is also suggested. For food pairings, serve it with red meat dishes, hearty stews, and oven-roasted chicken and fish.
___________________________________________________________________________________________
Callabriga Red 2016; 14% abv.; $34.99
Grapes: 55% Touriga Franca, 30% Touriga Nacional, 15% Tinta Roriz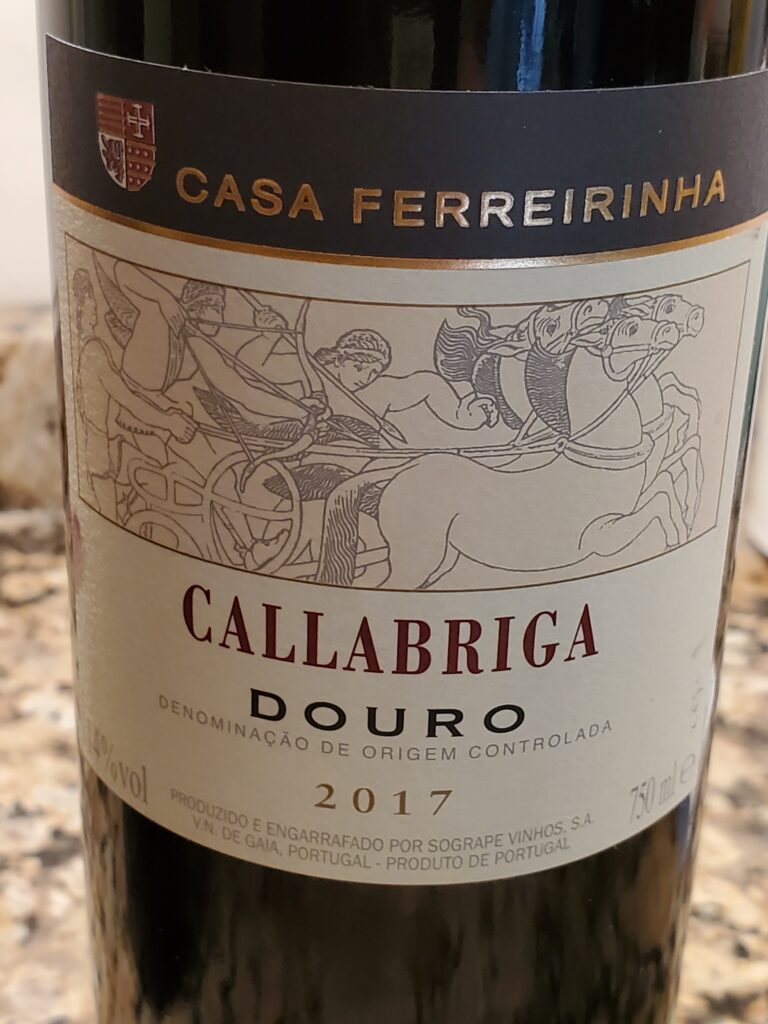 Callibriga is new to the U.S. market and should win over fans of big, elegant, powerful California reds like Cabernet Sauvignon. In fact, Touriga Nacional possesses many of  Cabernet Sauvignon's characteristics and is now the subject of intense viticultural study in the Golden State because of its adaptability to heat stress associated with climate change. But the key component here is Touriga Franca, a more feminine red grape that adds aroma and finesse to the mix.
Sottomayor gets his grapes from selected Quinta de Leda sites. After fermentation in stainless steel tanks, the wine is aged 12 months in 75% new French oak barrels and used American barrels. This is when Callabriga – named for the ancient Roman winemakers of Calabria – finds its broad-shouldered depth and complexity.
I really enjoyed the layers of fruit and spices that evolved aromatically in the glass and then  in the mouth. Fresh black currant fruit intermingled with cedar box, toast, vanilla, and tobacco. Callabriga makes a fine use of oak; its presence is felt but not to the point where it overwhelms the wine's expressive fruit.
Callabriga drinks smoothly yet it still exhibits firm tannins. They will soften over the next 3-5 years with proper cellaring, according to Sottomayor, and the wine should retain its high quality for 8-13 years.
Callabriga is a serious red at its price point. No doubt it would be a highlight to a grilled steak dinner as well as veal chops and venison.