Photo Gallery of Wines of Portugal's Grand Tasting in Boston

The Wines of Portugal event, held April 4 at Boston's City Winery, drew an enthusiastic crowd.

Restaurateur & Wine Director Jen Ziskin, left, and Kelly Coffman Rudy of Now Wine Imports taste Esporao wines.

Commonwealth Wine School instructor Jo-Ann Ross with husband George.

Vanessa Eusebio of Evaton/Sogrape with Grapefully Yours wine blogger Jim Campanini.

Special Event Consultant Dominika Zielinska, FWS, enjoying Casa Ferreirinha wines.

Ann Heimlicher, President of Boston Spot-Lite Inc., - The Concierge Specialists.

Marcio Ferreira is the Export Manager for Casa Ermelinda Freitas.

Andrea Tavares of Quinta De Chocapahla pours for Winebow Imports Lauren Trivellini.

Dona Maria-Julio Bastos wines of Alentejo proved a popular choice.

Judith Fabre McDonough, CEO of Mariposa Fine Wine & Spirits.

Francoise Emery, Export Manager at Quinta Da Carmo for Dona Maria wines.

The MS Walker Team teamed up with Francoise Emery to boost Dona Maria wines. From left, Scott Weinstein, Director of Business Development; Augusto Gabriel, Sales Manager-Iberian Wines; Tony Morello, Director of Sales: and Jack Couto, Iberian Portfolio Manager.

Several Wine & Soul wines from Portugal's Douro region.

There's Kelly Coffman Rudy of Now Wine Imports at the Esporao tasting table.

Vinha de Valentina red blends from Casa Ermelinda Freitas.

Peninsula das Vinhas rose` attracted attention for its bottle label and flavor.

Comboio do Vesuvio Douro is a red blend from Symington Family Estates.

Vanessa Eusebio of Evaton/Sogrape gets a chance to take a break.

Dona Maria Amantis Reserva features both red and white wines.

Papa Figos is a red blend from Casa Ferreirinha. It is named for a rare bird that nests on the estate.

A spirited conversation on Portuguese wines preceded the tasting. From left, Eugenico Jardim, Wines of Portugal's US Ambassador; Jenn Ziskin, owner of three Mass. restaurants (Heritage, Punch Bowl, La Morra); and Sorriso Market owner and chef Nick Lisotto.

Roxo is a decadent dessert wine is made from the Moscato grape

Chilled whites crafted from native grapes were a crowd pleaser.

Grapefully Yours photographer Michael Pigeon rests after a long but very exciting day at the Wines of Portugal.
What is the only European Union country to have increased its wine exports the past two years despite the COVID-19 pandemic?
The answer is PortugaI.
Not bad for the EU's fifth largest wine producer (behind Italy, France, Spain and Germany).
The new question is why?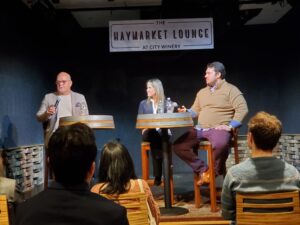 Well, one only had to be in attendance at the Wines of Portugal's "Discover the Difference" Grand Tasting at Boston's City Winery in early April to figure it out.
Judging from the crowd's enthusiastic reaction, Portuguese wines are primed for another big leap in sales this year and for years to come in the United States and beyond. The wines – both reds and whites – are fresh, expressive, approachable, high quality and affordable.
"I don't know any better value than Portuguese wines," said Nick Lisotto, the renowned chef-sommelier who owns Sorriso Vino & Market in Brookline.
"What you get for your money is so incredible," echoed Jen Ziskin, the owner of three Massachusetts restaurants – La Morra, Heritage, Punch Bowl – where Portuguese wines are popular food companions.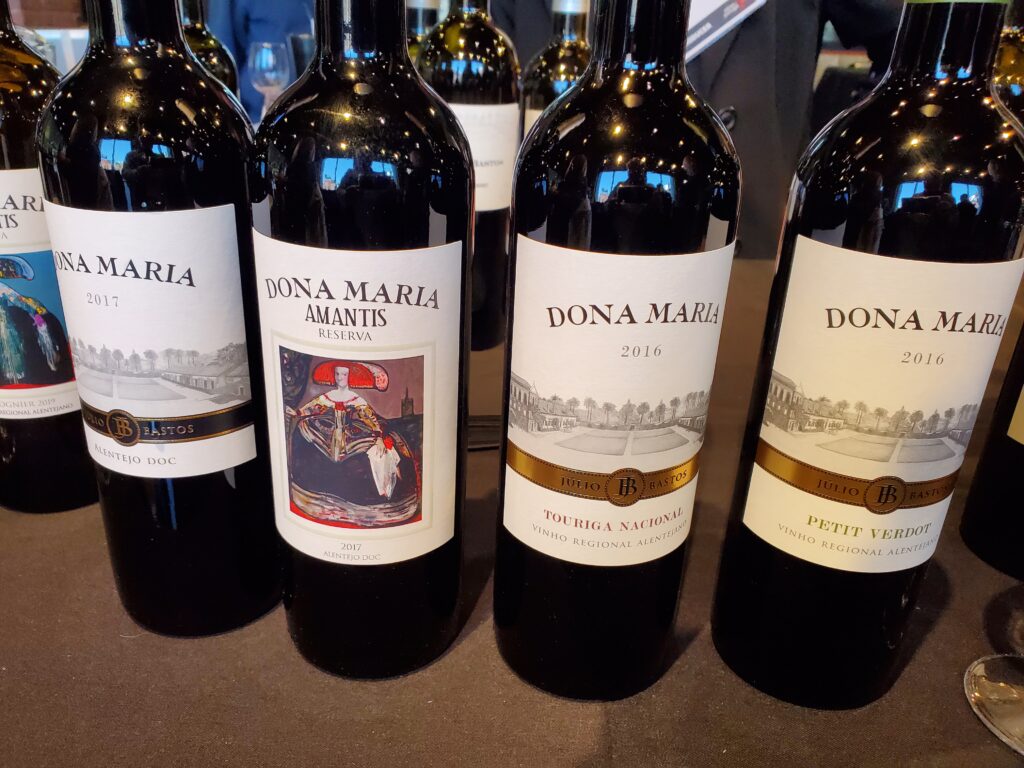 Lisotto and Ziskin made their comments as panelists during a "conversation" on Portuguese wines moderated by Eugenico Jardim, Wine of Portugal's U.S. Ambassador.
The hourlong discussion, originally limited to a room-capacity maximum of 42 people,  attracted an overflow crowd of media and industry representatives.
Later, the crowd swelled to approximately 100 people – if not more – in the City Winery's  grand tasting pavilion where 30 producers showcased 250 fabulous wines.
Jardim said the focus of his organization is building awareness of Portugual's 14 wine regions and quality wines.
Many highly rated Portuguese wines, he said, sell for less than $30 a bottle while the vast majority government classified wines – DOP, IGP – fit into the $15 to $20 range.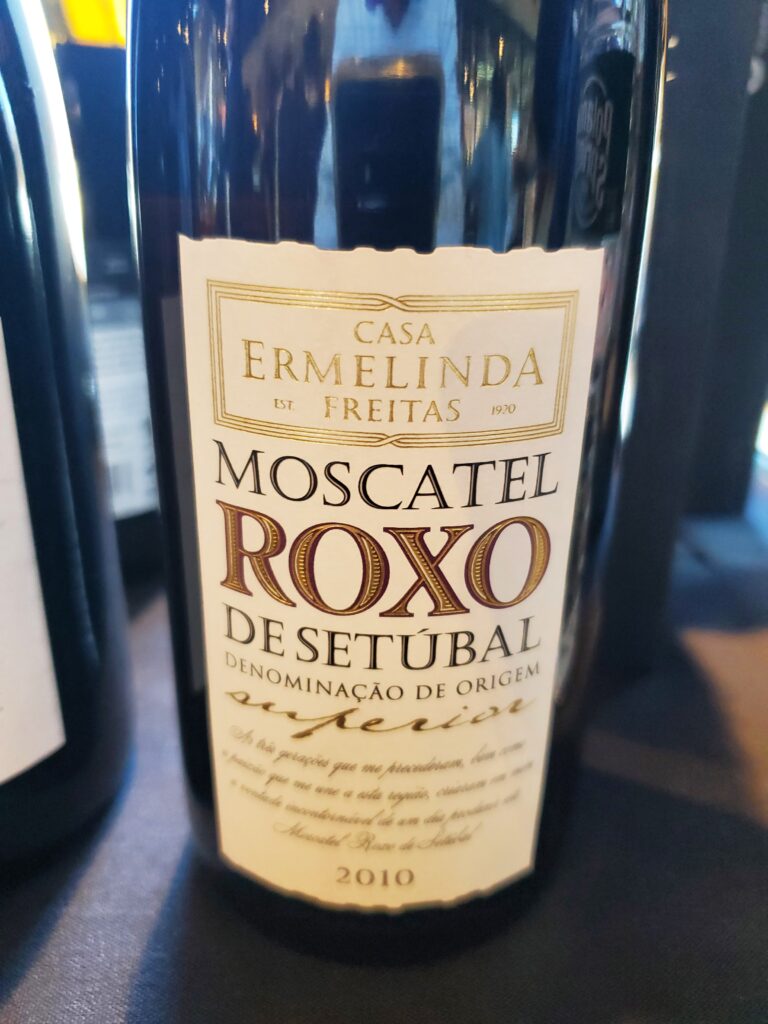 "And Portuguese wines shine with food," exclaimed Jardim, noting that the country produces wines from 250 indigenous and international grape varietals. Cultural and historical ties matter, he added, and wines often reflect the unique sense of place where vineyards are planted.
I love Portuguese wines.
I toured the Alentejo region in December 2019 with six U.S. wine and food writers and came away with a remarkable affinity for the winemakers' respect and care for the environment and ecological systems. To them, the vineyard is a living, breathing organism and the best way to create great wines is to leave well enough alone.
The quality of the wines also made a deep impression – even if the name of the grapes were unfamiliar to my ear –  Aragonaz, Alicante Bouschet, Touriga Nacional, and Trincadeiro just to name a few.
One winemaker said simply: "The names of the grapes in the wine are not as important as the aromas and flavors. That's what worth remembering about Portuguese wines."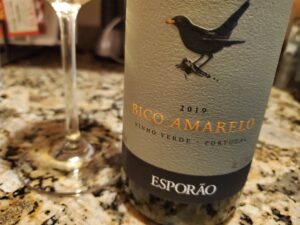 Still, what really blew my mind were the prices. Even top Portuguese wines – compared to those of U.S., French and Italian counterparts – can be purchased on a workingman's budget.
The Wines of Portugal event only served to heighten my affection for these wines.
My takeaways from the grand tasting. (Note: I could not taste every wine on display. In fact, I tasted 24 wines in just under three hours. So I apologize to those producers not included in my limited survey.)
Best in Show Surprise: I flipped over Moscatel ROXO 2010, a sweet dessert wine made at Casa Ermelinda Freitas. This luscious wine mesmerizes with honeyed apricot and nut flavors. It's aged seven years in large oak casks at high temperatures. Enjoy it on the rocks. Only 10,000 bottles are made annually. Thanks to Export Manager Marcio Ferreira for a taste of this $50 a bottle treasure.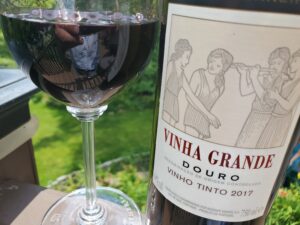 Coming Sensation: Producer Dona Maria is introducing its 100 percent Petit Verdot to the U.S., courtesy of importer MS Walker. What's in store for consumers? A Bordeaux-varietal that hits its peak in Alentejo: : black violets, black plum, black berries, black-purple color and black velvet complexity – all for $20..
White Delights: Esporao's Bico Amarelo ($9.99) has got to be one of the world's most underrated year-round wines. A blend of Loureiro, Alvarinho and Avesso, this Vinho Verde  white has a refreshing, restorative quality to it … Then there's Wine & Soul's Guru ($44.99), a premium blend from the Douro with more depth and structure. Though aged in wood, Guru's vibrant minerality and citrus flavors stay front and center.
PATIO & PARTY REDS: Here are several easy-drinking, juicy choices for your backyard barbeque.
Casa Ferreirinha produces two blends using similar grapes: Touriga Nacional, Tinta Roriz, Tinta Barroca, and Touriga Franca. The key difference is how they are aged. Papa Figos ($16.99) splits its time in both stainless steel tanks and concrete tanks. It's fresh and elegant.  Vinha Grande ($19.99) ages 12 months in neutral French oak barrels. It's refined and smooth with nice cherry-chocolate notes.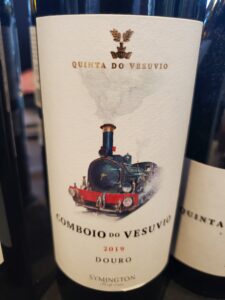 Quinta De Chocapalha Castelao ($14.99) is made entirely from Portugal's most widely planted red grape, Castelao, which is also found in some Port wines. This is a workhorse red – pleasant, plum tasty, and ready for grilled burgers and grilled chicken topped with salsa.
Comboio do Vesuvio Douro ($15), produced by Symington Family Estates, plays bigger than its price tag with concentrated red berry flavors. For a few dollars more, Pombal do Vesuvio Douro ($20) exhibits precise balance, lush texture and a long, strawberry-filled finish.
Wine & Soul's Manoella ($21.99) is smooth and dry, featuring violet notes and supple, yet persistent tannins. A plush plum taste that proves eternal.
Esporao Quinta dos Murcas Minas ($18.99) is an incredibly savory blend from a winery that's been crafting authentic wines since the early 18th century. It's partly aged in concrete tanks to protect its pure fruit expressions.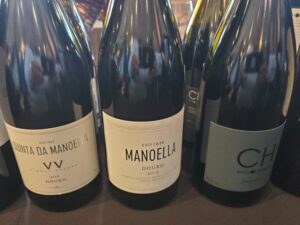 Dona Maria Touriga Nacional ($19) stands on its own with outstanding character traits of cinnamon spice aromas and chocolate-laced fruit flavors. Impeccable in a lot of ways. Interestingly, the grape is now the subject of intense study in the U.S. as a climate-change alternative to Cabernet Sauvignon.
Vinha da Valentina Reserva ($15) is a Merlot, Syrah, Castelao blend that puts emphasis on the beautiful Peninsula de Setubal region's Merlot. Ripe blueberry fruit with black licorice accents make for a very inspiring wine from Casa Ermelina Freitas.
KNOCKOUT RED: Off all the blends I tasted, Casa Ferreirinha's Callabriga Douro ($34.99) was the best of show. The producer compares it to Napa Valley blends and that's a fine description. However, Callabriga (KAH-lah-bree-gah) is incomparably Portuguese from its sumptuous mouthfeel to its fully loaded dark cherry tastes that come with a mix of mocha, chocolate and coffee. The finish i dry, lovingly long and memorable. This is new to the U.S. in 2022 and it should be on your To-Buy-List.