Odd 'n ends …
• Purple Heart Wine, distributed in Massachusetts by United Liquors, is now available locally at Tutto Bene Wine & Cheese Cellars in downtown Lowell on Prescott Street.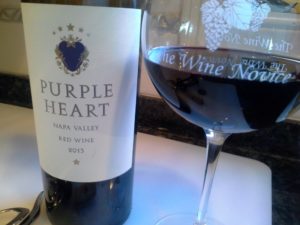 I wrote about the Bordeaux-style blend (Cabernet Sauvignon-Merlot) several weeks ago when it first hit the East Coast(http://blogs.lowellsun.com/winenovice/?p=3141). The Napa Valley wine
is crafted by winemaker and Vietnam veteran Ray Coursen in collaboration with C. Mondavi & Family. It has a limited production. Amajor portion of sale proceeds go the nonprofit Purple Heart Foundation, which assists veterans' families in need.
The wine retails for $19.99 but is selling at a discount right now.
• The Wine ConneXtion in North Andover will be hosting a free tasting on Saturday, July 2, 1-5 p.m. It's called "Red, Whites and You" and features a selection of the most beloved wines bottled in the U.S.
• The July edition of Wine Spectator magazine contained ratings on Lamole di Lamole Chianti Classico Riserva 2011 (93 points, $25) and Lamole di Lamole Chianti Classico 2012 (89 points, $19). Both wines were favorably reviewed in a June 2 Wine Novice column (http://blogs.lowellsun.com/winenovice/?p=3160) by the Mill City Mass Media Oeniphiles Club (past and present employees of The Sun).
• Wine Spectator also selected the 2015 Villa Maria Sauvignon Blanc from New Zealand as one of its Best Values (90 points, $13) of the month. The Wine Novice gave the 2014 vintage high marks in a column written in March (http://blogs.lowellsun.com/winenovice/?p=3047).
• Two reviously reviewed WN rosés also received recent mentions: M. Chapoutier Cøtes du Rhone Rosé Belleruche 2015 (WS, 86 points, $16); and Baron Phillipe de Rothschild 2015 Le Rosé de Mouton Cadet (Wine Enthusiast, 86 points, $11).