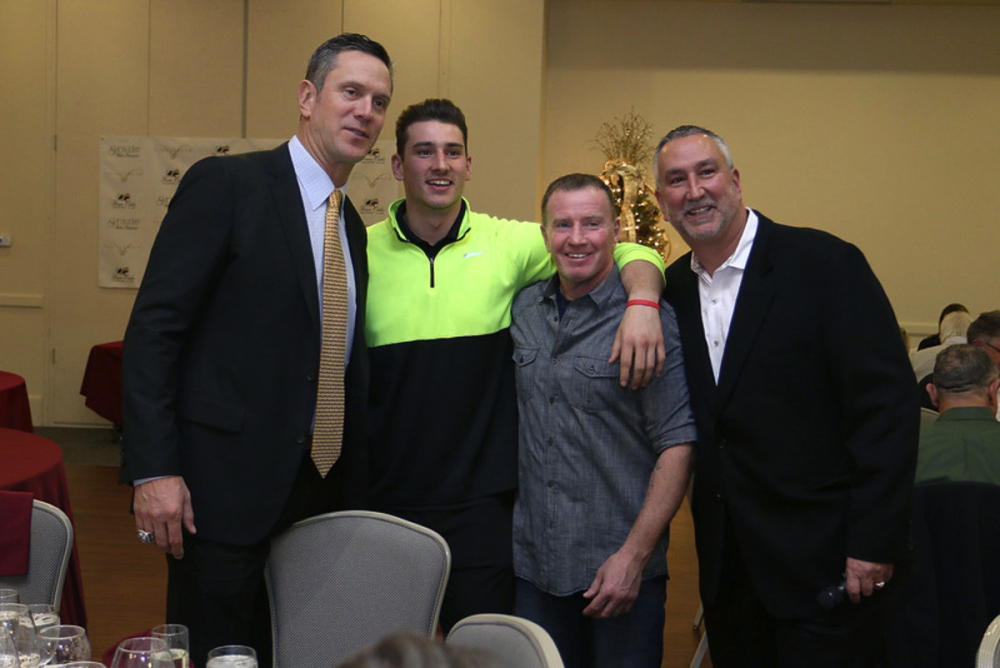 Michael Kuenzler is walking around with a big smile on his face these days, and who can blame him?
Last December, the owner of Four Oaks Restaurant in Dracut made a big bet on Drew Bledsoe's 2014 Doubleback Cabernet Sauvignon becoming one of the best premium wines of the year. He purchased a dozen cases of the wine, sold off many at an evening hosted by the former New England Patriots Hall of Fame quarterback, and promptly restocked his cellar, planning to sell Doubleback to dinner guests out for a special occasion.
It's a challenge for any restaurateur to put a $100 bottle on a wine list and attempt to sell it at a profit. But Kuenzler's got a great product, a very reasonable price (he's selling it for $159 a bottle, $90 less than Boston and Burlington restaurants), and Bledsoe's got a solid following as a local sports celebrity and a serious vineyard owner.
So why has Kuenzler's bet paid off?
Doubleback, the first vintage of which dates back to 2007, recently received its highest rating ever with the current release. Jeb Dunnuck of Robert Parker's Wine Advocate gave it 97 points — a classic rating achieved by less than 1 percent of all wines reviewed annually.
Here's what Dunnick said: "One of the gems in this terrific vintage … it offers fabulous notes of black currants, chocolate, tasted spice and graphite. Full-bodied, deep, layered and gorgeously pure, with plenty of heft, it's an incredibly good, even profound, effort to drink over the coming two decades. Hats off to the team for this beauty, and if you can find it, buy it."
It's also noteworthy that the vintage represents Josh McDaniels' first as lead winemaker, after having served as Chris Figgins' assistant at Doubleback for several years.
Here's the kicker: There were only 2,492 cases of Doubleback produced in 2014, during a very hot summer season in Walla Walla, Wash., and most of the production goes to the winery's allocation club members. A small portion is held back to be distributed in stores and restaurants.
Doubleback was first released in February 2017 and sold out in June. With its spectacular reviews (see below), Doubleback will be a doubly hard get.
So Kuenzler's grinning from ear to ear. He's got several cases left of both the highly acclaimed 2013 and 2014 vintages. If you're smart, you'd reserve a special date at Four Oaks and tell Mike to put a bottle aside for the big occasion. You won't regret it.
What they're saying about 2014 Doubleback:
n Steven Tanzer, Vinous, 93 points — "Cassis and dark chocolate flavors display a youthfully medicinal aspect, but there's also terrific sweetness lurking. Really spreads out horizontally to saturate the palate, finishing with major ripe, building, tongue-coating tannins and superb length. … This serious, very concentrated wine should evolve slowly and gracefully and may ultimately merit an even higher rating."
n Wine Enthusiast, 92 points — "Alluring aromas of macerated cherries, scorched earth, barrel spice and dark chocolate are followed by suppled, focused, concentrated fruit flavors … will benefit from time in the cellar."