Je ne sais quoi?
I've heard the phrase but never understood it until I read it on a wine bottle.
Je ne sais quoi is the lovely French way of describing "someone so unique and so exceptional that no words exist to sufficiently capture her essence."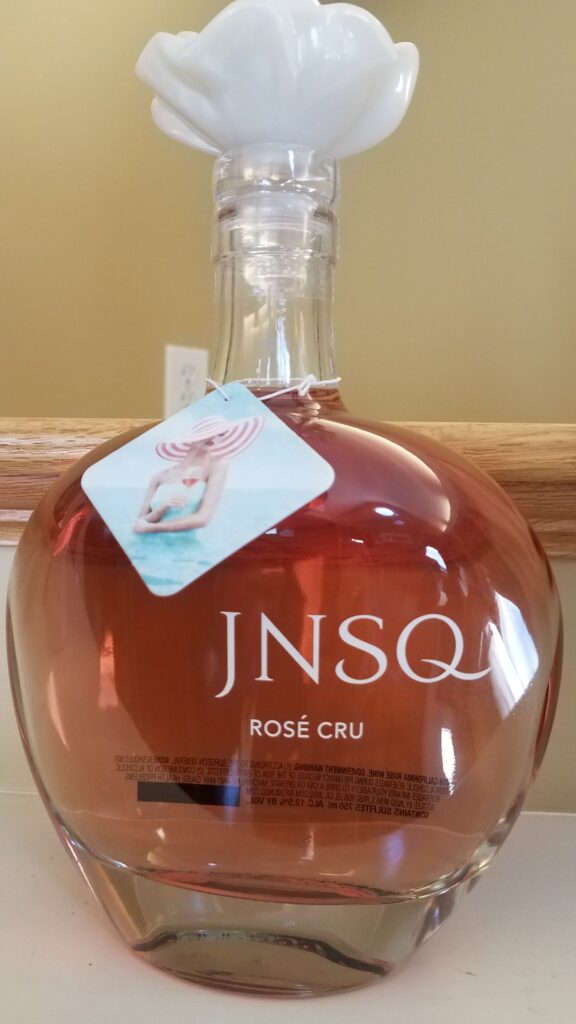 That's the message behind JNSQ Rose` Cru, one of the most luxurious bottlings to hit the American market this year. According to Hollywood Reporter, JNSQ  made a sensational debut during November fashion week in Los Angeles. About a month ago, a few bottles began trickling into Massachusetts at $29 apiece. (I found JNSQ at The Wine ConneXtion in North Andover.)
With U.S. rose` sales up 59 percent since 2016, it's hard to ignore a trend toward premium, elegant bottlings that take on the sleekness of crystal chandeliers. And JNSQ, a Provencal-styled rose` made from California grapes, is taking a backseat to no one when it comes to allure.
The sultry, curvaceous French-designed glass vessel resembles an expensive perfume bottle from Napoleon's court. It's majestically adorned with an white enamel flower stopper. I kid you not. This is a "wow" marketing extravaganza aimed at "unique" millennial women and, of course, the millennial men who will buy it for them.
I admit, I couldn't resist holding it. I guess that is what The Wonderful Company, which owns Pom Wonderful, Fiji Water and California's JUSTIN Winery, is hoping too. The collectible bottle can be reused. When I showed JNSQ to my wife, she flipped over its appeal and orangey pink rose` color. She said the bottle would make a beautiful vase. Then she asked the important question, "Is the wine any good?"
First, some background. JNSQ is crafted in Paso Robles by JUSTIN Winery, the producers of the excellent Justification and Isosocles Cabernet Sauvignons. Beverly Hills billionaires Stewart and Lynda Resnick, who purchased JUSTIN several years ago, are behind it. (Read my column https://thewinenovice.com/bank-on-justin-for-rich-elegant-paso-robles-reds/). JNSQ is also producing a luxury line of Sauvignon Blanc.
Second, yes, JNSQ Rose` Cru is good. It has all the S's: silky, sensual, summery, and strawberry traits, enhanced by a bright citrusy twist and a dry, mouthwatering finish. But is it worth $29? And will cash-strapped millennials, the generation now aged 18 to 35, spend three times more for JNSQ when, on average, they spend $10 per purchase?
No doubt rose` is all the rage. French imports captured 51 percent of the U.S. market in 2017, and a few, rare lux Provence bottlings have hit $80. Still, the sweet spot for U.S. rose` sales remains comfortably in the $11 to $15 range with American brands gaining market ground (37 percent). There is room for growth, and obviously JNSQ is  playing the long game. Millennials love wine. In 2015, they consumed 42 percent of all the wine sold in America. They make up 32 percent of the wine-buying public. A 2018 Nielsen survey found that 75 percent of millennials said they would buy a more expensive wine if they could.
Today, millennials might not have the money to buy JNSQ and other premium wines, but someday they will.
Read more on Jim Campanini's blog at www.grapefullyyours.live