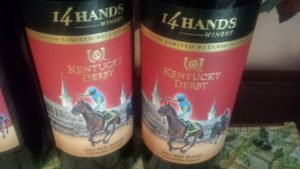 I'm going for longshots today in the 142nd running of the Kentucky Derby. But even if I don't win at the racetrack, I know I have a clear standout with 14 Hands Kentucky Derby Limited Reserve red blend when I get home. Today is the day to crack it open with the Wine Goddess, grill some burgers and enjoy the Run for the Roses. Now for the race. Here are my picks. If they come in, I'll be buying cases of 14 Hands for a week.
1. My Man Sam in tribute to Sam Messina, owner of the Wine ConneXtion in North Andover, MA.
2. Suddenbreakingnews in honor of all the hard-working journalists  at The Lowell Sun.
3. Mor Spirit in honor of all the tireless and loving mothers all across the globe.
4. Creator in honor of Jesus Christ who makes it all possible.
I'll be boxing these four picks with hope and joy to come. Good luck. May the horse – and 14 Hands – be with you!