It's great to be back and the new year promises to be very exciting in the wine world.
A majority of the 2012 Brunello di Montalcino Riservas, now aged for more than 60 months, should be coming to market as well as other long-lived wines that will be sold to consumers for the first time.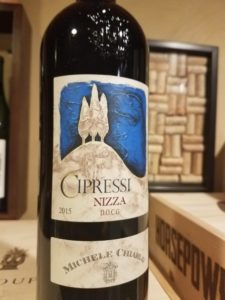 The vintage years of 2015, 2016, and 2017 were pretty good in most parts of the world, so there's nothing to fear when purchasing a fresh, young red or white. Remember, nearly 98 percent of the world's wines produced in any one year should be consumed right away or within one or two years. (Less than 3 percent of wines need cellaring – or extra aging – to reach their very best potential.)
Trends being what they are, a majority of winemakers are pushing the early maceration process to intensify the color, aromatics and flavors of their products. They achieve this by allowing the newly pressed juice to stay in longer contact with the grape skins prior to fermentation. While this process is fairly common among red wines, the experimentation is spilling over to whites with magnificent results. Veneto's Fruili-Guilia region in northeastern Italy is at the leading edge of producing these deeply aromatic and fuller tasting whites. Sparkling rose wines have also benefited from this innovative approach, gaining subtle strength in texture, increased flavor appeal and a longer shelf life.
We'll be reviewing some of these interesting wines in the days ahead, but first I have some housecleaning to do.
In 2018, I wrote 39 weekly columns in which loyal readers became familiar with global winemakers and dozens of different grapes – some quite unique from very special growing locations. I reviewed over 150 wines, and offered suggestions on 40 others from "wine experts" who graciously delivered holiday lists to this space.Well, it seems like every wine magazine and reviewer has published a Top Wine List of 2018, but I am going to offer one with a slightly different twist. I'll highlight several wines previously reviewed here that made it on other people's top lists. In all modesty, I can at least say this column was ahead of its time.
Let's start with Wine Enthusiast magazine which published its "best of the best" list – called The Enthusiast 100 – in its December/January issue (www.winemag.com/toplists/enthusiast-top-100-wines-2018/). Six of the wines recognized were Wine Novice "finds" during the year. They included WE's top selection, the 2015 Michele Chiarlo Cipressi Nizza, a Barbera from Italy's Piedmont region. WE's editors tasted 24,000 wines, according to the magazine, and landed on this beautiful food friendly red as No. 1. I take great pride in this selection, since it was featured in the wine seminar I taught – "Vino Rosso: The Incomparable Wines of Northern Italy " – at the Nesmith House in the fall as part of Middlesex Community College's adult continuing education program. As my students learned, Barbera is a late-ripening, high acid grape with deep plum color, bright red cherry fruit and low tannin. The Cipressi version comes from the historic Nizza production zone,  where these wines must age for 18 months before release. WE reviewers gave Cipressi 95 points and said this about their top pick:
"Elegantly structured, delicious, and loaded with personality, the benchmark Nizza offers earthy aromas of truffle, leather, game-pressed violet and ripe black-skinned fruit. The aromas carry over to the savory palate, along with star anise, black cherry, mature plum and crushed mint. It's balanced by polished tannins and fresh acidity. Drink though 2025."
Cipressi retails for $25 a bottle. Vino Italiano in Waltham and The Wine ConneXtion in North Andover were selling it for $22 and $19.95, respectively, prior to the holidays.
Other familiar Wine Novice selections making WE's top 100 list were: No. 35, Castelgiocondo 2013 Brunello di Montalcino; No. 78, Allegrini 2014 Palazzo delle Torre (also featured in the Vino Rosso seminar); and No. 79, Herdado do Esporao 2015 Esporao Riserva of Portugal.
As for Wine Spectator, the magazine's Top 100 List (https://top100.winespectator.com/lists/) included Volpaia Chianti Classico Riserva at No. 3; Joel Gott Sauvignon Blanc at No. 62; and Concha y Toro Carmenere Peumo Serie Riberas Gran Reserva at No. 70.
q
For those wishing to improve their wine education, I will be leading two new fun seminars in the spring at MCC's Nesmith House in Lowell (free parking). Casses are limited to 20 registrants and feature 6-7 wines paired with light foods in a most elegant setting. They are: Thursday, March 14, 7-9 p.m., "Bubbling Over With Sparkling Wines"; and Thursday, April 11, 7-9 p.m., "The Volcanic Wines of Southern Italy".  If you're planning a wedding, anniversary or dinner party on a budget, the sparkling wine seminar will cover all the options from Cava, Prosecco to Champagne. Register early by calling MCC at 1-800-818-3434. Each class costs $95 per person.