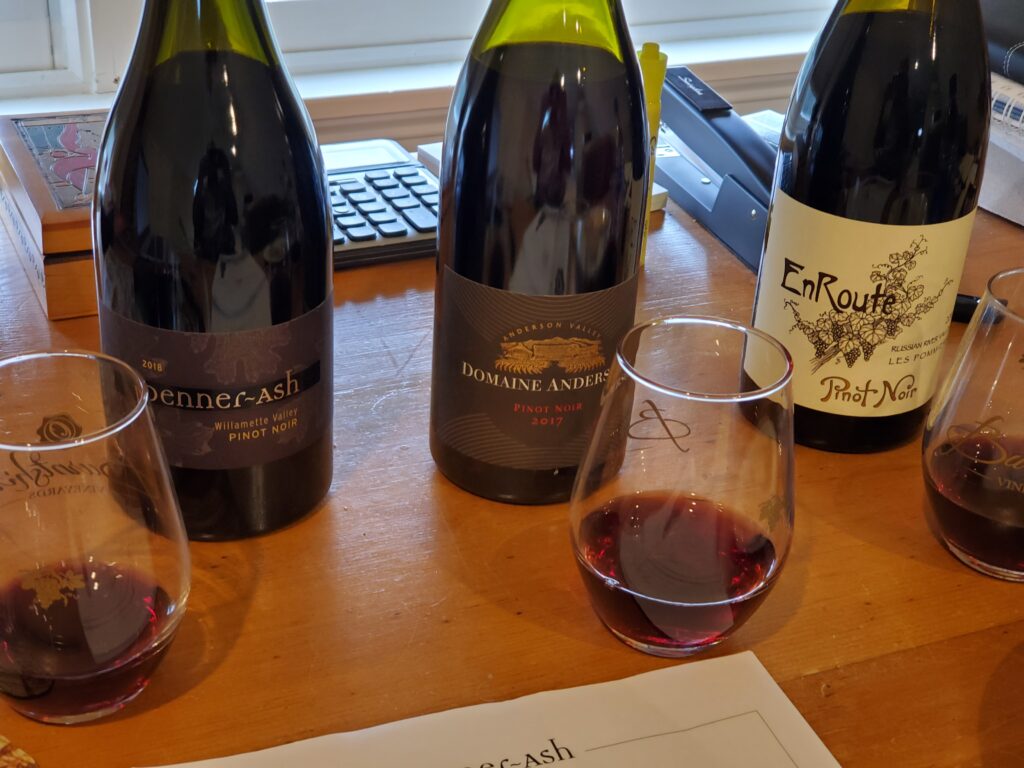 I've made a new year's resolution to drink more Pinot Noir in 2022. Why? It's a fabulous wine that, when crafted deliciously, is a joy to the senses and tugs at the heartstrings – especially on Valentine's Day.
If Virginia is for lovers, Pinot Noir is for romantics.
There are two states where the difficult-to-grow Pinot Noir grape aspires to reach its peak potential: California and Oregon.
Here are several wines assembled from unique clones of grapes grown at site-sensitive vineyards where diverse terroirs and mesoclimates bring out the best in them.
Yes, it's true that no pinot noir is the same – nor should it be.
EnRoute "Les Pommiers" Pinot Noir 2018, Russian River Valley (CA), $52.99, 14.5% alcohol – From the winery's launch in 2007, this cuvee of five separate Russian River Valley vineyard sites has been EnRoute's sturdy flagship. "Les Pommiers" is a fine example of Sonoma County's famous cool and foggy region that delivers juicy, mouthwatering, silky pinot noir.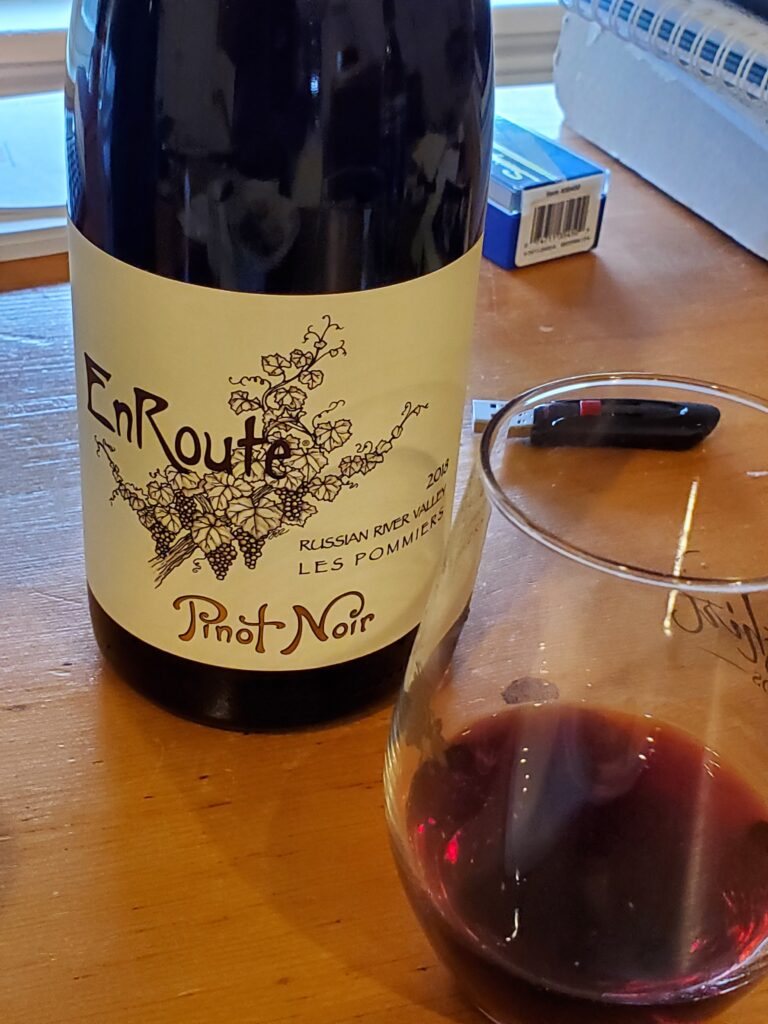 In fact, Les Pommiers has successfully served as a springboard to EnRoute's single-vineyard program begun in 2013. The 2018 vintage features four site-driven pinots: Amber Ridge, Northern Spy, Marty's and Bucher.
The four aforementioned vineyards, plus Manzana Vineyard, are all winery-owned and contribute to Les Pommiers classic blend.
"The vineyards are geographically located for all the best things," says Winemaker Michael Accurso. "They represent the diversity of the Russian River Valley … (Les Pommiers) is our most widely distributed wine and it combines a lot of what the sites can deliver."
Three vineyards – Northern Spy, Marty's, Manzana – are located in Green Valley, a small subregion of the amorphous RRV wine zone.
Rooted in Sonoma's famous sandy loam Goldridge soils, these vineyards contribute floral aromas, spicy flavors , and soft texture to wines.
The other vineyards, Amber Ridge and Bucher, are located to the north, in the somewhat warmer Middle Reach area. The former is built on clay subsoils with a mixture of sedimentary rock and volcanic ash; the latter resides on steeply sloped terrain in well-draining gravelly loam soil. Together, they offer dark fruit and earthy components to wines.
But it's the "beauty of fog and the cooler temperatures at night", explains Accurso, that gives the RRV its special dimension, especially in the Green Valley sub-zone.
The natural cover "protects grapes (from the rising daytime heat) and helps with acid retention and preserves the fruit's freshness," says the winemaker.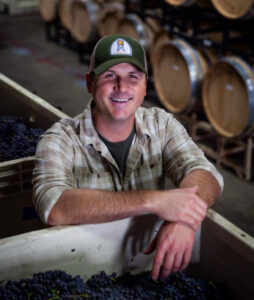 "Dealing with climate changes and increased temperatures are the biggest challenge. You do not want the fruit to over-ripen," says Accurso, who, with his team, tastes grapes daily as the harvest nears.
"You have to pull the trigger (at the precise moment of ripeness)," he explains. "If the fruit doesn't taste right on the vine, it's not going to taste ripe elsewhere."
The cooler Green Valley vineyards usually stay on the vine a month longer than the warmer Middle Reach sites, he says.
Fortunately, Accurso is an expert at staying on top of things.
Les Pommiers is a joy to the senses. It is fragrant in deep, dark, dried fruit aromas – blackberry and cherry – and hits the palate with tension and energy. Bright strawberry and candied red cherry mix seamlessly with outdoorsy elements of wild bramble and brush. The cumulative effect is a meaty, savory, and refined wine, lifted by pleasing acidity and plush tannins.
Also, Les Pommiers delivers a "wow factor" finish: tart and fruity that leads to sip after sip of delightful reflection. Just what's needed for romance to begin or beguile.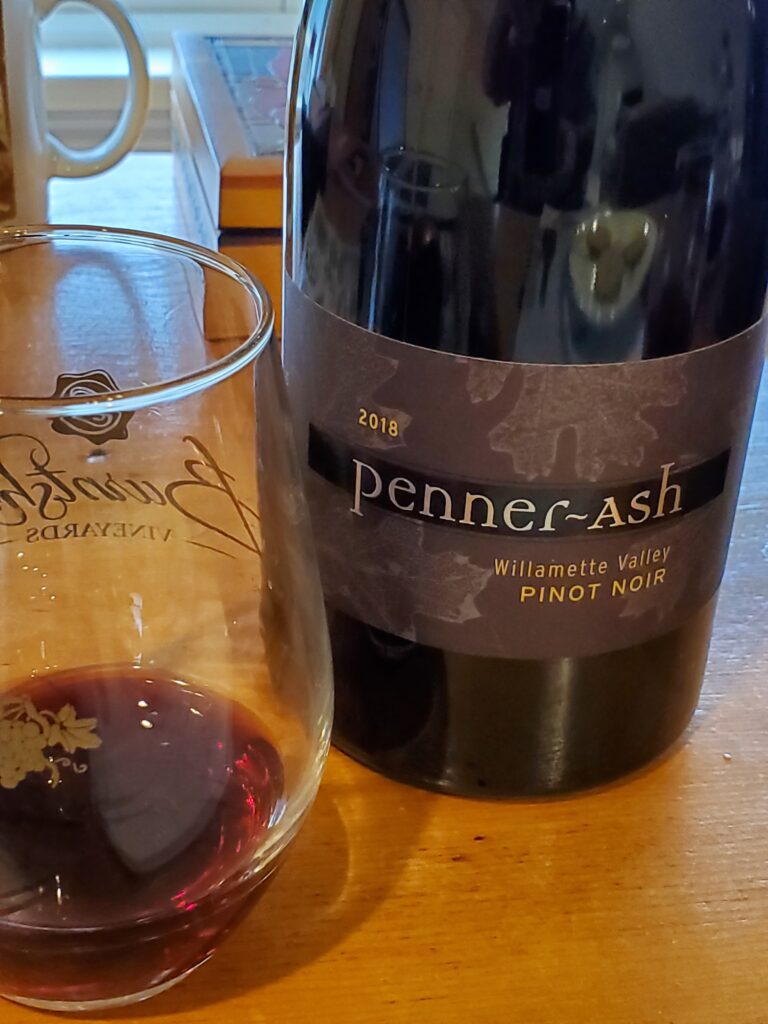 Penner-Ash Wine Cellars Pinot Noir 2018, Williamette Valley (OR), $45.99, 14.8% alcohol – If you want to immerse yourself in the diverse terroirs of Williamette Valley, Penner-Ash is an Oregon cuvee of place and purpose. According to winemaker Kate Ayers, fruit is sourced from 18 different vineyards located across six sub-AVAs – Chehalem Mountains, Ribbon Ridge, Yamhill-Carlton, Dundee Hills, McMinnville and Eola-Amity Hills.
The broad vineyard landscape offers a "layer cake of soils", varying mesoclimates and an array of fruity characteristics that add depth and complexity to the wine.
"You see a snapshot of the single vineyards (in Penner-Ash's collaborative grower portfolio). Unique qualities come together in one big composition," said Ayers, who teams with chief winemaker Lynn Penner-Ash.
The "estate"-labeled pinot noir has served as the winery's flagship wine since 1998 when Lynn and husband Ron Penner-Ash founded the winery in Willamette Valley's Yamhill-Carlton AVA. Lynn's pioneering efforts have earned her the legacy title of WV's "master blender."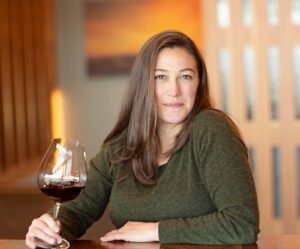 The 2018 vintage is full of energy and personality.
On the nose, light and dark fruit aromas rise gently from the glass and coalesce into a sweet fragrance of ripe strawberry and plum.
On the palate, dried fruits – cherry, strawberry, plum – penetrate deeply, cleanly, smoothly, and emerge with a lift of delicate cola, tobacco, earth and all-spice notes. It's a harmonious, mouth-watering concoction that glides elegantly on soft tannins  to a long, savory finish.
The 2018 Penner-Ash Estate Pinot Noir is aged 10 months in 23% new French oak. The winery reports that 9,987 cases were produced.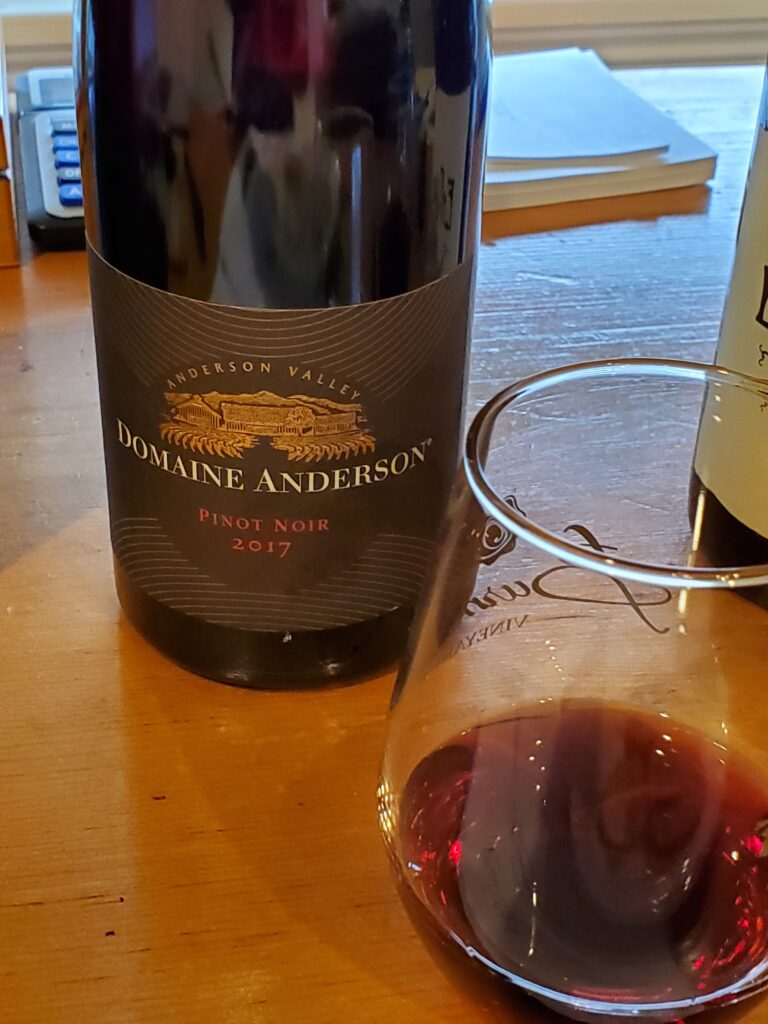 Domaine Anderson Estate Pinot Noir 2017, Anderson Valley (CA), $39.99, 13.2% alcohol – Based on the price, it would be easy to tag Domaine Anderson Eastate Pinot Noir as an overachiever. But I would be wrong; it implies that the wine is a one-off – better than it should be for the vintage.
In my view, this is a serious pinot noir made to the winemaker's exacting promise to be the best that it can be. Kudos to Darrin Low who's crafted a really good wine in simple fashion: He lets the vineyards do the talking.
In the winery's strident embrace of certified organic and biodynamic farming, Low says "Everything is based on making the best bottle of wine and the best expression of the winery" without getting in the way of Mother Nature.
Hey, that's easy to say but difficult to achieve when the hot California sun is beating down on arid-like vineyards and thin-skinned pinot noir grapes. Anderson Valley, however, has a built-in, self-protection system – or so it seems. Located in Mendocino County, which lies at the northernmost end of California's wine-growing zone, Anderson Valley picks up a saving grace from is close proximity to the Pacific Ocean.
"The defining factor for Anderson Valley is the Pacific Ocean. It's the world's largest air conditioner for agriculture," says Low.
The overall climate is cooler here, says Low. While daytime highs soar into the 90s, night-time temperatures fueled by ocean breezes dip into the 50s. The temperature variation helps to elongate the season, he says Grapes retain good acidity levels and ripen fully, leading to high concentration of fruit extract.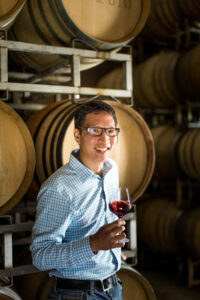 "The valley is very remote and is located about one hour from Napa. It's almost a different California," says Low.
Three vineyards contribute fruit to the pinot noir blend: Dach (64%), which is fully  biodynamically farmed ; Walraven (29%) and Pinoli (7%). Hillside and mountainous terrain are dominate the landscapes and the main soil type is light clay mixed with alluvial loam and sand.
When I tasted Anderson Estate Pinot Noir, I was most impressed with its tart cherry fruit flavors and rural character notes of wild herbs and mushrooms. Once in the mouth, the fruit never lost its edge, staying fresh and lively to a smooth and lingering finish.
Low says the winemaking team aims to keep the fruit at the forefront, aging the pinot noir for 15 months in a combination of oak barrels – but only 8 percent being new oak.
"The fruit is sweeter, the cherry more expressive," says Low. "We want to hold down the oak and ripeness levels, so (the consumer) can taste the pinot noir grape … Less California sunshine and more Anderson Valley terroir."
For an extraordinary food pairing, try osso bucco with mushroom risotto.
For ratings followers, Wine Enthusiast gave the 2018 Domaine Anderson Estate Pinot Noir a well-deserved 93 points.
(Author's note: Material in this column originated from a virtual wine-tasting seminar held April 15, 2021 with  winemakers Michael Accurso, Kate Ayres, and Darrin Low.)