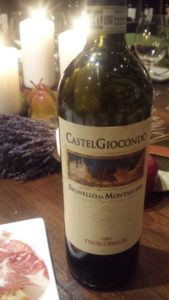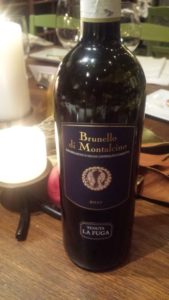 Brunello di Montalcino is one of my favorite wines in the world.
It's a gorgeous wine of great complexity and character that relies on Mother Nature and incredible patience to produce. Under Italian law, regular Brunello must be aged for five years before it can be released for sale; the riservas must wait six years. From a drinking standpoint, the 2011 vintage is the current release on the market just as Tuscan winemakers today are fermenting grapes for the 2016 vintage to be sold in 2021.
Recently, I attended an exquisite Brunello di Montalcino six-course wine dinner at David Maione's Vino Italiano fine wine store located on Main Street in Waltham. It featured four of the 2011 Brunellos. Ciro Pirrone, the Director of Italian Wines at Horizon Beverage, served as host and educator. He delivered valuable insights on Montalcino, the small, medieval village in southern Tuscany where vineyards are planted on rocky hilltops, and introduced each wine with a brief profile of the winemaking estate and terroir.
Despite the small land area, Montalcino's  5,200 acres of vineyards  are affected by various soil types (chalky, limestone, gravel/shale, and small stones called "galestro") and mesoclimates. Higher elevations  on the eastern side get more sunshine and warmth. It allows the grapes to fully ripen to sweeter fruit. The northern section, hilly but at lower elevations, is cooler. Hence the wines take on a different expression aided by higher acidity.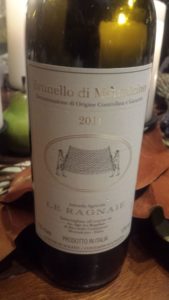 The grape itself, Sangiovese, comes from the Latin sanguis Jovis — "the blood of Jupiter" — and offers unique clones in the making of three revered Italian wines — Chianti Classico, Vino Nobile di Montepulciano, and Brunello ("the dark little one"). So while the wines all share the same basic grape, the individual clones yield different aromatics and flavor profiles in each.
As Pirrone noted, the 2010 Brunello vintage, aided by a near perfect growing season, was scored a classic vintage across the board. The results were deeply intense, full-bodied, ageworthy wines to be enjoyed for up to two decades or more.
With such a high bar to match, the 2011 vintage turned out surprisingly well but at a notch or two below the 2010s. A cooler growing season led to higher acidity levels and medium-bodied wines. Pirrone said these Brunellos, for the most part, are "more open and
approachable", meaning they are best enjoyed young. There are always exceptions in any vintage, said Pirrone, and the best 2011s will improve with age.
Here are consensus reviews from the Vino Italiano tasting and the suggested retail price (Vino Italiano offers special pricing on the purchase of six bottles or more):
• 2011 Silvio Nardi Brunello di Montalcino, $74– Amelia Nardi, one of the few female winemakers in Montalcino, strives for elegance in her wines.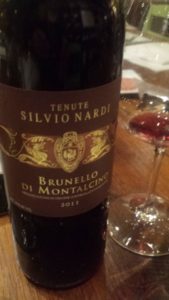 This has a nice ruby color, fragrant nose, and broad dark cherry flavors infused with cassis and clove. The pronounced acidity slightly overwhelms the balance. The finish is appealingly dry. It's best to drink this sooner than later.
• 2011 CastelGiocondo Brunello di Montalcino, $70 – The sandy vineyard soils in this small hamlet promote good water drainage, Pirrone noted. The wines are youthful in fresh fruit. The color – garnet – belied the  distinctive dark cherry, earthy nose and wealth of flavors: black cherry and berries, coffee, chocolate, sweet balsamic spice. Pirrone called it a "substantial' wine that will reach its peak in 7-8 years.
• 2011 Le Ragnaie Brunello di Montalcino, $64 – The 2010 Brunello from this winery was absolutely superb garnering 95-point and higher ratings from expert tasters. Naturally, you'd expect a falloff. This wine is appreciably pretty in its ruby/orange hued color, bright cherry and sweet fruit traits, and elegant style, but it lacks the big, muscular appeal of its predecessor. Still, its got a persistent, dry finish that brings out deeper layers of rustic flavors. A good one to drink early.
• 2011 La Fuga Brunello di Montalcino, $65 – Here's another welcoming wine that offers an earlier rather than later drinking window. It's rich in color (garnet) and extract that releases a peppery aroma right out of the bottle. The palate feel is of jammy, dark cherry fruit infused with wild herbs and spices. While it had a short finish, the wine was tasteful.