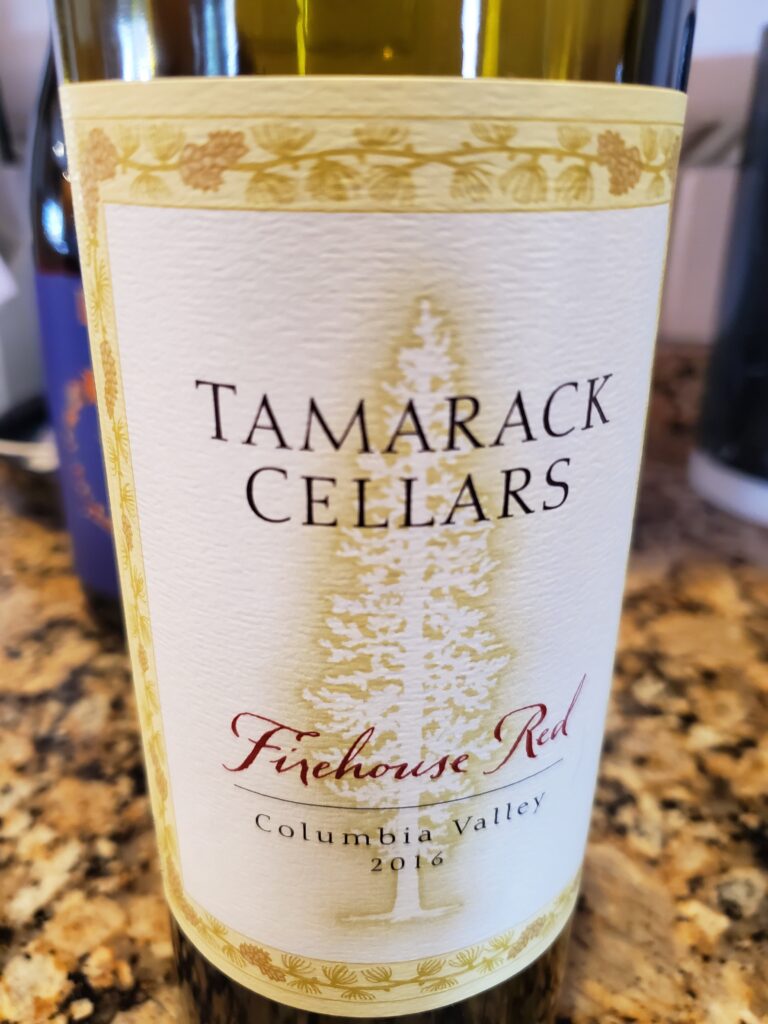 (First in a series)
What better way to begin the new year than with a new wine discovery? It's called Tamarack Cellars 2016 Firehouse Red (SRP $19.99), a blend of nine Washington State grapes sourced from Columbia Valley vineyards. I knew from the first sip that I would like this wine: it's smooth and soothing, just what the doctor ordered after a night of 2020 celebrations fueled by French Champagne and high-alcohol, full-bodied Cabernet Sauvignon. Now don't get me wrong, Tamarack's Firehouse Red is no pushover. The wine's alcohol content is 13.9 percent and the mouthfeel is broad, balanced and engaging. It derives its "power" from a cornucopia of grapes, led by Merlot and Syrah, that deliver a bounty of flavors: dried cranberry, blueberry, and red cherry flavors that intermingle with baking spices. The finish is mellow, as if the tannins went through a velvet buffer. Also in the blend are Cabernet Sauvignon, Cabernet Franc, Mourve`dre, Grenache, Sangiovese, Petit Verdot and Counoise.
Winemaker Dan Gordon ferments and ages each wine separately in a combination of new and used oak barrels for one year before assembling the final Firehouse Red blend. He makes 14 wines at Tamarack Cellars, which was founded in 1998 in Walla Walla by Ron and Jamie Coleman in a renovated firehouse located in WWII Army Base. Gordon's been with the Coleman's for two decades and has won wide acclaim for crafting terroir-driven wines. The 2008 Firehouse Red was named to Wine Spectator's Top 100 Wines of 2010 list.
Tamarack Cellars produced 15,700 cases of 2016 Firehouse Red although most of it is hard to come by in New England. All is not lost, however. Total Wine carries the brand and is offering Firehouse Red for $15.29 a bottle through its website (www.totalwine.com) for pickup delivery in its Everett store. Also worth trying is Tamarack Cellars 2016 Merlot ($21.59 at Total Wine) which features fruit from two of Columbia Valley's top vineyards, Red Mountain and Wahluke Slope. Only 1,148 cases were made.