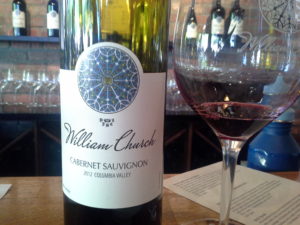 I joined four wine clubs on my June tour of Washington State wineries, sharing membership with two travel companions. We all came to a consensus that the hard-to-get wines were too good to pass up. These are distinctive wines you'd look forward to serving around the holidays or on a special occasion.
New Massachusetts direct-shipping laws make it easier to acquire these wines for the first time.
As noted in a previous article, the key to joining a wine club to is to find one that meets your taste profile and budget. Most clubs ship two or three times a year and offer multiple purchasing options and discounts. Go to the winery's website and read the details.
William Church Winery, Woodinville
The winery is 10 years old and produces nine wines and a total of 3,800 cases. The iconic Red Willow vineyard, located on the Yakama Indian Reservation, is a primary fruit source. Owners Rod and Leslie are devoted to crafting fine wine in limited quantities. As testimony to their success, four of the winery's six new releases (2013, 2014 vintages) have sold out, including the Confessional Rosé and Viognier.
DEAL CLINCHER: The 2 Spires (204 cases, $36/bottle) is a Syrah-Cabernet Sauvignon blend of unmatched beauty; purple color and dark cherry and blackberry aromas and flavors. It grabs you from the first sip and never lets go. Wild herbs and expresso linger on the smooth finish. The 2012 Cabernet Sauvignon (261 cases, $40/bottle) isn't far behind. Small amounts of Petit Verdot and Malbec give it a backbone of intense, dark fruit. The wine still hasn't hit full throttle. Watch out when it does!
Gramercy Cellars, Walla Walla
Winemaker Patrick Harrington and wife Pam give terroir the edge at this 8,000 case winery. The wines express great fruit, earthiness and elegance. Gramercy produces eight reds and distinguishes itself with Syrah and Syrah-based blends. They are sumptuous.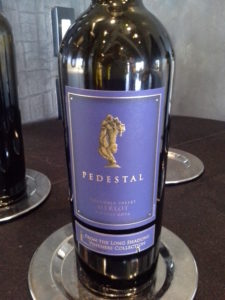 DEAL CLINCHER: Going up the line of Syrahs was amazing: each new tasting was equal or better than the previous one. The 2012 Syrah ($40, 1,100 cases) stood out for its freshness and savory flavors: bacon, raspberry, smoke, violets. The 2012 Deuce Syrah ($52, 600 cases) was more intense, peppery and drier on the finish. Wine Advocate rated each selection 92 and 93 points, respectively. We also tasted the impressive 2011 'Inigo Montoya' Tempranillo ($42, 790 cases) but missed out on the blockbuster Lagniappe Syrah and John Lewis Vineyard Syrah, both of which were sold out.
Long Shadows, Walla Walla
Truth be told, I am on a waiting list for this wine club, since most of its annual allotment of 18,000 cases is sold out. Seven world-class winemakers from Australia, Italy, France, Germany and America each produce an individual bottling at Allen Shoup's state-of-the-art winery using fruit from Columbia Valley vineyards. Sales are limited to wine club members, and limited quantities are sold at the winery. These highly individualized wines are truly art in a bottle.
DEAL CLINCHER: The five wines we tasted were outstanding although two — the Tuscan blend 2012 Saggi ($45) and 2012 Sequel Syrah ($55) — were sold out. The 2012 Feather Cabernet Sauvignon ($60), crafted by Napa Valley's Randy Dunn of Caymus fame, and Pomerol-based Michel Rolland's Pedestal Merlot ($60) featured exquisite, refined characteristics of complex flavors. We each bought two bottles for the plane trip home.
Dunham Cellars, Walla Walla
The winery and tasting room are located in a former airplane hangar and it's fabulous. The wines are too. The Blairs, David and Cheryl, are co-owners with Joanne Dunham, the original founder with her late husband Michael. Dunham's goal is to produce premium wines at steady price points. The portfolio consists of 10 wines, of which 26,000 cases are produced annually. The winery owns blocks of the prestigious Lewis Vineyard in the Columbia Valley.
DEAL CLINCHER: The members-only Merlot ($75, 300 cases) is in the top tier of any I've ever tasted. Fresh cherry, blueberry, chocolate and coffee burst forth in a velvety texture. The 2011 Lewis Vineyard Syrah ($75) is also one of a kind, earning a 94-point rating from Wine Advocate. Then there's the pie-flavor rich and spicy double Gold Medal 2011 Cabernet Sauvignon XVII ($45). Even the less expensive red blends — Trutina ($29) and Three Legged Red ($19) — are done consistently well. A Cabernet Franc rosé is expected to debut in 2016.
Doubleback Winery, Walla Walla
I've been a member of Drew Bledsoe's wine club since 2010. The 2012 Cabernet Sauvignon, released this year, is the best yet and it will continue to age well for another 5 to 8 years. The fruit is fresh, vibrant and flavorful and the texture is velvety smooth. Wine Advocate recently gave it a 93-point rating. There were 3,000 cases made. The price of this bottling has already increased on store shelves (if you can find it) to $99 but it is available to club members for $89.
DEAL CLINCHER: Doubleback produces limited quantities of Stolen Horse Syrah ($48) and a Bledsoe Family Red Blend ($38) and is planning to launch a Chardonnay, its first white, in 2016.
Other clubs to consider: L'Ecole 41 and DeLille Cellars.