I woke up Christmas morning and nothing was under the tree. I was sad. The year was a good one, and I thought I had been especially nice to the Wine Goddess, my wife Mary Lee, and that I would be rewarded with a bit more than her immeasurable love and compassion. God has blessed us both.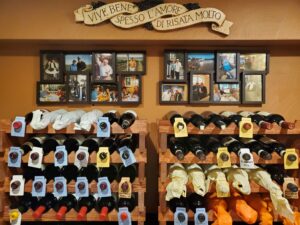 We don't need much more than toothbrushes. I soon realized I had much more in my life than I could ever have hoped for when I was a tiny tot or an ambitious young man. Then, much to my surprise, the Wine Goddess appeared in all her splendor – a smile – and told me to go down the stairs, into the basement, where I would find a holiday surprise. Immediately I was filled with excitement and wonder. I bounded down the stairs like an 8-year-old, and looked around the corner to see the "old" washing machine and dryer still there. What? Where? Then I spotted a light on at the end of the corridor.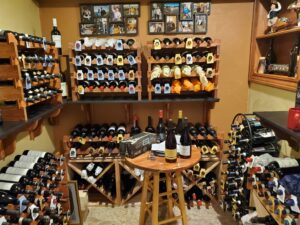 There also appeared to be a new room with plastered walls, freshly painted, and bright photos of wine country and people drinking lovely bottles of Brunello di Montalcino and Cabernet Sauvignon. We were in most of the photos, as were our friends. Oh, how nice. A door way beckoned; I walked in and suddenly I was in vino heaven if there ever is one. My own wine cellar – small but beautifully appointed with racks and cubes filled with precious bottles, and photos of our most meaningful wine moments from our travels to Napa Valley, Walla Walla and Washington State, Willamette Valley and Oregon, Bordeaux and elsewhere. The Wine Goddess had built me a wine cellar for Christmas. Stunned and overwhelmed with joy, I called up to the Wine Goddess and  welcomed her down for a toast. I hugged her and kissed her and told her never, ever to surprise me like this again. "I could have had a heart attack," I cried. "Who would drink all these Barolos and Amarones?" She just laughed and said, "Merry Christmas, my love."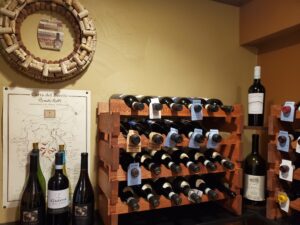 Yes, Virginia, there is a Santa Claus. And it's my wife. She designed the wine space herself and brought in a plasterer to put up the walls. She ordered all the wine racks online, assembled them and stained them. Then she painted the walls, put in the flooring and customized the moldings – all herself. Lastly, she organized all the racks. Incredible.
I was in Portugal on a wine writers' trip when she finished the job.
So now I am cataloguing the bottles – 512 and counting – and thanking the Lord for the best gift of all – Mary Lee the carpenter and my beloved wife!
Merry Christmas!