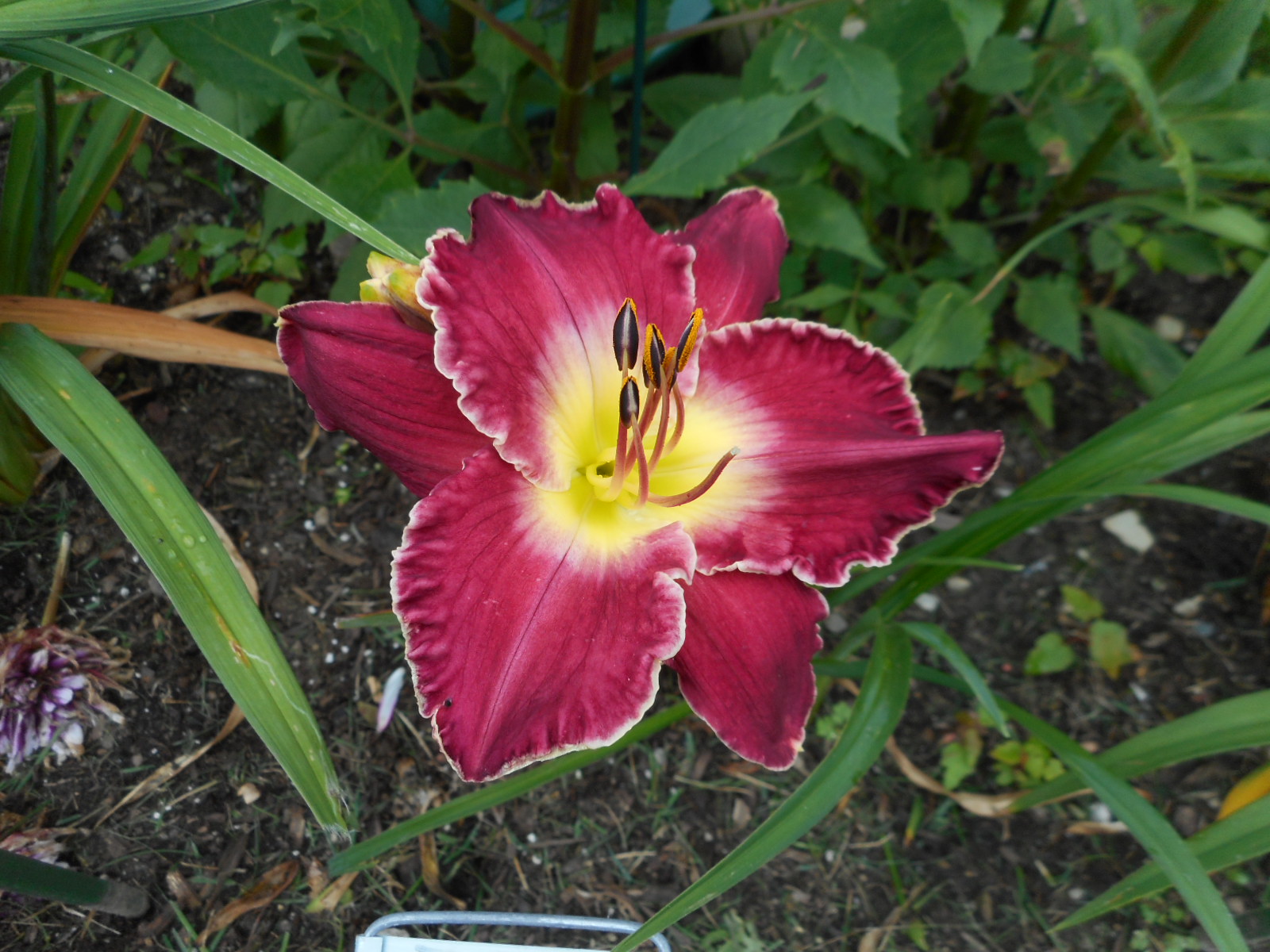 At the end of a satisfying day of gardening, The Wine Goddess likes to toast her prized daylillies with a chilled white wine.
The "St. Francis", following a patient, two-year subterranean incubation, bloomed early one recent morning eliciting a cry of excitement from the front yard. Bella the cat, watching from a window, backflipped off her perch onto the previously spotless white couch, depositing a new abstract pattern of black feline fur. When I made it to the source of the sound, I stopped in my tracks. The Wine Goddess was on her knees greeting "St. Francis", a wondrous sight of miraculous white, yellow, pink, red, and ruby colorfs. The flower made quite an impression. I vowed to search for a special wine to mark St. Francis' emergence.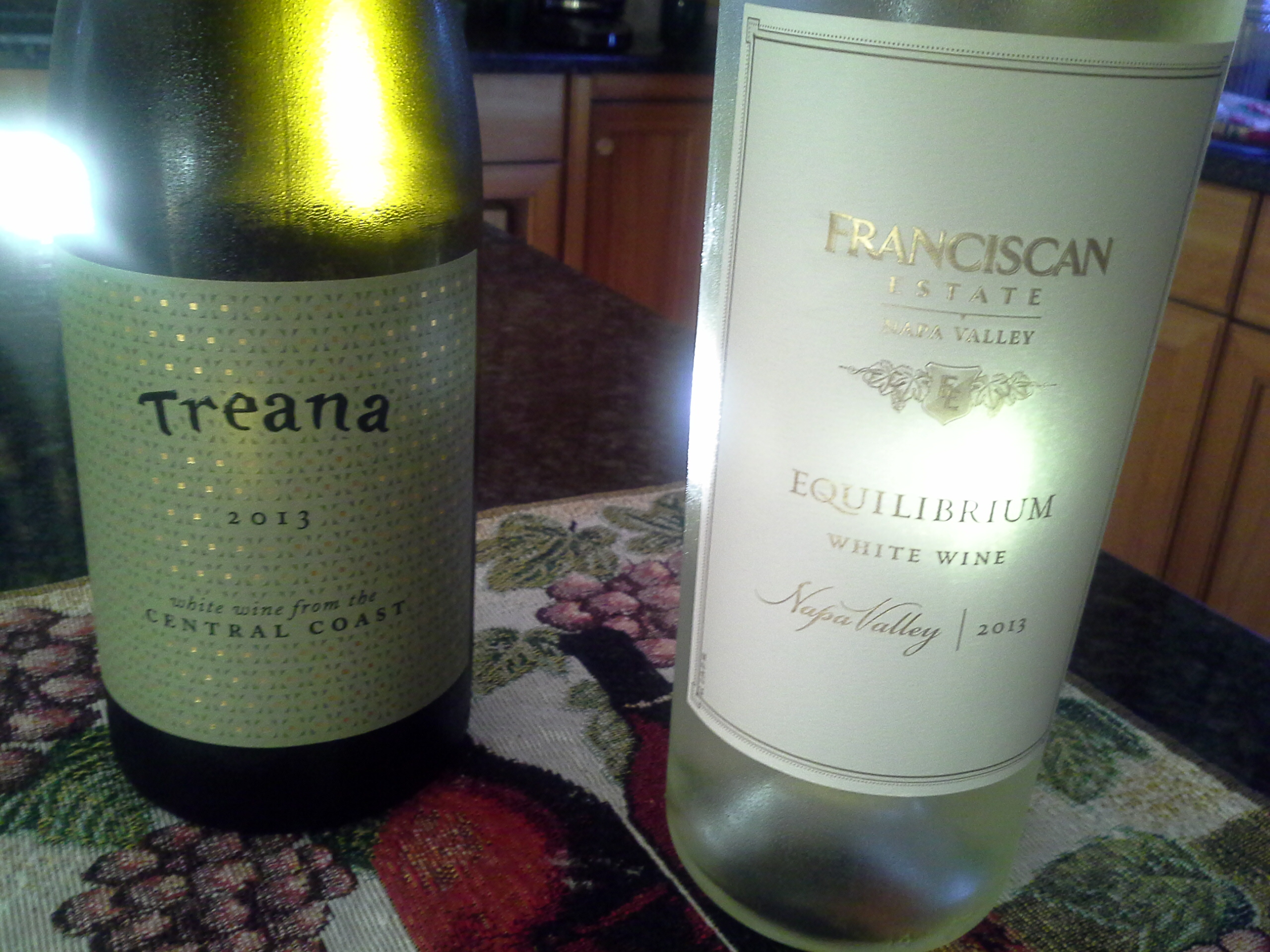 Life is full of interesting coincidences. That afternoon, it being a Saturday, the Wine ConneXtion was holding a tasting. On the menu was Franciscan Estate's Equilibrium White 2013. The Napa Valley winery uses the phrases "devotion" and "true character" on its website to describe its viticultural philosophy. The real St. Francis valued both qualities in his human flock, and most likely would approve of Equilibrium's ability to refresh the spirits, if not the soul, after a long day of labor.
I tasted the wine, found it truly expressive, and bought three bottles.
Equilibrium a blend of Sauvignon Blanc, Chardonnay and Muscat, a versatile grape with more than 200 varieties. Muscat does not mean "musk." In fact, viticultural science traces its roots to ancient Egypt where the grape's perfumed aromas made Muscat a popular wine at feasts and festivals.
The French, Italians and Germans all use different Muscat varietals to craft white blends, and it's nice to see a California winery doing the same.
Equilibrium's crisp, citrusy, smooth profile is reflected in the three-grape blend. Sauvignon Blanc (72 percent) lends lemon-lime and grapefruit flavors. Chardonnay (17 percent) adds a touch of pear and apple fruitiness. Muscat, (11 percent) delivers a white peach-apricot profile and a dryness that mutes the sweetness ever so slightly. The overall result is a refreshingly pure wine that tingles the mouth.
It is most agreeable with spicy cuisine, both Asian and Indian, but als fits in well as a relaxing end-of-the-day sipper.
The Wine Goddess found Equilibrium to be in perfect harmony with the celbration of St. Francis the daylilly.
Here are two other white blends to infuse balance to your busy life:
• 2013 Domaine Sarrail Sauvignon Blanc/Colombard, France, $8.99 — Wine producers from the Languedoc south of France are stealing the show with values like this. Colombard is used in Bordeaux-style wines and also to make Armagnac. Here it is 30 percent of the blend, delivering a medium-bodied texture and honeyed traits to Sauvignon Blanc's tropical fruit flavors. Chill it, pour and enjoy.
• Treana White Blend Marsanne/Viognier, California, $12.99 — Credit is due to the Austin Hope Winery for this highly appealing blend of French varietals. In the Rhone Valley, Viognier is the only permitted grape in the crafting of Condrieu. It is lush and adds weight and softness. Sometimes it is blended with red grapes for its minerality. Marsanne is another Rhone favorite, bringing yellow-gold color, acidity, and tastes of melon, honeydew and nectarine toTreana's 50-50 blend. Party on!