Mary Lee's Quick Bolognese (paired with Produttori del Barbaresco)
Written by Mary Lee Harrington, aka The Wine Goddess.
Ingredients
| | |
| --- | --- |
| 2 T. Olive oil | 3- (24 oz jars) Bertoli Tomato and Basil Sauce |
| 2-T.  unsalted butter | 2 tsp. Italian seasoning |
| 2 cups finely chopped onions- about 1 large | 1 T. sugar |
| 1 cup finely chopped carrots- about 4 large | 1 cup dry white wine |
| 1 cup finely chopped celery | 1 cup whole milk |
| 1-lb. hamburger | Pinch of red pepper flakes-Optional |
| 1 lb sweet Italian sausage | Pinch of nutmeg-Optional |
| | Salt and pepper to taste |
Directions
I like to make this sauce one day ahead and then reheat. The flavors develop the more it sits.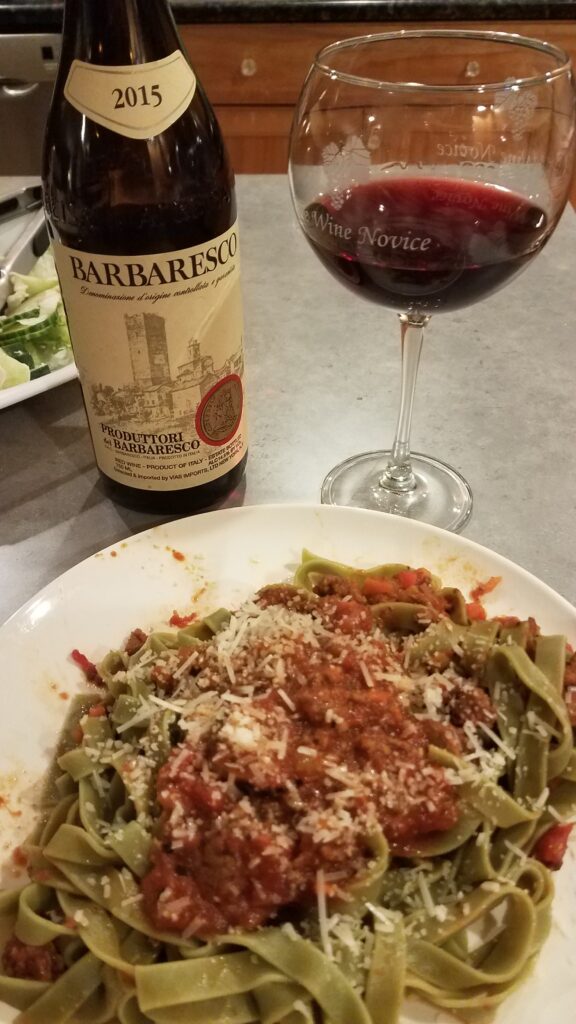 Cook hamburger in a skillet about 10 minutes, breaking it up into small pieces and then drain on paper towels, set aside.
Cook sausage links until done and set aside. I like to par boil the sausage in water first and then slice into ¼ inch slices and brown them in a skillet for about 10 minutes. You can also use ground sausage instead, but. I like the slices of sausage in this dish.
Melt butter in another large skillet and add olive oil. Cook chopped onions, carrots and celery until tender, about 10 minutes.
Now add tomato sauce, Italian seasoning, red pepper, sugar, cooked hamburger and sausage and cook about 30 minutes. *Then add wine and milk and cook another 15 minutes. DO NOT BOIL.
*This sauce is better if made a day ahead and the milk and wine added the next day when reheated. Reheat about 30 minutes on low.
Serve over pappardelle or spinach tagliatelle with fresh parmesan cheese.
Serves 4.