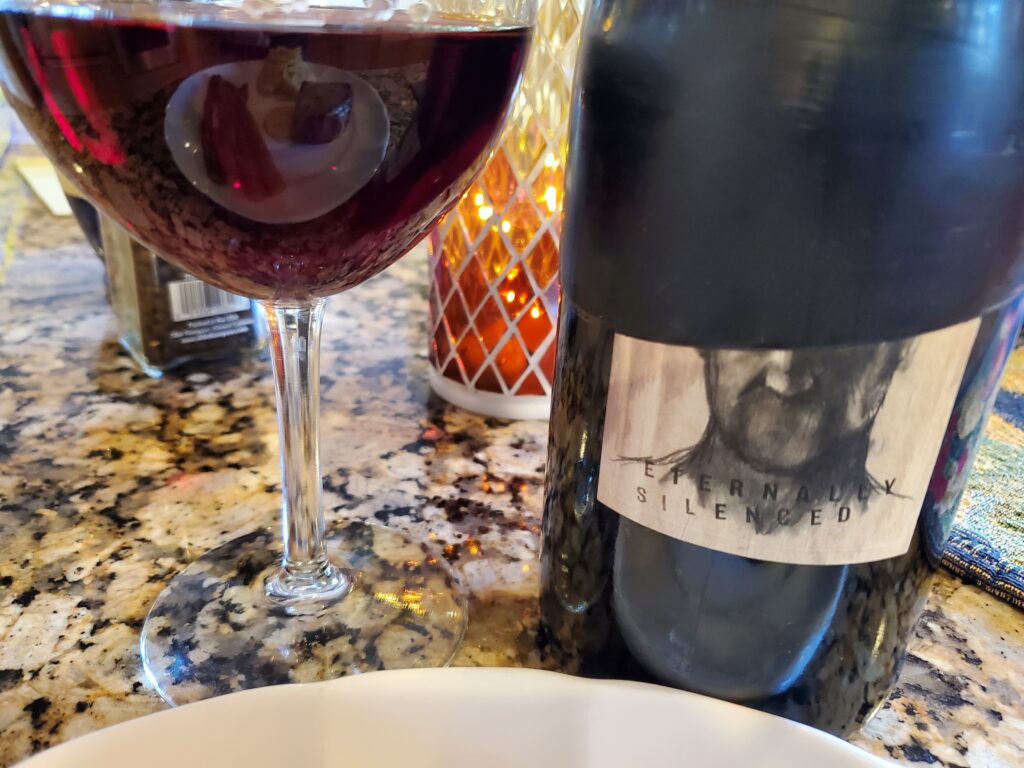 The creators of Eternally Silenced Pinot Noir crow that the California wine will leave drinkers "speechless" but I say the 2017 vintage has found its voice.
Indeed, Eternally Silenced builds on its 2016 inaugural  with brighter character traits, including intense aromatics and flavors. Maybe it was the excellent growing season in Napa Valley and surrounding appellations that contributed the extra oomph. Whatever, director of winemaker Chrissy Whitmann and winemaker Niki Williams certainly made the grapes do the talking.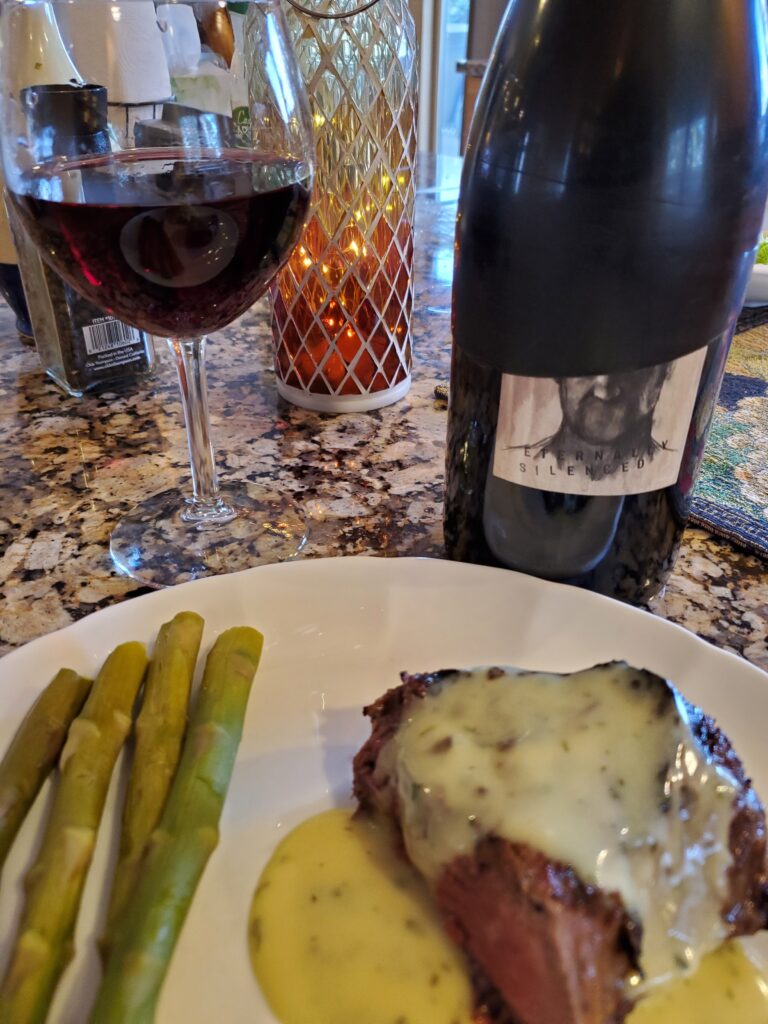 This is another original from The Prisoner Wine Co. which sources grapes throughout California to craft its growing portfolio of quality wines.
Accessing quality fruit is key to PWC operations, since the winery does not own a single vineyard. The winery contracts with long-time family farmers who respect the land and value their grapes. There's Bruno Solari and his four siblings at Solari Family Vineyard in Calistoga; they've been supplying Zinfandel to PWC since 2005. Jack and Kathy Pagendarm own Korte Ranch in St Helena, a family-run operation that was launched more than a 100 years ago. Overall, there are 13 North Coast and Central Coast vineyards that supply grapes – and a multitude of viticultural diversity – to PWC.
Eternally Silenced is one of two PWC wines I sampled recently The other is the spicy white Blindfold.
PWC wines are marketed to grab your attention and crafted to please your palate.
Eternally Silenced is wrapped in a black wax that covers nearly 65 percent of the bottle. The wax drapes over a man's disheveled face where only the nose and mouth is exposed. I got the impression of a bad hombre or desperado, because the look certainly wasn't someone from the Silent Majority. The label is small – like the size of matchbook – black-and-white, and carries the lower-case words "eternally silenced." What does it mean? I don't know. If you are familiar with Prisoner Wine Co. brands, you'd realize that either a prison warden, criminal justice activist, or Nelson Mandela might be suggesting the names. (Other popular wines are named The Prisoner Red Blend and The Snitch Chardonnay.)
Blindfold White is another stark label: It shows a "revolutionary or patriot" (?) chained to a post, head down and blindfolded.
If there's a message to be had, I'm lost. The wine, however, speaks volumes: It's very good and I applaud the "W" women – Ms. Whitmann, Ms. Williams – and the rest of the team for their focused work.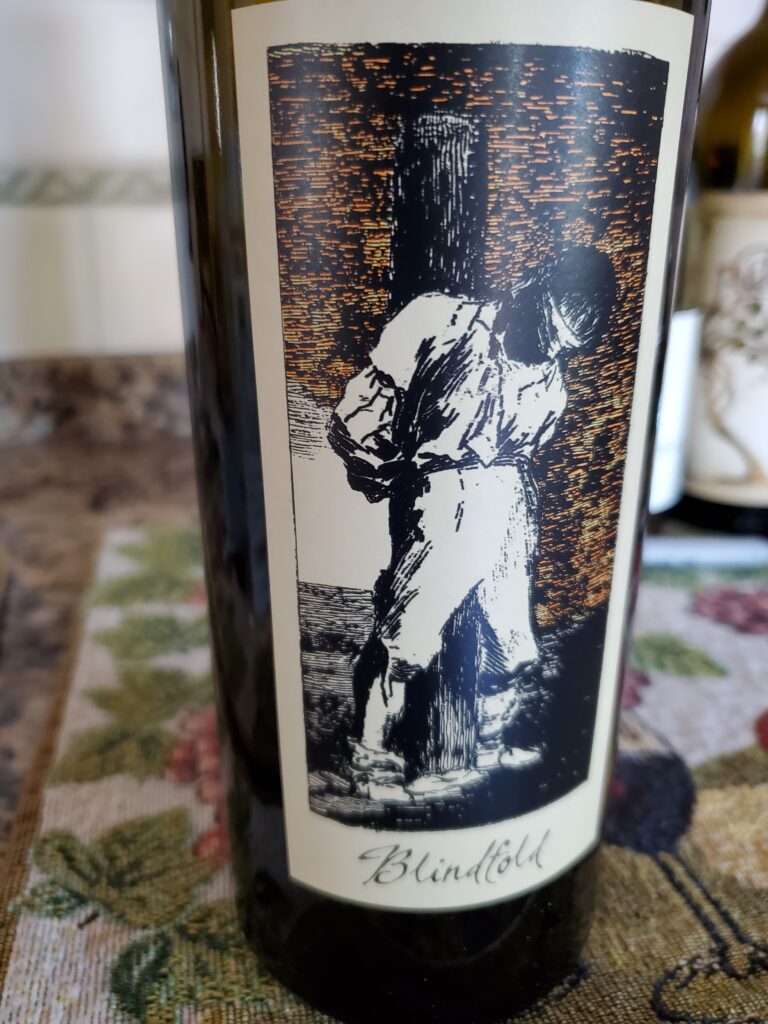 Eternally Silenced Pinot Noir 2017, CA, SRP $50 – My only complaint about this enjoyable ruby-colored wine is the thick wax cap. I took me over a minute to knife through the thick layer with my corkscrew to expose the cork and pull it out the cork. Usually, it's a 15-second process. That done, however, I became a very happy camper. Unlike the debut vintage in 2016, which was 95% Pinot Noir and 5% Syrah, the 2017 blend includes a small amount of the white aromatic grape Viognier. It makes a nice, subtle difference. Spicy scents are heightened – clove, cinnamon – and bright flavors of cranberry and cherry get a lift too. The texture is soft and mellow, and the finish lingers with a candied cherry exclamation point.
Eternally Silenced (14.5% alcohol) sources grapes from five California appellations, including Santa Barbara, Sonoma Coast and Napa Valley. The proportions range from 10 % to 25 %. The wine ages 14 months in French oak barrels. While several chain outlets carry this wine, the best deals can be found online where Eternally Silenced is selling for as low as $44.99.
Blindfold 2017 California White Wine, SRP $32 – There's a lot more complexity going on here than greets the palate. Take a sip and let it sit in your mouth for five seconds and you'll feel the soft, spicy sensations emanting from this rich blend of four grapes – Chardonnay, Roussane, Viognier and Muscat. Blindfold is covering up anything when it comes to taste; there's plenty of it. Golden apple melds with peach and nectarines to form the basis for layers of emerging flavors. Baking spices, with a vanilla topping, accent the mid-palate high. It's velvety smooth all the way to the end. The straw-colored wine is aged for 10 months in a combination of French and Hungarian oak barrels (80%) and stainless steel (20%). The process delivers a clean and creamy refinement. For wine drinkers looking for a distinct new Chardonnay flavor, the Rhone varietals in the mix make Blindfold a bold, invigorating choice for summer gatherings. At present, Blindfold is selling for $29.99 in New Hampshire Wine & Liquor outlets.