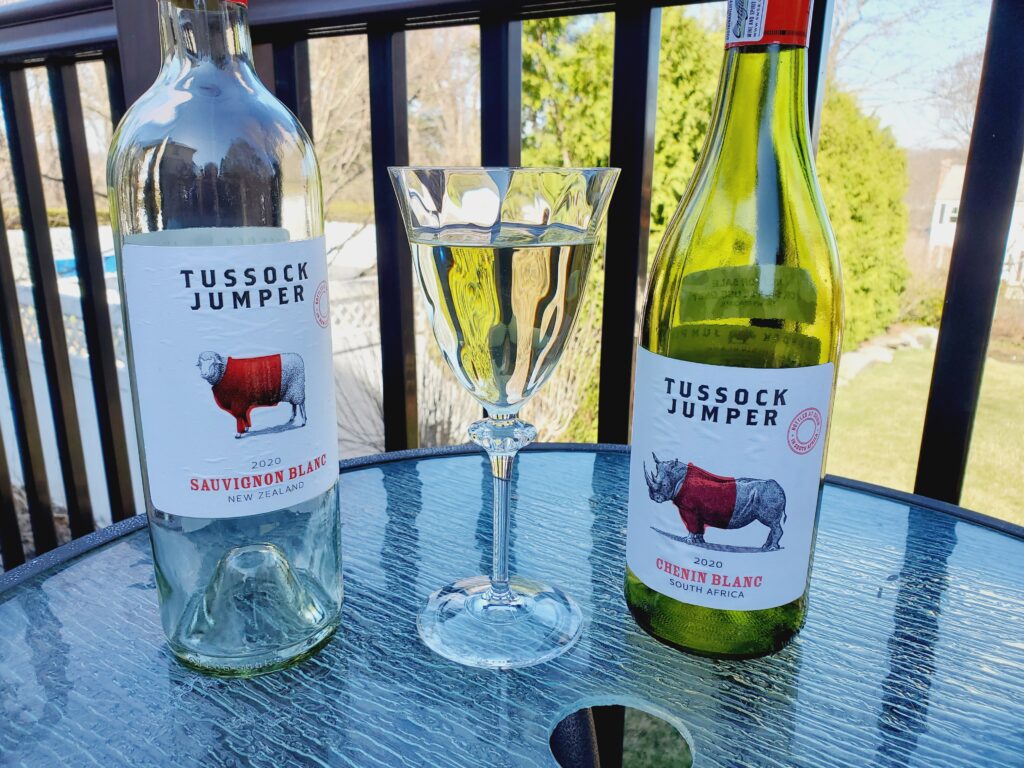 When I open a bottle of Tussock Jumper wine, I anticipate big flavor and a lasting finish.
So I was overjoyed with my first tasting of TJ's 2020 vintage of Chenin Blanc from South Africa and the Sauvignon Blanc from New Zealand.
Call it "blanc" season at Tussock Jumper, a wine company based in France with a global portfolio of 24 varietal offerings from 11 countries.
I could say nothing has changed and that's not necessarily a bad thing. Consistency, after all, is what consumers want from every-day, easy-drinking wines that deliver good value for the money.
And Tussock Jumper's wines, which include a sake from Japan, seem to be getting better each year while sticking to an under- $13 a bottle price point.
Tussock Jumper produces its wines in source countries. It buys grapes from local growers and uses local vintners to craft wines that are fresh and true to the unique terroir.
Each wine label features a drawing of an animal, outfitted in a "tussock" red sweater, that is emblematic of the region.
TJ's Chenin Blanc ($12.99, 13% abv.) is from Stellenbosch, South Africa and proudly displays a rhinoceros on the bottle .
Next to the mid-Loire Valley, where Chenin Blanc is the major white grape used in dry, sweet and sparkling wines, South Africa's "steen" can be sensational when careful attention is given to selecting top quality grapes. TJ's grapes come from older vineyards in the Western Cape region where diverse soils and sloping land mix ideally with the warm and sunny climate.
According to The Wine Bible (I have Karen MacNeil's splendid 2nd Edition), Chenin Blanc's overall acreage has declined in recent years even though it remains one of South Africa's most widely planted white grape. A majority of the crop goes to produce brandy.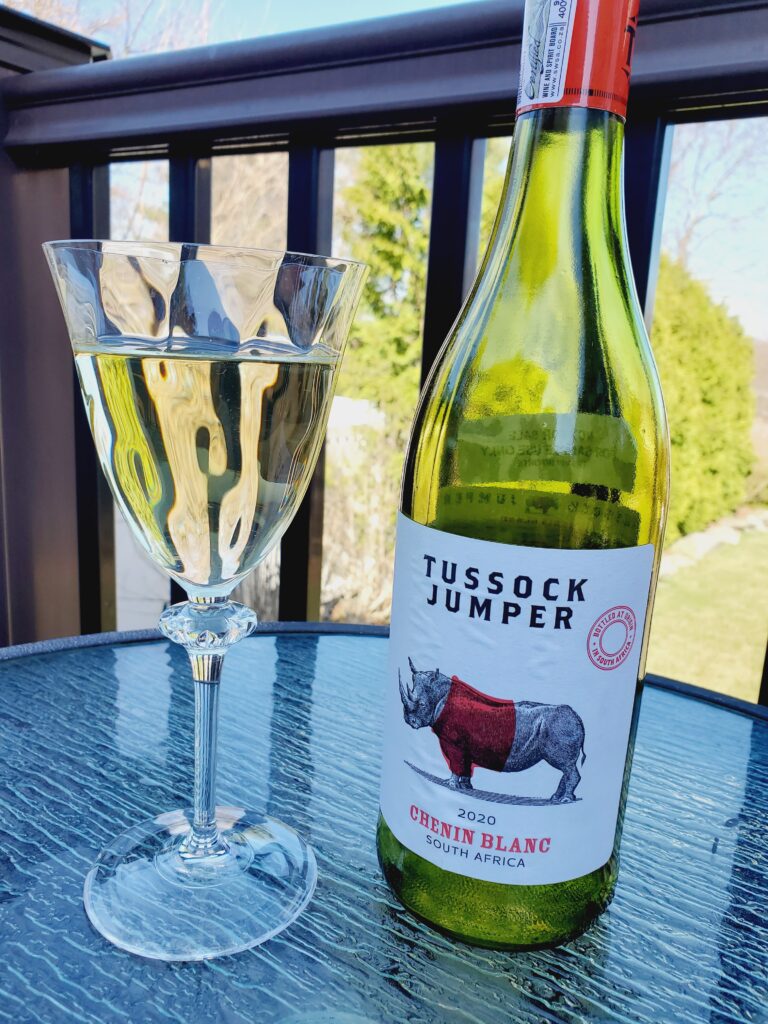 Still, there are a bunch of small-production vintners who regard Chenin Blanc as sacred and are  employing sustainable farming practices to help create purer wines.
So what does Tussock Jumper's Chenin Blanc have to offer?
The exotic notes from below the equator – peach, pineapple, mango, guava – are ripe and quite impressive. This is not a soft and dainty Chenin Blanc, but one that gives rise to the grape's intense core attributes. Most aficionados will flip over the dry, flinty minerality and smooth texture. While the latter is creamy-like, it's not so dense that the wine loses its crisp edge with food, especially fried or baked seafood plates.
I tried it with fish and chips on the first day and with a store-bought lobster roll the next, and the Chenin Blanc worked its magic both times.
For ratings watchers, TJ's Chenin Blanc earned 89 points and 88 points, respectively, from Wine Spectator (WS)  and Wine Enthusiast (WE).
Tussock Jumper's Sauvignon Blanc ($11.99, 13% abv.) is made from grapes in Marlborough, N.Z., a classic wine-growing region for Down Under sauvignon blanc. There's a sheep on the label but nothing sheepish about this wine; it is overpowering from the start: Screw off the cap, and you get a huge whiff of wet grass and diesel petroleum. Hey, these are common notes for sauvignon blanc (along with cat pee) but I wasn't expecting such a big blast of it.
The aromas settled down in the glass after several twirls of the pale-colored juice. Yet there was no denying the fact that the first sip was a lip-smacker of racy, concentrated, citrusy flavors. I loved it. According to the winemaker's notes, the juice is cold-fermented in stainless steel vats and the resulting wine sits on the lees for four weeks, picking up flavor and roundness, prior to filtering.
Maybe it was the long winter of COVID-19 anxiety, but my palate needed a charge – and this vibrant sauvignon blanc did the trick. While it's got a a grapefruity backbone, there's a whole lot of exotic shakin' going on with lemon and melon fruits rising and falling on a clean, lively frame. The finish is long and dry.
Granted, some might not like the high, aciditic zing of TJ's Sauvignon Blanc. Food is the great equalizer. Drink this chilled white with plenty of skewers of grilled shrimp and vegetables and other seafood and chicken dishes for maximum fun and satisfaction . It even pairs well with an appetizer of asparagus wrapped in prosciutto.
WE rated 88 points and WS pegged it at 87.
Tussock Jumper wines can be found at Whole Foods outlets and online at Drizly.com.