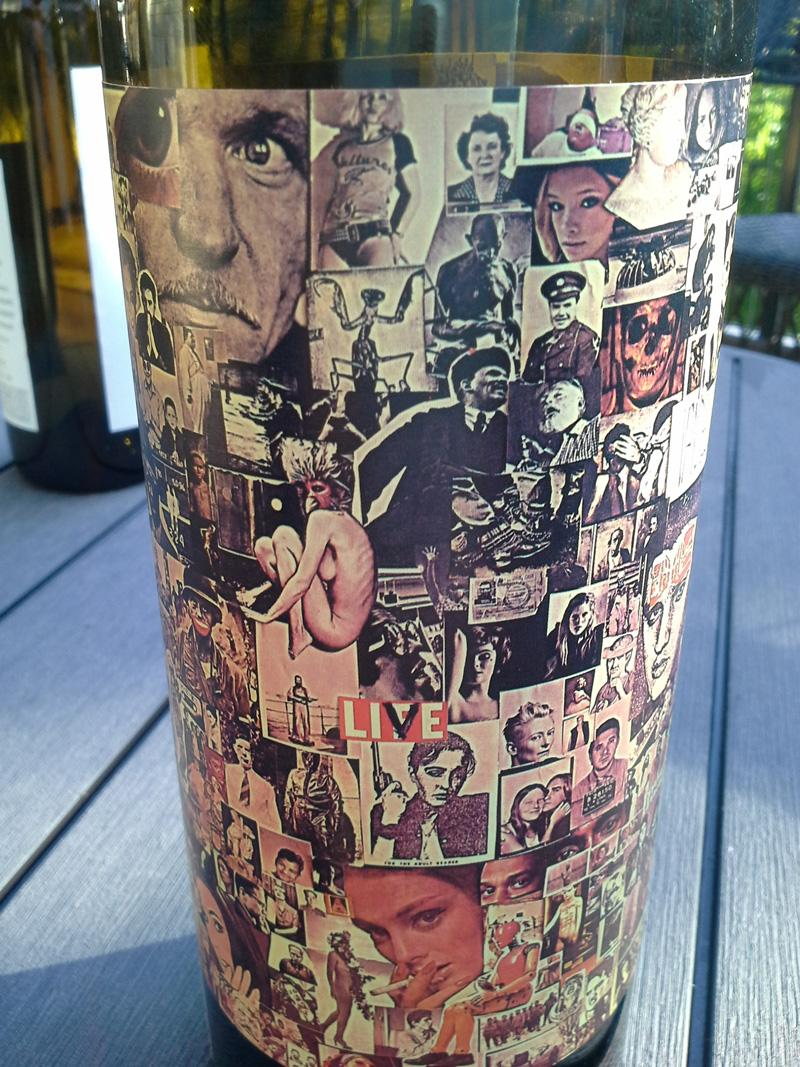 There are very few wine drinking experiences I enjoy more than filling up a glass with a David Phinney wine, savoring it, and trying to figure out the bottle's label.
The Napa Valley winemaker has made his wines and labels into a high-art form since founding Orin Swift Cellars in 1998. Since then, Phinney has created some of the biggest, boldest, juiciest Napa reds without owning a production facility. He sources his grapes from the best northern California vineyards and turns them into magic at leased production sites.
One of his top creations is The Prisoner ($40) which I've reviewed in the past. It's a Zinfandel-dominated red that sets a high standard for all in its class and is a regular on most publications' annual Top 100 wine lists. Phinney sold the label in 2008 to a private company, after building the brand from 385 cases produced annually to 85,000.
Phinney was recently in the news again when E.J. Gallo Winery purchased Orin Swift Cellars and all Phinney's wine brands, including Mercury Head Cabernet Sauvignon ($120 a bottle), Bordeaux-blend Papillon ($65), and Grenache-based Abstract ($32) among others.
According to a press release, Phinney said he will remain a partner with the Gallo family and continue to work on his wines and develop others that follow the Orin Swift model. That's good. Because if you've ever tasted a Phinney wine, they are packed with personality.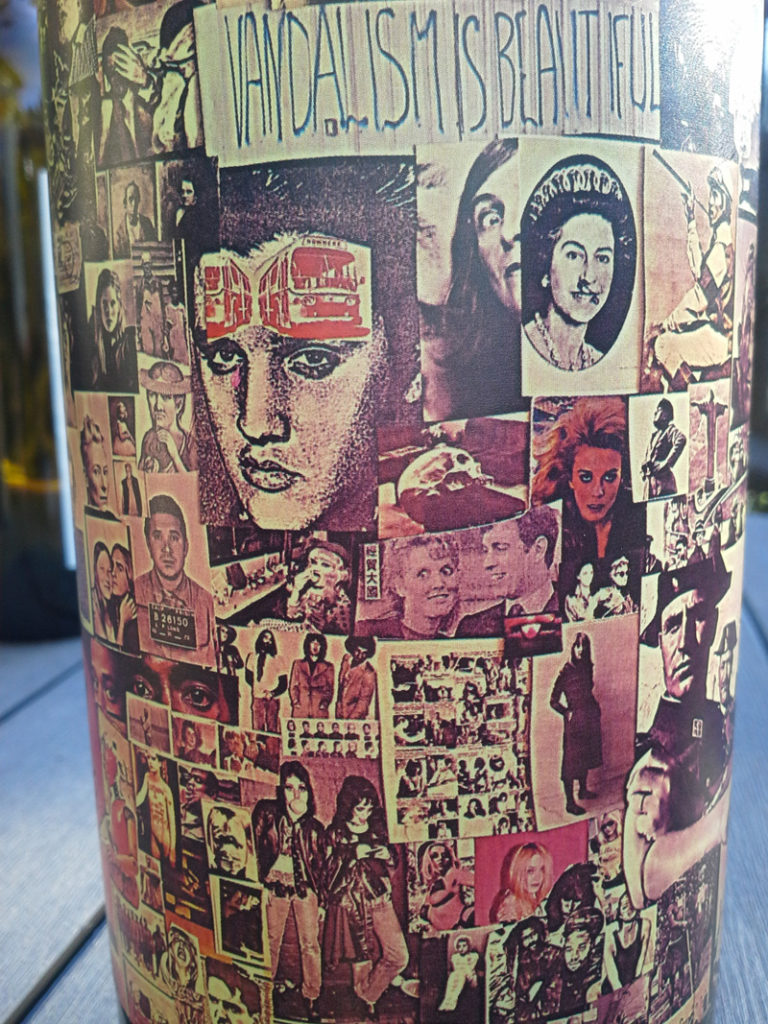 Today, I'm going to focus on the 2014 Abstract which is quite a bargain at $28. That's what I paid for it two months ago at The Wine ConneXtion in North Andover. Unfortunately, it was the last bottle in the rack although Sam Messina, the store's co-owner, said he was hoping to land more. Also, the 2015 vintage will be coming in soon.
Abstract is like no other wine I've ever tasted. It is layered, rich and mysteriously fascinating. Let me clear up the latter point first. Right out of the bottle you can tell this is different. The aromas are powerful. I put two glasses down on a table on the deck and poured one for the Wine Goddess and then myself. The WG, my wife Mary Lee, was cutting up cheese wedges in the kitchen and when she stepped onto the patio, the first words from her mouth were, "Wow, I can smell black cherries from here. What is that?"
"That," I said, "is a gorgeous wine."
The aromas popped like the July 4 fireworks over the Charles River.
Big, black cherries, black currant and raspberries and plum. The flavors were equally sumptuous and smooth, and they kept getting deeper and more intoxicating. Sweet spices and chocolate arrived in force on the mid-palate and kept at it on the long finish. We were truly mesmerized. This is a $28 wine delivering sensations that usually are expected in much more expensive blends. Oh, yes, the blend. Phinney, who got his wine education in Florence and worked at Robert Mondavi Winery and Whitehall Lane, knows how to select a winning mix. Here he uses Grenache, a superb thick-skinned varietal, with Syrah and Petite Syrah. The result is a lot of structure and sweet, dusty tannins from being aged 10 months in a combination of new and seasoned French Oak.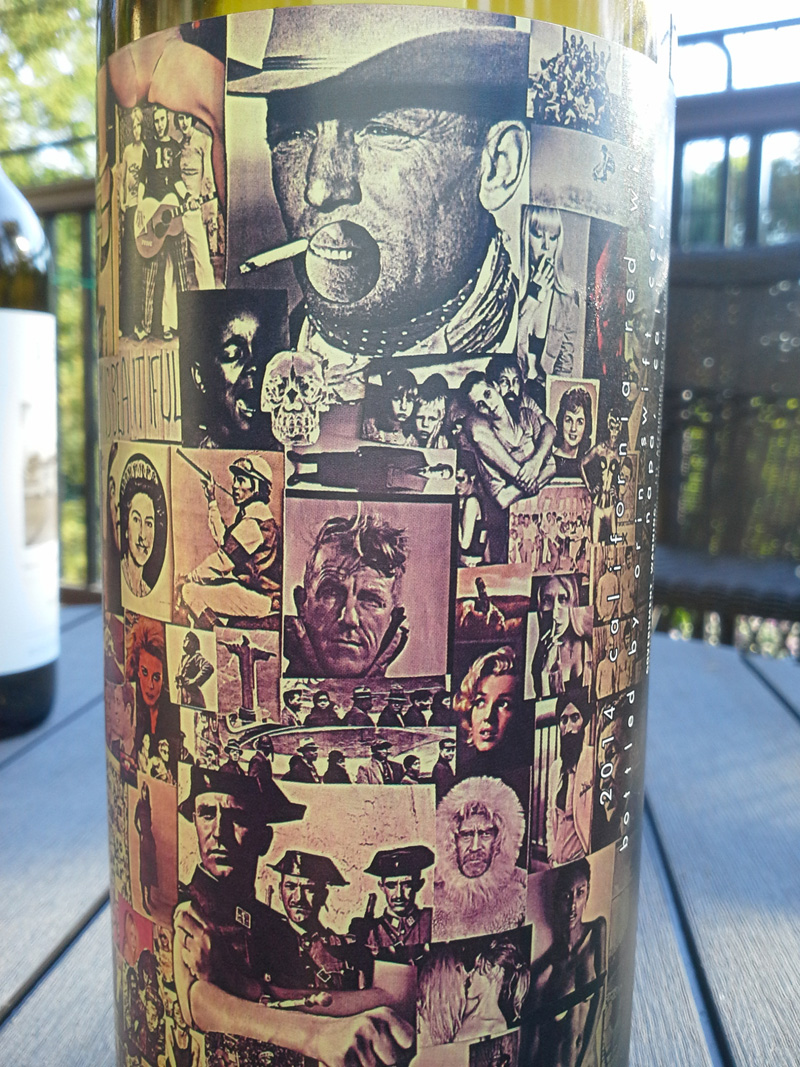 Abstract is 15.1 percent alcohol, which is much higher than most ageworthy reds. However, there's little "heat" felt on the swallow. Phinney has achieved great balance and softness, making this wine a pleasurable liquid feast.
Now while the wine is "magnificent" — a description used by wine expert Robert Parker who rated the 2013 vintage 94 points — an added enjoyment is sitting down and perusing the iconic label. Abstract features more than 100 photographs of famous and not-so famous people, including several from Life magazine covers.
While sipping and snacking, the Wine Goddess and I enjoyed hunting down the Who's Who on the label. We spotted Elvis, Queen Victoria, Hemingway, David Bowie, half of Bob Dylan's mug, and others. There were many unrecognizable faces too that led to much guesswork. I was going to start putting them on the Internet, to see if maybe Interpol could help, but then the Wine Goddess intervened.
"Let's leave it for another day and a second bottle," she said.
What she didn't say is that a braised rib dinner with glazed carrots was awaiting nearby.
I gave the Abstract bottle a healthy twirl. It was empty. But to my surprise the photograph of a beauty who looked a lot like Marilyn Monroe came into view on the label. All I could think of was how the night was still young.