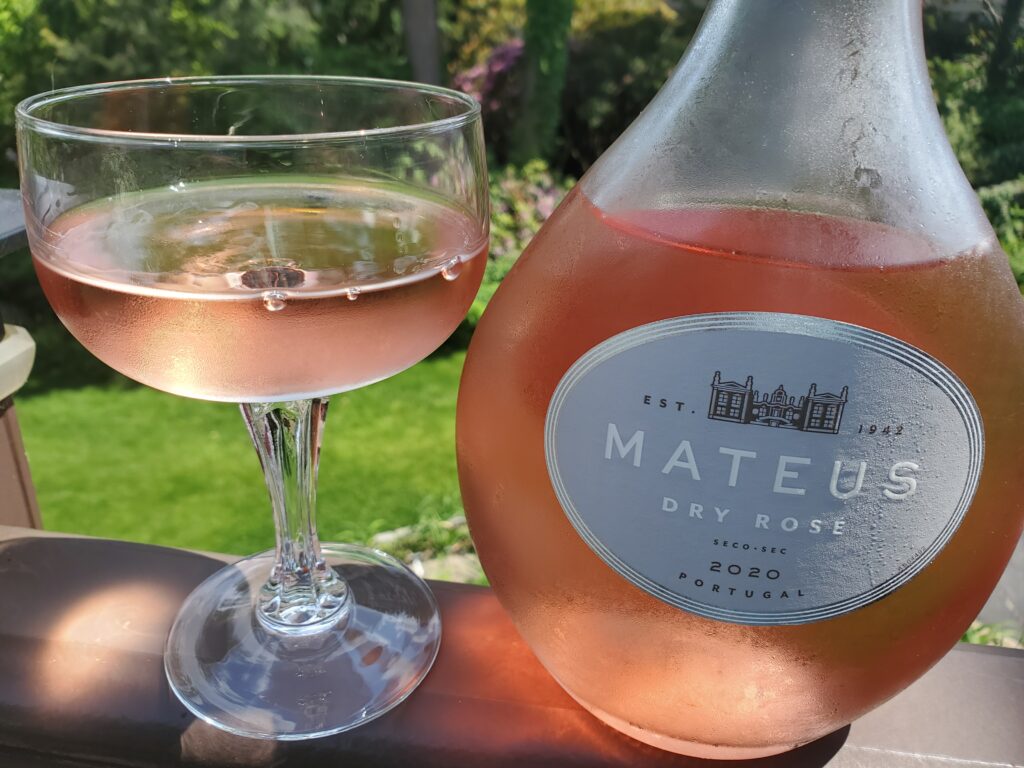 Here is my tasting review on Mateus Dry Rose`, followed by a story on the history of Mateus and my own family experiences with this great Portuguese wine.
Mateus Dry Rose` 2020, Portugal (abv. 12%), SRP $12.99 – An impressive dry rose` for the price packing Portugal's top quality native Baga grapes and homegrown Shiraz into an iconic flask-shaped bottle. A delightful summer sipper or all-occasion aperitif, Mateus entices with fresh strawberry, peach orchard and cranberry notes. It lingers soft and smooth on the palate, leading to a crisp, dry, let's-have-a-second sip finish. A silvery-pink color adds to the appeal, giving this rose` standout status in the ever-growing world-rose` lineup. This is not your parents' or grandparents' sweet, frizzante Mateus, but a refined, refreshing, upbeat rose` crafted for timeless and universal enjoyment. I'm a big fan.
For calorie counters, Mateus Dry Rose` contains 105 calories for each 5-ounce serving. There are 25.3 ounces in a standard 750 ml. bottle or wine.
(Mateus Dry Rose` 2020 is now selling in selected Massachusetts and New Hampshire outlets for $10.99).
A Mateus Connection
When my oldest sister married in 1959, the large, festive Italian wedding featured great platters of food and desserts, unlimited Sinatra songs, nonstop dancing, and plenty of Mateus rose` wine.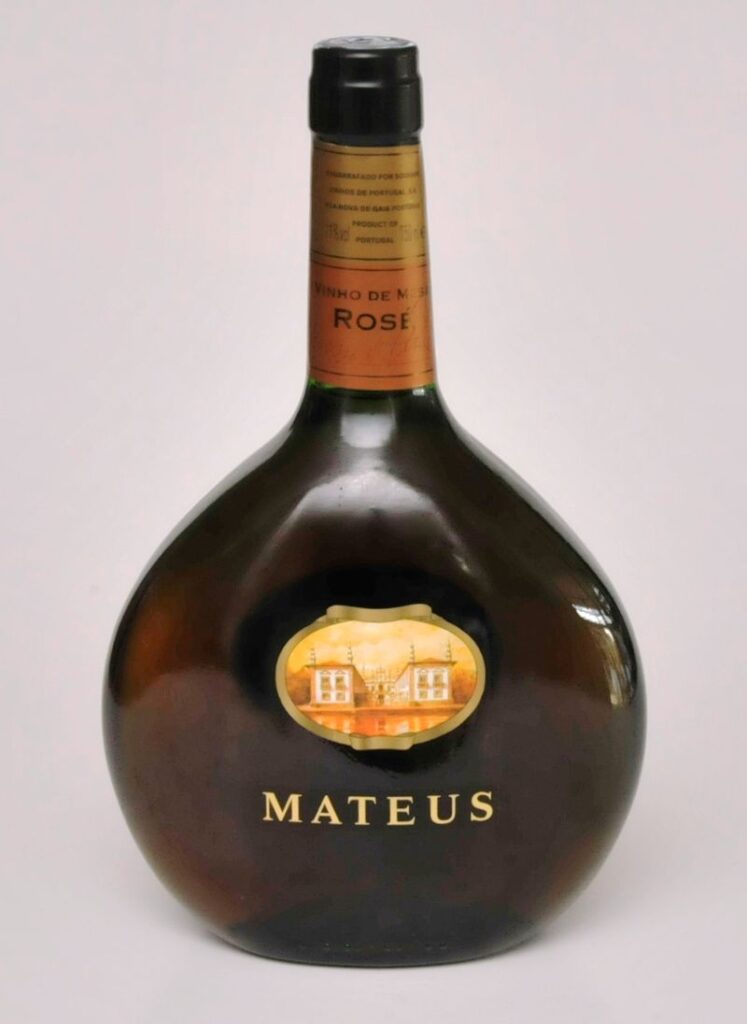 My next oldest sister wed in 1970 in similar fashion. Once again, Mateus was on the table along with bottles of Champagne.
Both sisters enjoyed long, fruitful marriages of 59 years and 48 years, respectively, until their spouses passed away.
I was married Mateus-less in 1980. The marriage lasted five years. However, in 1990,  Mateus was served at my second marriage ceremony and my wife and I are in our 32rd year of wedded bliss.
Mateus and a happy marriage. Is there a connection?
I don't think it's anything more than a fanciful coincidence, yet I have to admit my recent tasting of the "modernized" Mateus stirred several intriguing notions. For starters, Mateus has probably been the choice of wine at tens of thousands of wedding ceremonies during the wine's 76-year existence. What were the outcomes?
And isn't it ironic that I can't remember the names of other wines served at family weddings, but I have quick recall on Mateus.
So….
In the mid-20th century, Mateus was crafted as a Portuguese sweet rose` wine that was sold in a narrow-necked, curved bottle fashioned after the drinking flasks used by WWI soldiers. Fernando van Zeller Guedes created the bottle as well as what would become Portugal's first-ever rose` in 1945 – three years after he founded Sogrape, a wine company that today is Portugal's largest producer and distributor.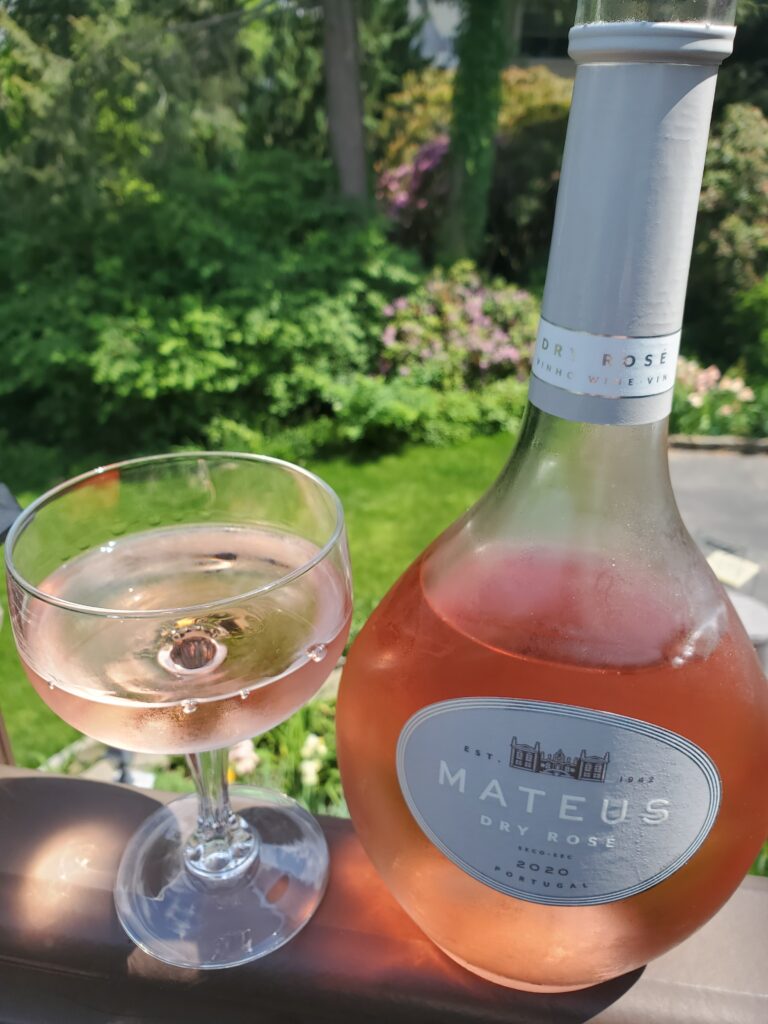 Fernando's vision was for a great rose` that would draw worldwide attention. He succeeded.  Mateus – in its iconic bottle – became a best-selling wine in both America and Europe and a conversation piece.
(Note: My mother and aunts, along with countless other consumers, would burn candles in the long-necked bottles and let the dripping wax turn them into brightly colored table ornaments. In fact, according to the company's website, a Mateus bottle made an appearance in the 1978 film Animal House as a candle-holder in the office of English Professor Dave Jennings, played by actor Donald Sutherland).
After a slowdown in sales at the turn of the century, Mateus was retooled nearly a decade ago under the direction of Guedes' grandson, Fernando da Canla Guedes.
The distinctive bottle shape remains, and it's now adorned by a rectangular silver foil label that features a smaller black-ink image of the historic baroque mansion where grandad established his first winery. White lettering spells out "Mateus Dry Rose`". Overall, the look is simple yet elegant, enhanced by the pink-hued liquid in the bottle.
Of course, it's the rose` that counts and here's where Mateus has surpassed the test of time.
The "new" Mateus is deliciously flavorful, languidly dry, and Portuguese proud.
Of the three rose` versions in Mateus' "Expressions" portfolio – launched in 2014 – I tasted the blend of Shiraz and the native Baga grapes. The others are Baga/Muscat and Aragonez/Zinfandel.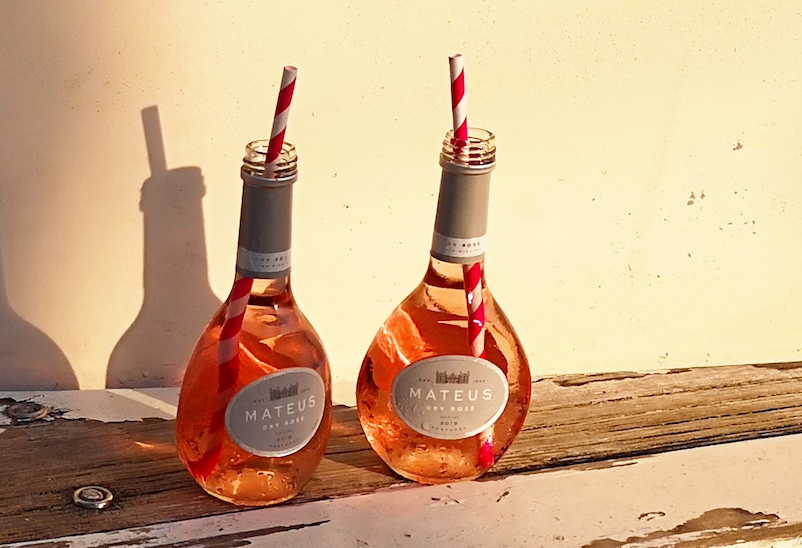 The key here is Baga. As a red grape and wine, Baga holds many of the attributes of medium-bodied Nebbiolo and Pinot Noir. Grapes are dark-colored, thick-skinned, tannic, and high in acidity. A young Baga red wine is usually powerful. full-bodied, and harsh, needing several years of cellaring to soften the tannins and open up.
However, as a rose` component, Baga is gently pressed and delicately fermented in steel vats with minimal skin-juice contact. Combined with Shiraz (Syrah), the result is a fresh, tasty, impactful rose` of good structure and enduring palate presence. Chill it to 48 degrees Fahrenheit and let it pleasure your palate.
Mateus mini-bottles (187 ml.) are available at $4.99 each.
According to Sogrape's website, more than 20 million 750 ml. bottles of Mateus are sold annually in the world, or 38 bottles every minute.
A $12.99 a bottle, that's a lot of Portuguese love finding its way to all corners of the globe –  and well worth it.