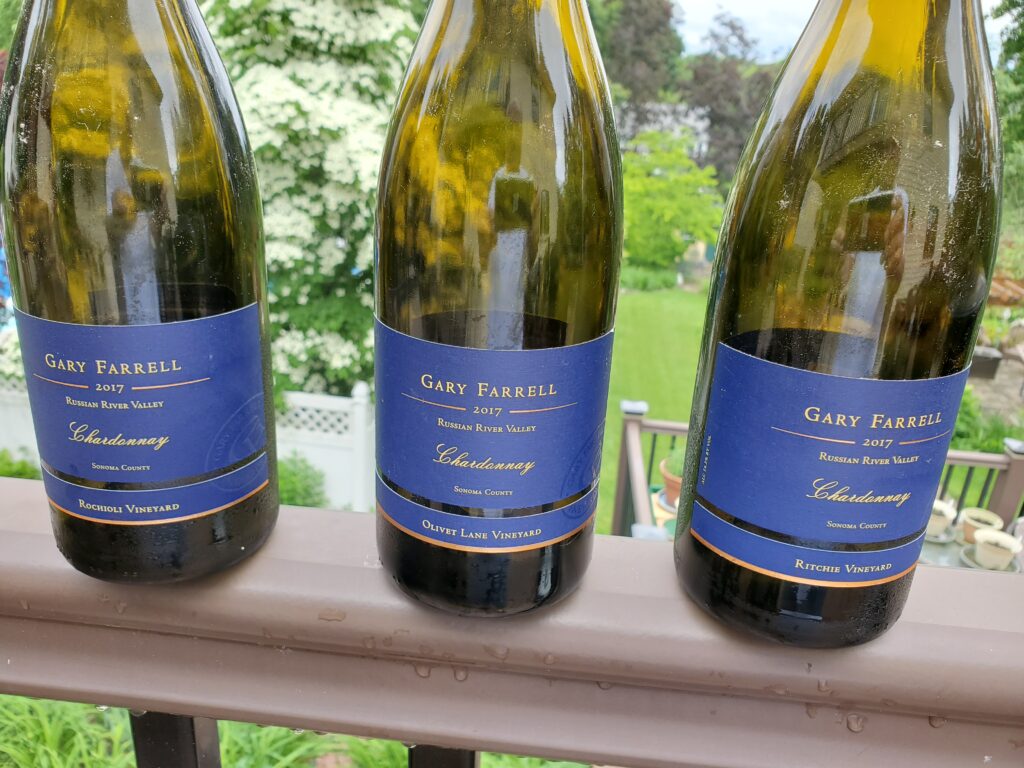 (This first of two articles on Gary Farrell Winery's "cru" wines focuses on three premium Chardonnay bottlings made in Sonoma's Russian River Valley. The second explores Pinot Noir.)
The point about single-vineyard wines is to express the unique terroir – mesoclimates, soils, landscape, etc. – in which the vines are planted and the influence it has on the grapes grown and wines produced.
One of the best places in California to learn about these distinctions is Sonoma County's Russian River Valley AVA.
Some of California's most productive vineyards are located in this picturesque wine region, which offers great diversity in six "neighborhood" areas. They are: Middle Reach, Laguna Ridge, Santa Rosa Plains, Green Valley, Sebastopol Hills and Eastern Hills. (see map at right).
While five of these areas are not officially recognized as sub-appellations (only Green Valley has that distinction), they contain vineyards that express their own personality and several – such as Rochioli and Bacigalupi – have become famous in their own right.
The Russian River Valley's western edge is a north-south line that follows along Route 116 from Guerneville to Sebastopol, respectively. It borders Healdsburg in the north, Santa Rosa Plains to the southeast and Sebastopol Hills in the southwest.
It is a prime growing area for nurturing cool-climate Chardonnay and Pinot Noir.
And while the region might appear compact on a map, the RRV is not a one-size-fits-all appellation.
Mesoclimates are impacted by both the Russian River, which flows south through Healdsburg before winding its way westward to the ocean; and the Pacific Ocean, which provides gentle-breezes to blow off morning fog and, at night, cool down vineyard temperatures.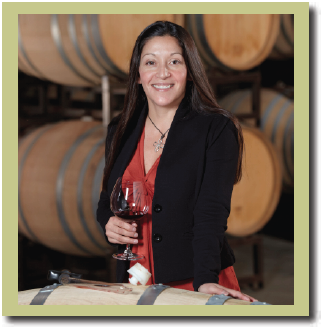 Elevation changes, soil types, and mountain ranges that offer protection from inclement weather also exert a hold on the vines.
Gary Farrell Winery crafts world-class, small-lot Pinot Noir and Chardonnay from 36 different RRV vineyards.
According to Theresa Heredia, the winery's winemaker since 2012, relationships with many independent growers go back years – Gary Farrell launched the winery in 1982 – and provide an incredible luxury of quality fruit in which to make impressionable wines.
So what better place to begin a study of terroir?
"Single-vineyard wines should be expressions of the terroir," said Heredia, a California native with a biochemistry degree from Cal Poly, San Luis Obispo.
In June, Heredia hosted a virtual tasting webinar with U.S. wine and food writers featuring seven Gary Farrell single-vineyard "cru" wines – three Chardonnays and four Pinot Noirs. She was ably assisted by Sam Folsom of Folsom Associate..
What follows are Heredia's insights on the Chardonnay wines and my own tasting impressions.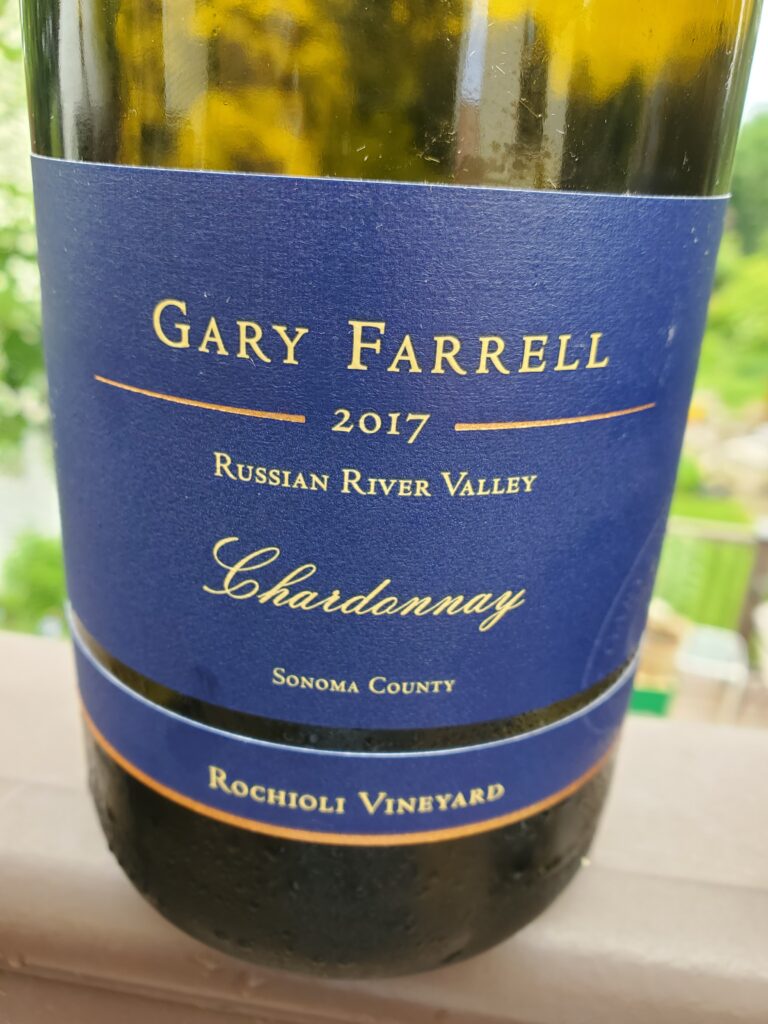 GF Rochioli Vineyard Chardonnay 2017, SRP $65, abv. 13.5 (563 cases produced) – RRV pioneer Gary Farrell's inaugural wine in 1982 was made from Rochioli grapes from the Middle Reach area. This famous 162-acre vineyard is located 10 miles south of Healdsburg where the Russian River, flowing from Mendocino County to the north, "acts like a conveyor belt" to help produce the region's warmest temperatures, Heredia said.
Gravelly loam and riverbed soils predominate. Wines tend to be more textured with ripe flavors, mineral, and less aromatic, she said.
Grapes are hand-sorted and gently pressed. Heredia said all Gary Farrell's single-vineyard Chardonnay wines undergo malolactic fermentation and are aged in new (35%) and one-to-three year neutral (65%) French oak barrels and 500-liter French oak puncheons. Each wine sits on its lees for nine months until bottling.
A key point: Heredia said "light-toast" barrels – produced from a low-flame process – help to neutralize oakiness and keep the fruit pure. "(The barrels) make the vineyard express itself better," she said.
MY TAKE: By the slimmest of palate preferences, Rochioli Chardonnay was my favorite. Its lemon meringue flavor and creamy texture meshed perfectly with a vibrant acidity. The weightier mouthfeel dictated a Chardonnay of substance; still, the liquid flowed softly and elegantly to all corners. A touch of vanilla added to a long, complex finish. A classic.
GF Ritchie Vineyard Chardonnay 2017, SRP $60, abv 14.3% (169 cases produced) – On a map the vineyard, planted in 1972, is located near the center of Sonoma County in the Laguna Ridge neighborhood. Heredia said hillside vineyards get more exposure to fog and are cooler than more easterly RRV sites. Vines grow in sandy-loam Goldridge and Altamont soils with a mix of clay and volcanic ash. Wines tend to pick up "more minerality", said Heredia.
The winemaker described Ritchie Vineyard grape clusters as looking like "small hand grenades" with "BB-sized berries." They produce intense flavors and "opulent and succulent" wines, she added.
According to the winery's tasting notes, Ritchie Chardonnay is "exceptionally refreshing upon entry with concentrated flavors of white peaches, apricots, and figs … This wine provides an amazing balance of fruit-driven flavors and lively acidity that is a hallmark of this classic vineyard site."
MY TAKE: Ritchie Chardonnay shines with impeccable balance. The alcohol and acidity levels are the highest of the wines sampled, but the integration appeared flawless in every way. Coupled with its intense citrusy fragrance and apple/pear notes, Ritchie Chardonnay rocks with long and satisfying appeal. (Truth be told, I would love to try a 100 percent unoaked version of this wine!)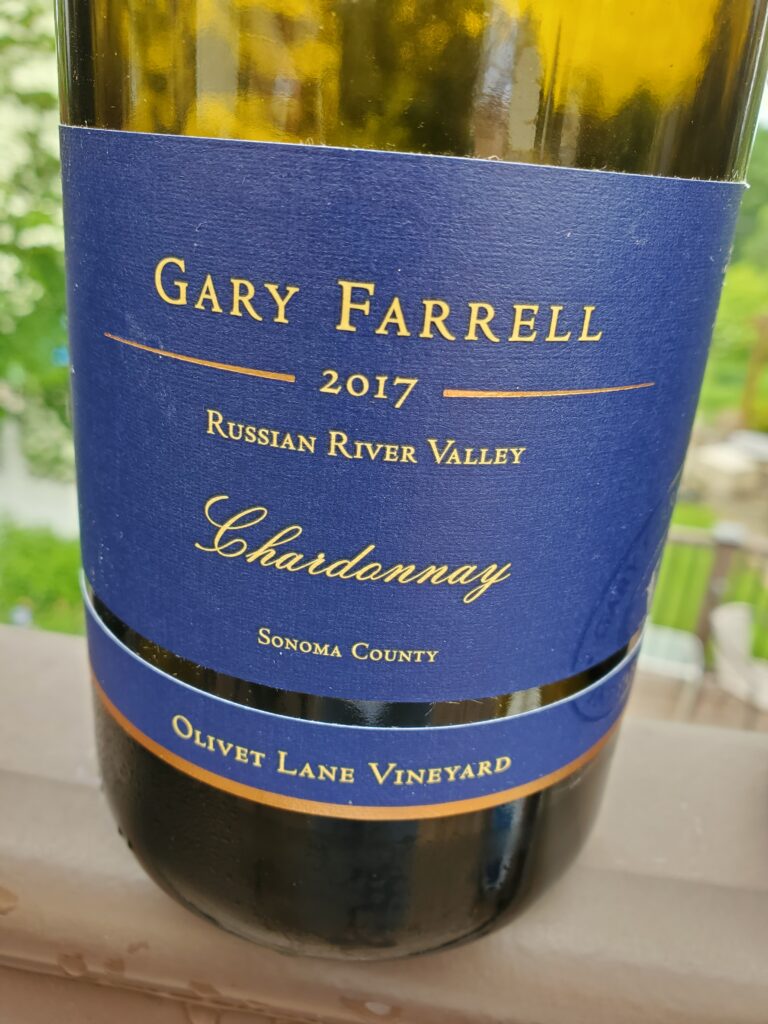 GF Olivet Lane Chardonnay 2017, SRP $45, abv. 13.8% (563 cases produced) – The 65-acre vineyard, known as Pellegrini's Olivet Lane Vineyard, is a cool-climate site in the eastern Santa Rosa Plains.
Heredia said Olivet Lane grapes hang longer on the vines, retain natural acidity, and develop greater concentration levels with slightly less sugar content.
The soil is a mix of sandstone, granular deposits and elements of petrified wood (we are in the land of giant redwoods and Sequoias!).
The winery's tasting notes highlighted Olivet Lane's "inviting aromas" of apples, peaches, and pears and "notes of honeysuckle, jasmine and beeswax (that) seamlessly integrate with the fruit profile, displaying the intrigue and depth that this site consistently offers."
MY TAKE: As previously mentioned, GF "cru" Chardonnays are hard to separate on an individual basis. All are crafted with precision and respect for the fruit. Olivet Lane captured my fancy for its pale gold color, herbal notes, and structure. There is a touch more power to this wine too – as noted by Heredia. Overall, Olivet Lane Chardonnay delivers premium complexity at a reasonable price.
To purchase these wines, visit www.garyfarrellwinery.com.
The Six Russian River Valley AVA "Neighborhoods"