The Nerello Mascalese is a thick-skinned  red grape that thrives in the volcanic soils of Mt. Etna's vineyard slopes in Sicily. Sunny exposures and the warm Mediterranean sea breezes allow it to ripen fully, yet winemakers are always  on the lookout to make sure the grape retains its wonderful acidity.
In southern Italy, Nerello Mascalese is crafted as a 100 percent varietal and in red blends. It is often lighter in color than most thick-skinned grapes and slightly delicate in structure. It's noteworthy trait is a dry, dusty sensation, and it is similar to Sangiovese which is the workhorse grape of Tuscany.
So I was pleasantly surprised when a three-pack of Zonin Rose, made from 100 percent Nerello Mascalese, arrived on the wind from Vicenza, in the Veneto province, where the Zonin estate and production plant are located.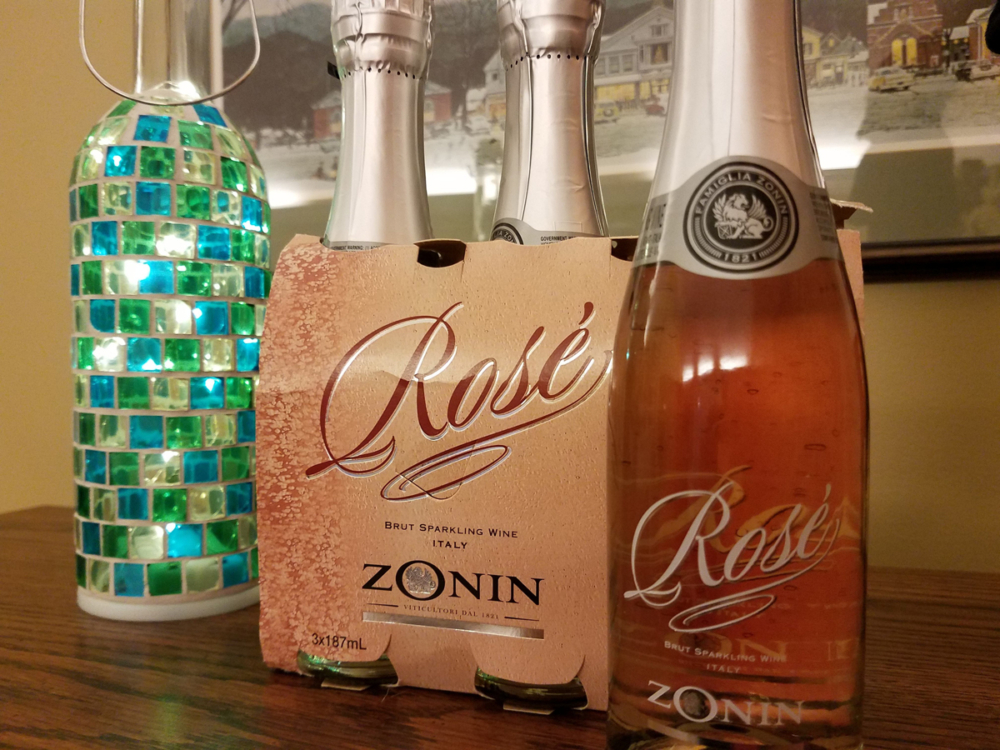 Each elegant, 187-milliliter bottle in the three pack, which costs $10.99, is equivalent to one glass of rose. What a beautiful idea for a picnic, a day at the beach, or a deck party!
I found one glass to be a perfect way to end a long day: I sat down in a favorite old chair, placed my feet up on the ottoman, watched Bella the cat jump on board, and slowly sipped this lively, energetic and crisp strawberry blonde sparkler. Ah, yes, strawberry blonde (achieved by limiting skin contact with the crushed grape juice during fermentation) . Just think of the thoughts that were going through my head (lunch with Amy Adams, Nicole Kidman, etc.) Ah, but one look at the Wine Goddess, whose reddish-brown locks still intrigue me after 25 years of marriage, and there was no comparison as to whom I wanted to give the second bottle to and, maybe, share the third.
Zonin is a quality wine producer, and their sparkling wines, especially Prosecco, are made to be consumed fresh and lively.
I don't know if the Nerello Mascalese grapes used in the rose where grown in Sicily or not, but it really didn't matter. The wine, chilled to 48 degrees, was delicious and the perlage – a steady stream of tiny bubbles – was spectacular. I couldn't believe how the bubbles kept exploding from the bottom of the glass to the top. It was like a non-stop light show. I detected citrus and apple on the nose, followed by nougat paste and dried fruit flavors on the palate. The texture was pleasantly smooth with a dry finish.
According to Zonin, this rose won a silver medal at the San Francisco International Wine Competition – a splendid showing against a crowded field. It's my pick of the week.
Another sparkling wine to consider for any occasion, is Zonin Prosecco DOC Cuvee 1821 ($12.99). Made from 100 percent Glera gapes from vineyards in the Veneto region, this Prosecco captures attention right out of the bottle with its fragrant bouquet and golden yellow color in the glass. I like a Prosecco that gives off energy in the mouth, with crisp, balanced acidity, and coats the palate with a creamy mousse and passion fruit flavors. Zonin Prosecco delivers the sensation. You could serve this at an opulent gala and win over guests or simply pour it at home with friends as an aperitif. The reaction would be the same. It's in a class of its own while a great value. This sparkling wine has won numerous awards in recent competitions, but its credibility for quality is best expressed by Vinous Media, a paid subscriber service run by Antonio Galloni, which awarded it 90 points and called it "a remarkable good, easy-to-like Prosecco DOC."