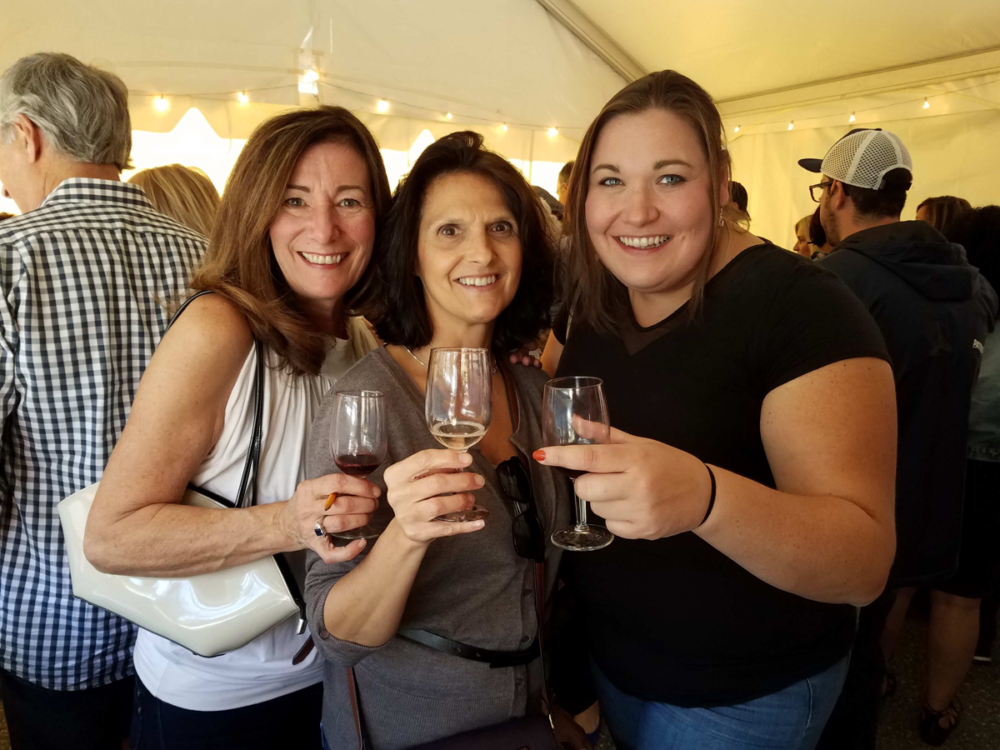 It's rare when a $9.99 bottle of wine emerges as the "best of show" at a grand tasting event, but Wine ConneXtion co-owner Sam Messina was glad to pin the honor on Napa Valley's Trim Cabernet Sauvignon two weeks ago.
"The winery burnt to the ground in the recent California fires. All the stock went. The vines went. It's just so terrible," said Messina, whose family-run enterprise celebrated its eighth anniversary with a complimentary blowout tasting of 60 still and sparkling wines.
Just weeks before the Oct. 21 event, Messina made a private deal with Ray Signorello of Signorello Estates to bring in 12 cases of Trim. Nearly 10 cases sold on tasting day, leaving two cases to go on the shelves.
"People loved it. It's a good value. The grapes are from some of the best vineyards in Napa Valley," said Messina.
According to the Napa Valley Vintners Association, six out of 525 member wineries sustained significant or total losses, including family-owned Signorello Estates on Napa's Silverado Trail.
The Trim team calls its fruit-forward Cabernet "the best valued wine on the market." Many Wine ConneXtion patrons felt the same way with their purchases.
Other California wines that shined at the event were newcomers from Layne Montgomery, the owner/winemaker of the boutique M2 winery in Lodi. M2 produces just 4,000 cases a year. The M2 Zinfandel ($21.99) and the M2 Petite Sirah ($19.99) exhibited outstanding freshness with fetching violet aromas and juicy plum and raspberry flavors. Both would be a treat with Thanksgiving turkey or lamb.
I also enjoyed the Hahn SLH Pinot Noir ($19.99) and the Davis Family "Rock Pile" Cabernet Sauvignon ($45.99) that is definitely equal to any Napa Valley bottling at this price range. It was plush, silky and loaded with character.
Wines from France, Italy, Germany, Chile, Australia, South Africa, Portugal and Spain were also served, making this a truly global experience.
Here are my top international selections of the day.
D-66 "Orrin Swift" Red Blend, France, $32.99 — When winemaker David Phinney sold his outstanding line for millions to behemoth Constellation Brands, he kept D-66 and several of his unique creations to himself. This is a magnificent blend of Grenache, Syrah and Carignan. Robert Parker gave it 93 points. I give it my most humble recommendation.
Ken Forrester Petit Chenin Blanc, South Africa, $7.99 — If you tasted this in France's Loire Valley, where Chenin Blanc reigns supreme, you'd marvel at the price. You still should. It's a pure, clean, flowery expression of a wonderful grape. Chill and thrill.
Dona Maria "Amantis" Reserva Red, Portugal, $15.99 — I had to go back three times to sip this fascinating wine. Normally, I drink Port from Portugal, but here's a rich, spicy, elegant red that just keeps laying on nice subtleties. A good Old World find.
Ratti Nebbiolo, Italy, $18.99 — A baby Barolo from Piemonte's Langhe hills where famous winemaker Renato Ratti crafts fragrant, complex, long-lived wines. Strong raspberry and strawberry traits fill the palate in velvety style. Try this with a thick, meaty Bolognese or a hearty winter stew.