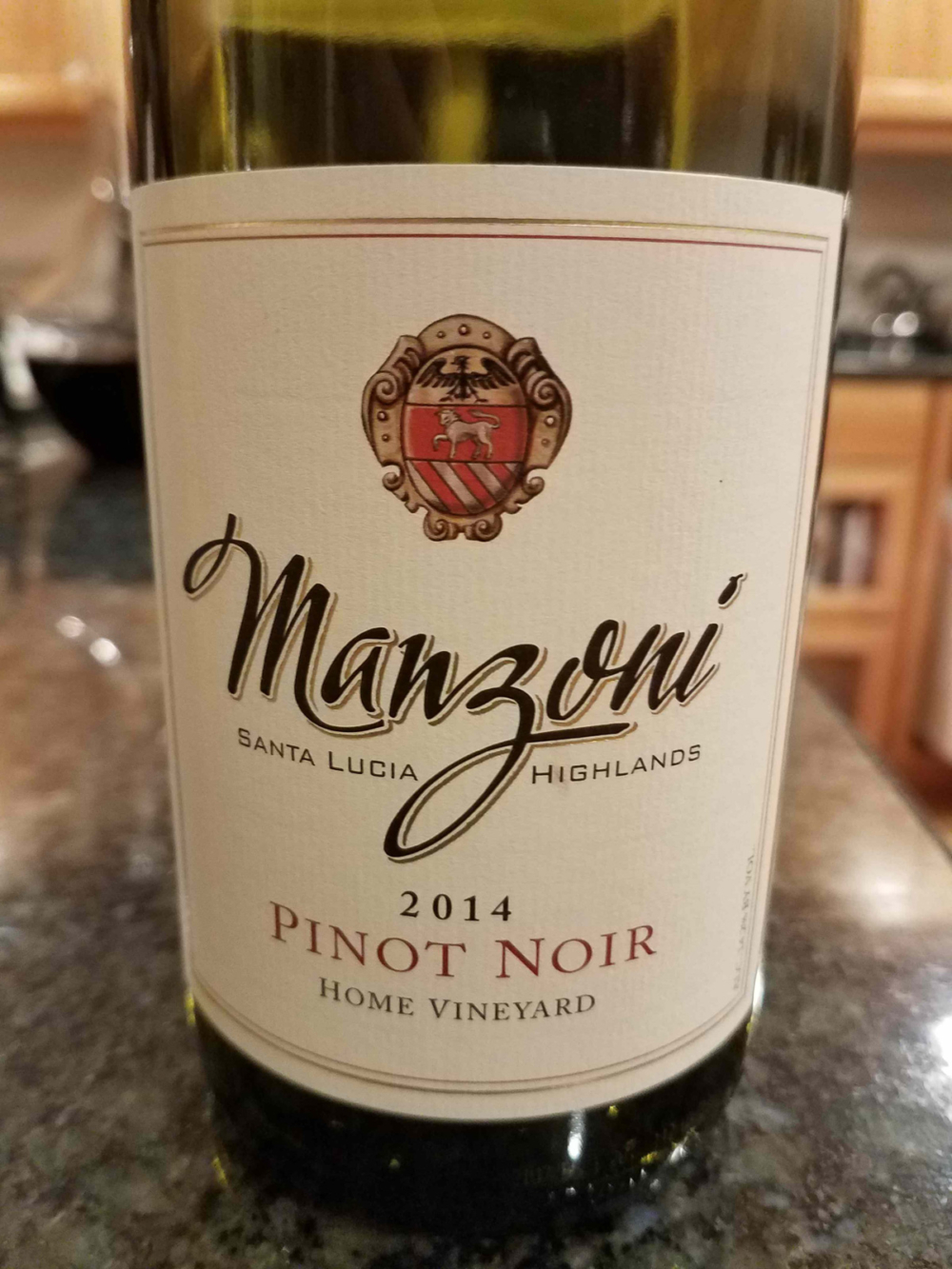 Manzoni Family Estates, located in California's Salinas Valley, produces just 2,000 cases of wine each year among their portfolio of Pinot Gris, Rosé, Chardonnay, Syrah and Pinot Noir.
That's why few people can get their hands on a single bottle of Manzoni's precious liquids.
One of the core bottlings of this small, family-run operation is the "Home Vineyard Pinot Noir" from vineyards planted in the Santa Lucia Highlands.
Two months ago, I was fortunate enough to receive a sample of the 2014 Manzoni Pinot Noir from Sam Messina, co-owner and wine buyer at the Wine ConneXtion in North Andover. He raved about this boutique winery, and the care the family puts into the land that was first purchased by crop farmer Joseph Manzoni, who emigrated from Switzerland in 1921.
"They don't produce in quantity because they are proudest of the quality," said Sam, who's made a living connecting with small, unique wineries and bringing their products to Massachusetts.
Patiently, I've been waiting for Manzoni's arrival.
Well, Sam's done it again. This weekend, he's bringing in a load of Manzoni Pinot Noir to his store, just in time for the holidays.
Here's a little history. Joseph Manzoni liked to make Grappa for friends and family from the small amount of grapes he grew on his land. Mostly, he ran a dairy business and tended cash crops. His son, Louis, however, had other ideas, and eventually began planting vines on the property. That was in 1990. Nine years later, Louis's sons, Michael and Mark, turned the family's traditions and passion into a full-fledged business. Six acres were planted using imported Pinot Noir clones from Dijon, France.
Of course, the Manzonis had a nice landscape to work from. The coastal, elevated lands of the Santa Lucia Highlands receive cool maritime breezes that protect the grapes, especially at night, after their long days in the hot sun. Pinot Noir develops good acidity and balance in the rocky, alluvial soils and climate.
The Manzoni's winemaker is David Coventry, who uses a mixture of new and 1-year old French oak barrels to finesse the wine into a silky, toasty, Rhone-style Pinot Noir.
The Wine Goddess, my wife Mary Lee, and I enjoyed Manzoni to the last drop with a grilled salmon dinner served with salad greens, baked potato and asparagus. The wine is marked by fragrant strawberry-cherry aromas and a brilliant ruby color that reminded me of Judy Garland's shoes in "The Wizard of Oz". Tastes of cranberry, strawberry, black cherry-chocolate and white pepper lavishly filled the palate, and evolved a smoky and uplifting finish. Quite simply, it was elegant and true to classic varietal expressions.
Manzoni sells the Home Vineyard Pinot Noir for $35 but Sam's got it for $30 while it lasts. If you want something truly special for the holidays, here's the pick. Merry Manzoni!