A quick glance across the room and it looks as if Al Pacino is standing in front of a map of Italy's Piedmont region, pointing to the unique hillside vineyards where some of the world's most majestic and monolithic wines are made.
The Italian's hair is longish, tousled, salt-and-pepper, the same as his scraggly beard. His face is warm, inviting and weathered.
When I finally do meet La Spinetta winemaker Girogio Rivetti, I tell him — with all rispetto — about his resemblance to the great American actor. Rivetti smiles broadly and shows me his hands.
"These are worker's hands, in the fields all day, moving earth, pruning the vines. Ahh, to be an actor," he says with a sweep of his thick, calloused mitts, "but I'm a winemaker and it's the best job in the world."
Rivetti was at David Maione's Vino Italiano wine store in Waltham on a recent Saturday in February to discuss the 2013 vintage of La Spinetta's highly acclaimed Barbaresco crus — Gallina, Valeirano and Starderi.
The crus feature a Rhinoceras on the label, a tribute to Rivetti's admiration for animal woodcuts done by the German artist Albrecht Dürer.
La Spinetta was launched in 1977 by Rivetti's parents, Guiseppe and Lidia, and is celebrating its 40th anniversary this year. It has 600 acres under vine; 400 in the Piedmont, where the nebbiolo grape excels in the production of Barolo and Barbaresco, and 200 in Tuscany, home of the sangiovese varietal for crafting Brunello di Montalcino.
Giorgio, the leading winemaker, and his brothers, Bruno and Carlo, co-own the estate, which employs 65 full-time employees.
"There are no seasonal workers (at La Spinetta)," says Rivetti with pride in the local workforce of family and friends. "These are people who grew up with the vines, who know them like their own children, who love the land. They have a passion for the earth, the grapes, just like my family. That's how we control the quality of the grapes and the wine. It's the same people working here every day. They a make a bond with all that's around them."
And "all that's around them" is the amazing "terroir" of the Langhe, the steep, "tongue" of hills to the south and east of the Tanaro River. Here, around the cities of Alba and Asti, the iconic nebbiolo — a thick, late-ripening red gape — is turned into powerful, complex and riveting Barbaresco and Barolo.
Three villages grow the nebbiolo used to make Barbaresco — Barbaresco itself, Treiso and Neive.
The Piedmont is located in Italy's northwest corner, with France to the west and Switzerland to the north. The mountainous region creates an amphitheater effect around the Langhe, offering protection from the harsh Alpine winter climate. The best vineyard sites are located on hilltop domes and planted in a unique bluish marl soil — calcareous clay, few stones — that produces wines of great acidity and tannin.
This is an area of site-specific vineyards.
"You have to respect the terroir and the indigenous grapes," said Rivetti. "When you taste Barolo, Barbaresco, Barbera and other wines from Piedmont, you know it comes from only one place in the entire world. … There's no fusion (trendy blends) or confusion (about the taste)," he adds with a laugh.
Barbaresco is slightly more graceful than the robust, masculine Barolo. It's aromatic in tar, roses, violets, prunes and spices, while rich in dark fruit flavors. Full-bodied with a long, dry finish, Barbaresco should be drunk with hearty meat and pasta dishes.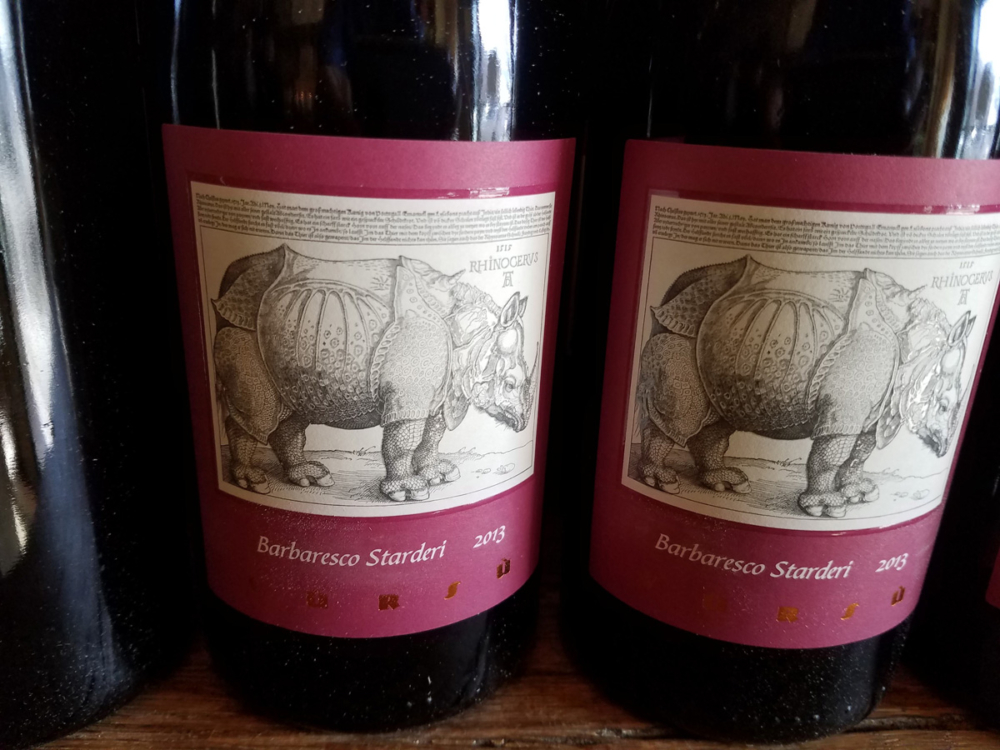 The following Barbaresco crus list for $140 a bottle. Prices below reflect a Vino Italiano special offer.
* La Spinetta Gallina, $107: A minty flavor mixes with dark cherry, tobacco, and chocolate layers. From Neive, it's the more feminine among the three La Spinetta crus with a personality of its own. Wine expert Antonio Galloni described it as "bright, tense and focused" with its best drinking years coming after 2018. He awarded it 94 points.
* La Spinetta Valeirano 2013, $107: I favored this Treiso cru and made a purchase, hoping to be in good health to enjoy it a decade from now. Gifted with perfumey and spicy aromas, it packed a wallop in the mouth with deep, concentrated flavors. Galloni gave this deep, dark ruby colored wine a 93+ rating.
* La Spinetta Starderi, $107: From Neive, this is the winery's big dog — a very powerful Barbaresco in all expressions that needs time in the bottle to truly hit its peak. When the firm tannins soften a bit, look out. The acidity is electric now and the flavors are still wound tight, but herein holds a treasure of taste for patient collectors. Galloni rated it 94+ points.
Barbaresco facts
Barolo and Barbaresco wine are both made from the same grape — nebbiolo.
They are also the names of two towns located 19 miles apart where the vineyards are influenced by different mesoclimates soils, and elevations that impact the grape's development and unique characteristics.
Eleven tiny villages produce grapes for Barolo; there are three different ones, just as small, for Barbaresco.
Slightly more than 8 million bottles of Barolo and 3 million bottles of Barbaresco are produced each year — and the totals rarely vary because of the small and unique zone.
By law, Barbaresco is aged 26 months before release; the riserva is aged 50 months. Barolo's requirements are 38 months and 62 months, respectively.
Once released, these wines need at least a half decade to evolve in order to be enjoyed for their wonderful complexity.