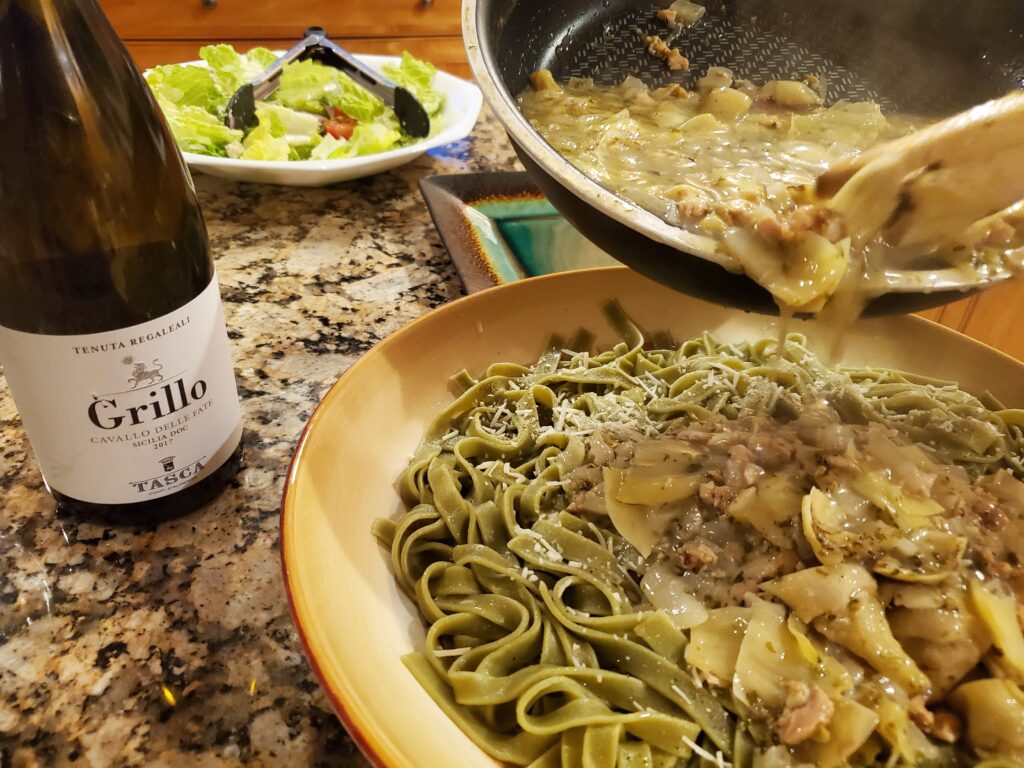 For Christians all across the globe, especially Roman Catholics, Ash Wednesday marks the beginning of a very sacred  season leading up to the crucifixion of Jesus Christ and his resurrection on Easter Sunday. For Catholics, this is known as the 40 days of Lent when abstinence, or fasting, from meat is observed on Wednesdays and Fridays.
This is not a religious column, but I bring up Lent only because I grew up in a Catholic household. Looking back on my childhood, I admit that Church doctrine dictated our family's eating and drinking habits. Once Lent arrived in  March, my parents' entertaining with family and friends, still very much alive from Christmas and New Year's festivities, suddenly ended. It was as seamless as turning off a light switch. Fish – fried, broiled, and baked – became a part of nearly every meal. The odor of fish in the house was so strong, I politely avoided asking friends – especially girlfriends who lived outside the neighborhood and didn't know any better – from stopping by. For me, this was my 40 days of sacrifice.
Still, I fondly remember those days. The wine also changed with the times. My father would grace the dinner table with dry white wine from Sicily called "Grillo". While my siblings and I were too young to drink alcohol, we were allowed to take a sip or two with our spaghetti and clam sauce or baked baccala (codfish) bought fresh from the fish pier in Point Judith, R.I. I didn't think much of any wine I tasted as a teen-ager; I didn't drink wine until my mid-30s. In adulthood, however, I've acquired a keen taste for Grillo and its crisp citrus, herb, and honeysuckle notes. It truly is a good companion for seafood and white meat dishes, and it's a shame restaurants don't put it on their wine lists.
Tenuta Regaleali Grillo Cavallo Delle Fate 2018, $18.99 – Hillside vineyards located south of Palermo contribute the ripe fruit for this bright, aromatic, and citrusy-flavored white. A mint note emerges on the dry, mineral finish. Grapes are harvested in two stages – early for freshness and minerality, late for structure –  and then blended for  fermentation in steel tanks. Cavallo Delle Fate ("horse of the fairy") really shined with a plate of spaghetti and baby clams in a white wine sauce, topped with artichokes and black olives.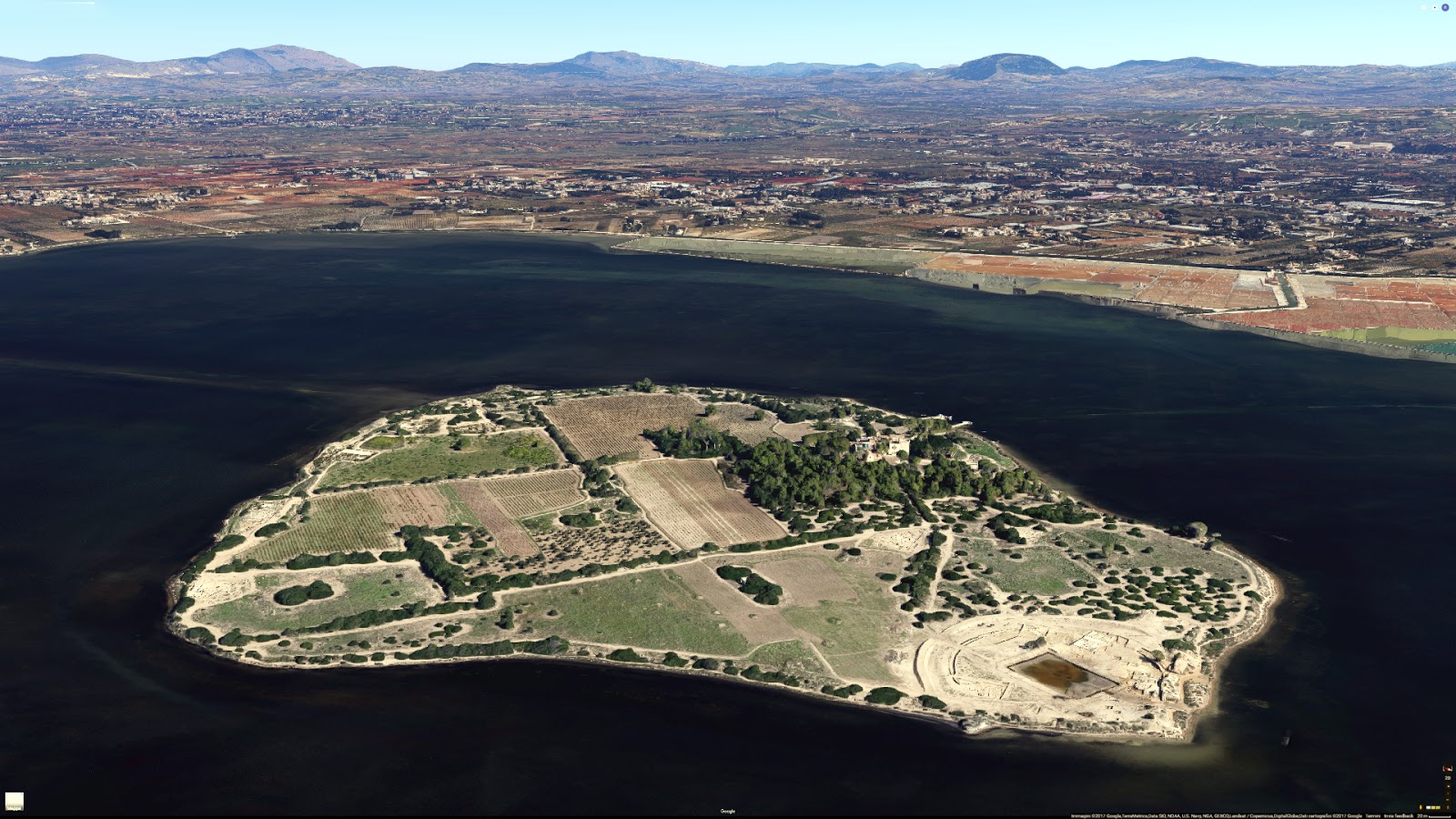 Regaleali, one of five wine estates owned by Tasca D'Almerita, also produces the distinctive Grillo 'Mozia' Fondazione Whitaker made from grapes sourced from a small island vineyard located in a lagoon off the coast of Marsala, on Sicily's western tip. Grillo, the primary grape used to make fortified Marsala wine, has a historic connection here. The Mozia vineyard serves as a marine ecosystem: there is no irrigation or chemicals employed. Grapes are harvested in crates and transported on "bed" boats to thermo-regulated trucks used to preserve the freshness for the trip to Regaleali's production facility. Mozia Grillo boasts a yellow color with greenish hues, exotic Mediterranean notes of lemongrass, lime, and honeysuckle, and a hint of white pepper spice and anise. It is a fuller, more complex white that picks up a salty component on the dry finish. I've only seen this wine offered at two places: Gasbarro's Liquors in Providence, R.I. ($22.99) and the Saratoga (N.Y.) Wine Exchange ($19.94) where it can purchased online and shipped direct to consumers.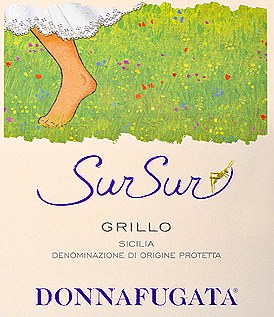 Donnafugata SurSur Grillo, $24.99 – Gabriella Rallo, who launched this winery four decades ago with her late husband Giacomo, has combined Sicily's art, culture, music and history with every wine that is produced. She's the artist behind the name Donnafugata (woman in flight) and its creative labels. SurSur is the Arabic word for "cricket" (Grillo in Italian), and this white wine is crafted in steel tanks to be bright and refreshing like spring time. Gabriella herself is depicted on the label running barefoot through the freshly mowed grass, taking flight as it were. The wine is uplifting too. Aromas resonate in citrus and lime while flavors of apple and lemon penetrate the palate. The texture is smooth. It's a nice drinking wine without much worry for anything sophisticated.
Caruso & Minini Grillo Naturalmente Bio, $18 – When Stefano Caruso, a winemaker, teamed up with Mario Minini, a marketing genius, a match was made in Marsala that has only gotten stronger over four generations of growing grapes and producing wines. The winery devotes its best vineyard sites – and coolest – to Grillo, which means the co-owners are going for the gold with the varietal. Organic farming is de riguer in the highest hillside vineyards in Trapani, so the Grillo reflects the terroir's seaside saline disposition along with fresh lemon, lime and grapefruit splashes on the palate. Hunting down a bottle is well worth the adventure.