Now is the time to get to know Barbaresco, the red wine from Italy's northern Piedmont growing region that plays a great second fiddle to Barolo, its more prestigious and expensive cousin.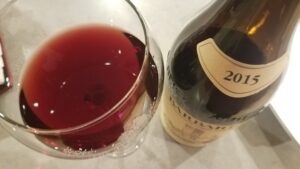 The 2015 growing season was fabulous, according to wine experts, and I've got just the wine to put you on the Barbaresco bandwagon: Produttori del Barbaresco ($42 retail). It's made by a historic consortium that was founded in 1894. I've even added a recipe to go with it – spinach pasta Bolognese made by the Wine Goddess, my wife Mary Lee (see recipe below).
First some valuable insights on Barbaresco and its connection to Barolo.
Barbaresco and Barolo share several key similarities: They are names of historic wine-growing villages (located just 14 miles apart) and powerful red wines made from 100 percent Nebbiolo grapes. Their vineyards have common altitudes, soils and climates. Yet subtle variations in terroir – the French word for sense of place – yield distinctive traits in the creation of wines that stand out on their own.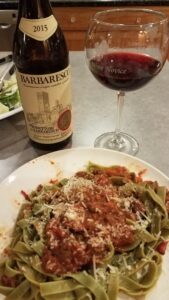 By law, Barbaresco must be aged at least 26 months (eight months in oak casks) prior to release. It's a big head start on Barolo, whose high acidic-tannic core receives a minimum 38 months of aging (18 months in oak). to  About 3 million bottles of Barbaresco are produced annually compared to Barolo's 9 million bottle output.
While Barbaresco mirrors Barolo's intensely perfumed nose and cherry flavors, it often comes across as a "softer", more approachable wine, especially when young. Sommeliers offer this simple generalizaton: if Barolo is  king, Barbaresco is queen. It's a concept, however, not a truism. Depending on where the wines are made and other vintage factors, the roles can be reversed.
I wouldn't hesitate to drink either wine with a hearty, robust meat-based meal. But why wait for a Barolo to peak with age when Barbaresco is around? A fabulous growing season has rewarded the 2015 vintage with rave reviews from wine experts.
For the uninitiated, Produttori del Barbaresco DOCG is an excellent starting point. Assembled from the fruit of the consortium's multiple vineyards, it represents an excellent straight bottling among its higher profile single-vineyard brethren. My tasting notes are as follows: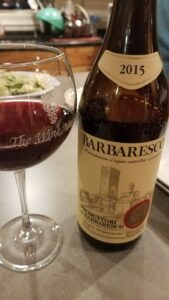 Finesse is fashionable – and appreciated in the 2015 Produttori del Barbaresco. Its classic pale ruby color is tinged with orange highlights, and it opens to fragrant notes of rose and violet flowers. On the palate, plump cherry fruit stews in evolving secondary flavors of baking spice and smoked meat. The finish is dry, mouthwatering and long. Paired with spinach tagliatelle in a biting Bolognese sauce, the Barbaresco was bright, seamless and succulent.
My friends, this simple yet exquisite pairing is bound to get you on the path of La Bella Vita(culture) if you aen't already headed in that direction.
Lastly, I've tracked down Produttori del Barbaresco selling for $38.99 or less in New Hampshire; Vino Italiano and Gordon's Liquors, both of Waltham; and at the Wine ConneXtion in North Andover. Good hunting!
***********************************************************************************************************************
Mary Lee's Quick Bolognese
Ingredients
| | |
| --- | --- |
| 2 T. Olive oil | 3- (24 oz jars) Bertoli Tomato and Basil Sauce |
| 2-T.  unsalted butter | 2 tsp. Italian seasoning |
| 2 cups finely chopped onions- about 1 large | 1 T. sugar |
| 1 cup finely chopped carrots- about 4 large | 1 cup dry white wine |
| 1 cup finely chopped celery | 1 cup whole milk |
| 1-lb. hamburger | Pinch of red pepper flakes-Optional |
| 1 lb sweet Italian sausage | Pinch of nutmeg-Optional |
| | Salt and pepper to taste |
Directions
I like to make this sauce one day ahead and then reheat. The flavors develop the more it sits.
Cook hamburger in a skillet about 10 minutes, breaking it up into small pieces and then drain on paper towels, set aside.
Cook sausage links until done and set aside. I like to par boil the sausage in water first and then slice into ¼ inch slices and brown them in a skillet for about 10 minutes. You can also use ground sausage instead, but. I like the slices of sausage in this dish.
Melt butter in another large skillet and add olive oil. Cook chopped onions, carrots and celery until tender, about 10 minutes.
Now add tomato sauce, Italian seasoning, red pepper, sugar, cooked hamburger and sausage and cook about 30 minutes. *Then add wine and milk and cook another 15 minutes. DO NOT BOIL.
*This sauce is better if made a day ahead and the milk and wine added the next day when reheated. Reheat about 30 minutes on low.
Serve over pappardelle or spinach tagliatelle with fresh parmesan cheese.
Serves 4.