Mark Vlossak's winemaking philosophy is simple: "I make wines to go with food."
The founder, owner, and president of St. Innocent Winery in Oregon's Willamette Valley says people often wonder why a wine enjoyed at a restaurant disappoints when consumed at home without a meal. Wine must be balanced for food, says Vlossak, a single-vineyard Pinot Noir specialist.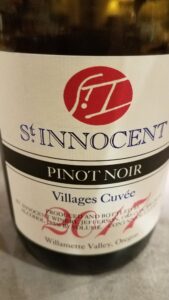 "I want the aroma, flavors and textures to integrate and create a personality," he writes on the boutique winery's website. "The fruit, spice, earth, acid, tannin, and alcohol interact with food producing and experience where both the wine and food taster better together."
Vlossak launched St. Innocent Winery in 1988 to make Old World Pinot Noir based on sustainable farming methods. He  respects the land's rich, biodiversity. In his mind, Mother Nature should do most of the work without interference. In northern Willamette Valley, where St. Innocent's vineyards are located, Pacific Ocean winds cool the south-facing vineyards allowing Pinot Noir grapes to ripen slowly into late season. Desired acidity levels are reached harmoniously.
St. Innocent Pinot Noirs – five single-vineyard wines and a Villages Cuve`e – are consistently fresh, spicy and succulent yielding bright cherry and strawberry aromas and flavors. They exhibit a strong sense of place, picking up earth and mineral tones from ancient sea-basin and volcanic soils. Based on quality alone, they represent a bargain. The winery's high scoring Shea Vineyard and Temperance Hill bottlings cost $55 and $38, respectively. Trouble is, St. Innocent's total annual production is 10,000 cases, with club members getting first choice on the limited allotments. What's left filters down to a few fortunate restaurants and distributors. The winery also sells direct to consumers (go to: www.stinnocentwine.)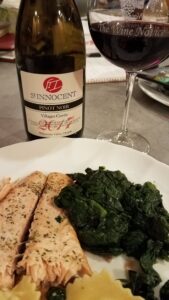 I was introduced to St. Innocent Pinot Noir ten years ago at The Wishing Well restaurant located outside Saratoga Springs, N.Y.  The wine paired fabulously with roasted lamb and mint jelly. Since then, I've had to hunt down any bottle I could find. The good news is that Gordon's Fine Wines & Liquors in Waltham usually gets a small shipment, but this they've scored a coup. Vlossak, the man behind St. Innocent, is coming to Massachusetts and will showcase his wines at Gordon's on April 23 from 7-8:30 p.m. This special tasting event costs $30, and the price of each ticket can be applied to the purchase of St. Innocent wines (details at www.gordonswine.com).
Currently, Gordon's is selling the 2017 St. Innocent Villages Cuve`eat a discounted price of $21.99 ($25.99 SRP). Grapes from six St. Innocent vineyards (Freedom Hill, Temperance Hill, Momtazi, Vitae Springs, Shea, Zenith) go into the mix. Villages Cuvee is juicy, spry, spicy and smooth. Recently, it turned a grilled salmon dinner cooked at home into the highlight meal of the week. It also pairs well with lamb, pork and chicken. I suggest you try a bottle. My experience tells me you won't need divine inspiration to step up to more captivating St. Innocent single-vineyard Pinot Noir.
Read more on Jim Campanini's wine blog at www.grapefullyyours.live