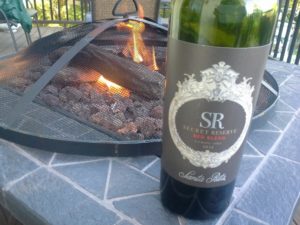 jcampanini@lowellsun.com
Looking for a summer bargain? How about starting with a 12-bottle case of Chilean wine — six reds, six whites — for $96?
Santa Rita's Secret Reserve red blend is a barbecue bargain at $8 a bottle.
If you act fast, there's a good deal in Santa Rita Estate's "SR" (Secret Reserve) red and white blends, which cost $8 a bottle. They're in stock at Costco. (N.H. State Liquor Outlets is offering a May sale on all Santa Rita's wines — including the "120" and "Reserva" lines — which sell for less than $12 a bottle. However, I could't find the Secret Reserve listed on the online website.) The SR blends are a great buy. The fruit comes from one of the most consistently balanced growing regions in the world, the Maipo Valley at the foothills of the Andes Mountains. Hot and dry summers, moderate winters and frost-free springs give the grapes ample time to ripen. The SR red blend is a barbecue sensation, great for grilled red meats, pork and pasta dishes. The 2013 vintage gets its firm backbone from five red grapes grown in non-pesticide vineyards — Cabernet Sauvignon, Merlot, Syrah, Petit Verdot and Camenere. The grapes are fermented separately to enhance each unique flavor profile before blending. The juice rests in oak, softening tannins and rounding out the texture. The color is violet and the taste is sumptuous: plums, spicy black cherries, chocolate and coffee. It's velvety smooth in the mouth. The SR white blend is lively and refreshing, taking its lead from Riesling (73 percent of the blend) grown in the Casablanca region and the highly aromatic Viognier (18 percent). Chardonnay and Sauvignon Blanc fill out the mixture. It's translucent in the glass and hits the palate with pure, fresh grapefruit, peach and melon flavors. There's a decent layering on the finish, prompting an alertness of acidity that begs for another sip. A cool, uncluttered wine for patio parties and appetizers. Santa Rita is one of four Chilean wine brands owned by the Garcia Huidoro family under the flagship Claro Wine Group. The others are Carmen (oldest winery in Chile), Nativa (organically grown grapes), and Terra Andina (innovative blends). The group also owns Argentina's Doña Paula brand.